Outils screencasting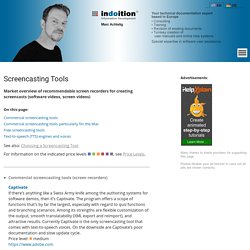 Captivate If there's anything like a Swiss Army knife among the authoring systems for software demos, then it's Captivate. The program offers a scope of functions that's by far the largest, especially with regard to quiz functions and branching scenarios.
Screencasting Tools / Software Demo Creation Tools - indoition software user assistance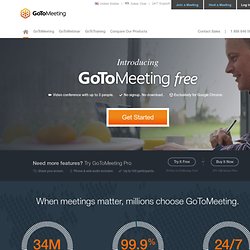 "It's efficient. It's effective. It's not very expensive.
Beta : Screen Recordings Made Easy™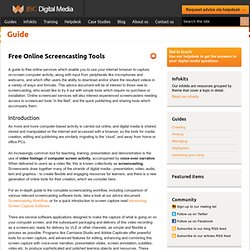 A guide to free online services which enable you to use your internet browser to capture on-screen computer activity, along with input from peripherals like microphones and webcams, and which offer users the ability to download and/or share the resultant videos in a variety of ways and formats. This advice document will be of interest to those new to screencasting, who would like to try it out with simple tools which require no purchase or installation.
Cross-media: Free Online Screencasting Tools
Qui ne connait pas Screen Toaster ? Rappelez, l'aventure à commencer en novembre 2008 . Pour ceux qui ne connaissent pas encore, Screen Toaster propose la réalisation de Screencast sans logiciel installé, directement depuis votre navigateur. En novembre, on pouvait déjà enregistrer la vidéo, sans son, mais depuis, un bon nombre de fonctionnalités ont été ajoutées à Screen Toaster pour en faire un véritable outil de screencast performant.
Screen Toaster - Youtube en HD, fomat mov et API dès demain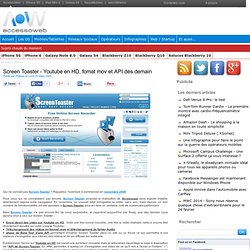 Comparatif d'outils de screencasting en ligne | Si loin Si proche
Un ScreenCast , c'est un enregistrement vidéo d'un écran d'ordinateur souvent accompagné d'une narration permettant de créer des tutoriels, des documentations, des présentations de logiciels ou de sites Internet , etc. On trouve de plus en plus de screencasts aujourd'hui sur les blogs et sur différents sites Web. Certaines plates-formes comme Weecast permettent même d'acheter ou de vendre des tutoriels video pour PhotoShop, Indesign, Excel, Flex, Fireworks, Dreamweaver, Flash, Windows, Mac, etc.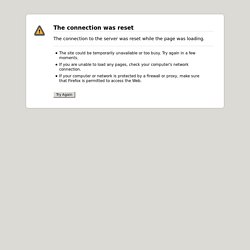 The always-ready program that allows you to instantly capture images and record video on your computer—then share them with anyone. Jing is a great tool for adding basic visual elements to all of your online conversations Jing for Screenshots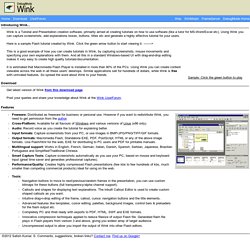 Here is a sample Flash tutorial created by Wink. Click the green arrow button to start viewing it. --------> This is a good example of how you can create tutorials in Wink, by capturing screenshots, mouse movements and specifying your own explanations with them.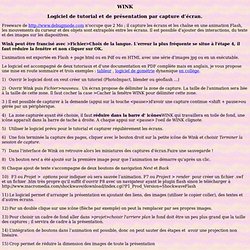 Logiciel de tutorial et de présentation par capture d'écran. Freeware de http://www.debugmode.com n'occupe que 2 Mo ; il capture les écrans et les chaîne en une animation Flash, les mouvements du curseur et des objets sont extrapolés entre les écrans. Il est possible d'ajouter des interactions, du texte et des images sur les diapositives. Wink peut être francisé avec >Fichier>Choix de la langue. L'erreur la plus fréquente se situe à l'étape 4, il faut réduire la fenêtre et non cliquer sur OK. L'animation est exportée en Flash + page html ou en Pdf ou en HTML avec une série d'images jpg ou en un exécutable.
WINK
Comparateur collaboratif 26 août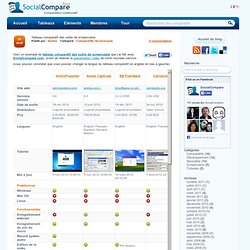 Tableau comparatif des outils de screencasts | SocialCompare's Blog
However, if you want simpler applications that can do the same thing without the heavy toll on your computer's memory or your wallet, try these easy-to-use web-based solutions. Since all of the following offer the recordings for download, you can edit the screencasts to your liking in your preferred video editor, or start over with ease. None of these require sign-up to record but for some services, an account is required to upload the material. If you're a serial screencaster (like the infinite number of techy users on YouTube), having an account would also enable you to retrieve your previous screen recordings.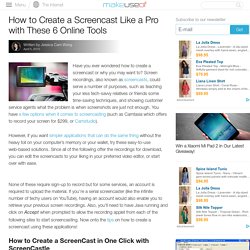 How to Create a Screencast Like a Pro with These 6 Online Tools