Désinformation
Bibliographie sur la désinformation et la propagande
LE MONDE | • Mis à jour le | Par Sylvain Cypel (avec Philippe Pons à Tokyo) - NEW YORK CORRESPONDANT Présentées comme des images prises dans les décombres d'Hiroshima peu de temps après le largage par un bombardier américain de la première bombe A, le 6 août 1945, les photographies publiées par Le Monde dans son édition du 10 mai, qui accompagnaient l'article "Hiroshima : ce que le monde n'avait jamais vu", ne sont probablement pas authentiques. Ces clichés ont vraisemblablement été pris lors du tremblement de terre qui, en 1923, ravagea la plaine de Kanto, autour de Tokyo, et fit plus de 100 000 morts.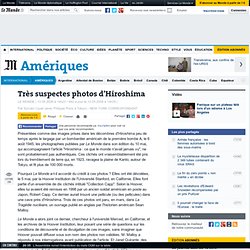 Très suspectes photos d'Hiroshima - Amériques
Un portable à 150$ chez Medison ? Fake ! LaptopSpirit - 100% ordinateurs portables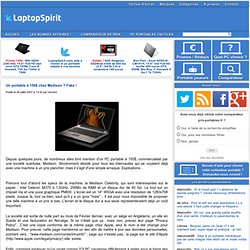 Depuis quelques jours, de nombreux sites font mention d'un PC portable à 150$, commercialisé par une société suédoise, Medison. Sincèrement désolé pour tous les internautes qui se voyaient déjà avec une machine à un prix plancher, mais il s'agit d'une simple arnaque. Explications...
I'm not exaggerating here--for a brief while on Thursday evening in New York, the weather felt so apocalypse-by-way-of-Hollywood that I wouldn't have been a bit surprised if I had spotted Godzilla stomping down Sixth Avenue from the vantage point of the midtown Starbucks where I'd taken refuge from the intense wind and pummeling cloudbursts. There were, in fact, two tornadoes making mischief in the neighboring boroughs of Brooklyn and Queens that evening. So when an impressive photo showing a tornado in ominous proximity to the Statue of Liberty began making the rounds on Twitter, it was perfectly reasonable that one would take it as the real thing--including a Time magazine blogger who posted it after seeing it in a Twitter post, and started broadcasting the link.
Twitter inundated with tornado-photo hoaxes | The Social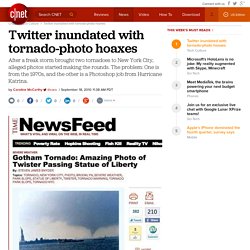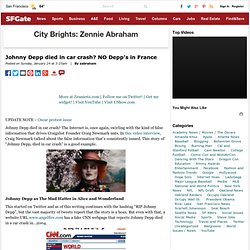 UPDATE NOTE – Oscar protest issue Johnny Depp died in car crash? The Internet is, once again, swirling with the kind of false information that drives Craigslist Founder Craig Newmark nuts. In this video interview, Craig Newmark talked about the false information that's consistently issued.
City Brights: Zennie Abraham : Johnny Depp died in car crash? NO Depp's in France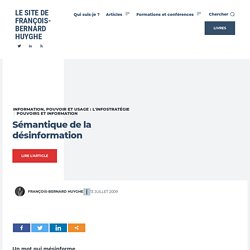 Sémantique de la désinformation
Discussion avec François-Bernard Huyghe* Par Pierre-Marc de Biasi, émission « Lexique de l'actuel » France Culture PMB — Tout se passe un peu comme si le mot désinformation était allé à sa propre école : il joue à cache-cache avec ses significations. On le croit militaire, et on le retrouve sur un plateau de télévision ; on imagine qu'il se distille dans le secret de discrètes officines et voilà que l'affaire des armes de destruction massive nous montre qu'il est un familier de la Maison Blanche.
Des journaux piégés par une fausse citation sur Wikipedia | Demain la veille
Are the photos of Borneo's monster snake real?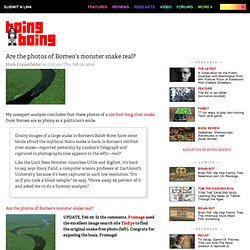 Mark Frauenfelder at 11:25 am Thu, Feb 26, 2009 My unexpert analysis concludes that these photos of a 100-foot long river snake from Borneo are as phony as a politician's smile. Grainy images of a large snake in Borneo's Baleh River have some locals afraid the mythical Nabu snake is back. Is Borneo's 100-foot river snake—reported yesterday by London's Telegraph and captured in photographs (one appears to the left)—real?
« Des cylindres tombent du ciel ! Des tripodes apparaissent, se mélangent au trafic, les martiens commencent à marquer les zones métropolitaines avec des rayons de chaleur… Les militaires, milices locales et gardes nationaux s'organisent et attaquent les envahisseurs… » Si les aliens débarquaient en 2008, comment l'information se diffuserait-elle ? Rejouant La fameuse Guerre des mondes
Twitter, un truc d'extra-terrestres ? | Presse-Citron
Good Luck With Your Hell Demons: Dead Monster Washes Ashore in Montauk
Un étudiant identifie les manipulateurs de Wikipédia
De la simple correction à la manipulation, toutes les modifications de l'encyclopédie collaborative sont révélées. Le logo de Wikipédia, tête à l'envers (DR). Vous voulez savoir qui ajoute ou retire des informations sur l'encyclopédie collaborative Wikipédia ? Qui, surtout, manipule certaines des données pour les enjoliver ou en effacer les aspects les plus critiquables ?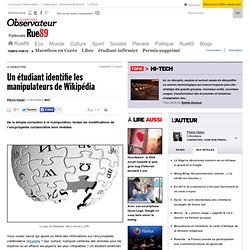 Jeu Web de la Semaine : Don't Escape 5 avril 2014 :: 14:15 :: Par Axel-Cereloz Jeu vidéo : 30ème épisode de la rubrique (presque) hebdomadaire : le jeu web de la semaine. Parfois artistique, parfois philosophique, parfois simplement divertissant, le jeu sur internet offre de nombreuses facettes.