Giornalismo
Le aziende non assumono i giornalisti si fanno impresa | Istitut. Ugo e Giorgio sono due giovani professionisti con un'idea in testa: il giornalismo può diventare impresa partendo dal basso.
Circa quattro mesi fa hanno deciso di creare una piattaforma web per far incontrare la domanda e l'offerta di contenuti giornalistici professionali anche al di fuori delle grandi testate tradizionali: un giornalista produce un'inchiesta, ne pubblica un estratto e la mette all'asta sul sito, chi paga meglio e più velocemente ha l'esclusiva su quella notizia e il sito prende il dieci per cento. Si chiama To Report, "riferire, riportare" in inglese ed è solo uno di una serie di progetti che in questo periodo stanno nascendo in Italia per organizzare e rifondare dal basso il mestiere del giornalista, indebolito dalla crisi del settore. Il Ducato online ne ha contati almeno cinque, nati nel giro di pochi mesi: vere e proprie piattaforme che intermediano la domanda e l'offerta, come To Report, o organizzazioni più o meno strutturate di giovani free lance. Les trucs d'un journaliste pour faire parler de vous dans les mé.
Buoni propositi dell'informazione. La svolta epocale del Giornalismo Partecipativo - AgoraVox Itali. The new rules of news | Dan Gillmor | Comment is free | guardian. You may have noticed – you could hardly miss it – the blizzard of anniversary stories last month about the fall of Lehman Brothers, an event that helped spark last year's financial meltdown.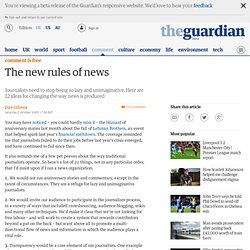 The coverage reminded me that journalists failed to do their jobs before last year's crisis emerged, and have continued to fail since then. It also reminds me of a few pet peeves about the way traditional journalists operate. So here's a list of 22 things, not in any particular order, that I'd insist upon if I ran a news organization. Crise dans les médias. Cratyle.net. Internet e la "vivisezione" dei Brand « Internet P.R. Passo le giornate a osservare i comportamenti delle aziende sul web e ho un sentimento ricorrente: la solidarietà.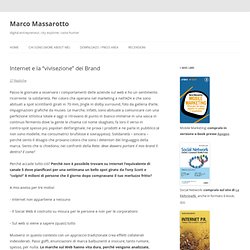 Per coloro che operano nel marketing e nell'ADV e che sono abituati a spot scintillanti girati in 70 mm, Jingle in dolby surround, foto da galleria d'arte, impaginazioni grafiche da museo. Le marche, infatti, sono abituate a comunicare con una perfezione stilistica totale e oggi si ritrovano di punto in bianco immerse in una vasca in continuo fermento dove la gente le chiama col nome sbagliato, fa loro il verso in contro-spot spesso più popolari dell'originale, ne prova i prodotti e ne parla in pubblico (e non sono modelle, ma consumatrici brufolose e sovrappeso).
Solidarietà – sincera – perché sento il disagio che provano coloro che sono i detentori del linguaggio della marca. Sento che si chiedono, nei confronti della Rete: devo davvero portare il mio brand lì dentro? E come? Arianna Huffington spiega il futuro dei media | festivaldelgiorn. Arianna Huffington Interview: SOTB 2009 - Technorati Blogging. Richard Jalichandra: How did you discover blogging?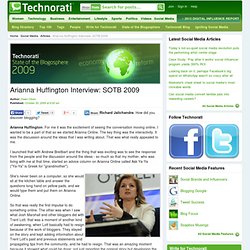 Arianna Huffington: For me it was the excitement of seeing the conversation moving online. I wanted to be a part of that so we started Arianna Online. The key thing was the interactivity. Il mondo visto dal web. Festivaldelgiornalismo | Il Cannocchiale blog. Festivaldelgiornalismo | Il Cannocchiale blog. On the iPad. For years, me and thousands of other techies have been wondering what comes after the Personal Computer as we've known it.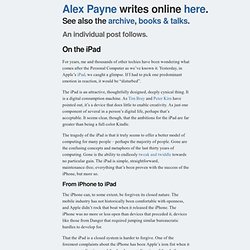 Yesterday, in Apple's iPad, we caught a glimpse. If I had to pick one predominant emotion in reaction, it would be "disturbed". The iPad is an attractive, thoughtfully designed, deeply cynical thing. Online Writing. Blog Archive » Leggere gratis le prime pagine dei giornali ameri. Un blog, un servizio web gratuito e un lettore di ebook e leggere le prime pagine dei giornali americani non è mai stato così facile.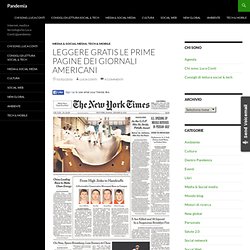 Come fare? Semplicissimo! Front Pages è un blog (su Tumblr) che pubblica le prima pagine del New York Times, Washington Post e altri giornali, insieme ai link diretti agli articoli della prima pagina stessa. Iscrivendosi a Instapaper, ogni volta che sei sulla pagina relativa d un articolo, cliccando su un link salvato nei tuoi preferiti (bookmarklet in gergo) lo metti da parte. Quando hai finito vai su Instapaper e ti scarichi il file per il tuo ebook reader, anche in versione Kindle, e il gioco è fatto. Front Pages | "All the News That's Fit without Print" Hi Kids, I received an email on Friday from Paul Sparrow @ Newseum.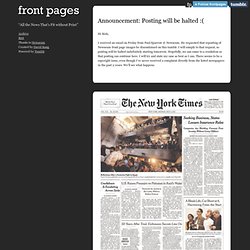 He requested that reposting of Newseum front page images be discontinued on this tumblr. I will comply to that request, so posting will be halted indefinitely starting tomorrow. Hopefully, we can come to a resolution so that posting can continue here. An Apology To Our Readers. On Monday evening I received a phone call from someone I trust who told me that one of our interns had asked for compensation in exchange for a blog post.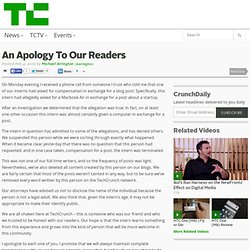 Specifically, this intern had allegedly asked for a Macbook Air in exchange for a post about a startup. After an investigation we determined that the allegation was true. In fact, on at least one other occasion this intern was almost certainly given a computer in exchange for a post. Blog Mediablog di Marco Pratellesi. Corriere Della Sera. FactCheck.it - Chi salva un fatto salva la verità intera.
iPad, i giornali sono applicazioni. Dove si vendono i giornali per l'iPad?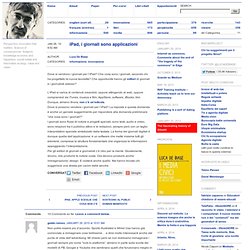 Che cosa sono i giornali, secondo chi ha progettato la nuova tavoletta? Che opportunità hanno gli editori di giornali e i giornalisti adesso? L'iPad si carica di contenuti creandoli, oppure attingendo al web, oppure comprandoli da iTunes, musica e film, AppStore, software, iBooks, libri. Formati. The Information Divide: The chasm between social and traditional. The Cycle of Breaking News from Social to Traditional to a New H. Living Stories. Piccoli Giornalisti - Il sito degli aspiranti giornalisti.
Archivo delle Categorie: Il manifesto di Eretici digitali. Il manifesto di Eretici digitali "Contemporaneo è colui che tiene fisso lo sguardo sul suo tempo per percepirne non le luci, ma il buio.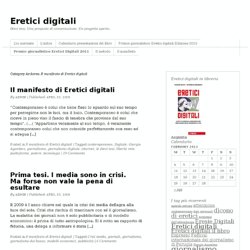 Contemporaneo è colui che riceve in pieno viso il fascio di tenebra che proviene dal suo tempo". (…) "Appartiene veramente al suo tempo, è veramente contemporaneo colui che non coincide perfettamente con esso né si adegua [...] Posted in Il manifesto di Eretici digitali Tagged contemporaneo , Digitale , Giorgio Agamben , giornalismo , giornalismo digitale , internet , le dieci tesi , libertà rete , piattaforme , potere , tecnologia Prima tesi. I media sono in crisi. What should news apps on the iPad look like? John-Henry Barac on.
When Steve Jobs unveiled the iPad last month, there were immediate debates over what kind of impact it would have on both the news habits of consumers and the bottom lines of news organizations. But one thing seemed obvious: that the iPad would be a glorious playground for user-interface designers, information architects, and others who think about how information should be found, structured, consumed, and designed. That 9.7-inch screen, combined with the iPhone's multitouch interface, will inspire some innovative new ways to present news. At the unveiling, the only taste we got of these new ideas was The New York Times' iPad app (above), which brought a bit of the typography and layout DNA of the print newspaper onto the device. Peggy Nelson on new media narratives: "Every Twitter account is. We talked this week with Peggy Nelson, a new media artist who has spent the last several years doing digital and virtual storytelling.
While Nelson's work is rooted in conceptual art rather than journalism, she has created stories in nearly every medium, including some we hadn't thought of (like PowerPoint and iPhone Apps). Nelson came to our attention when she presented in January at the Boston Bookfuturists Meetup. In these excerpts from our talk, she discusses Twitter novels, the core elements of story, and how journalists can most effectively use social media. How would you describe what you do?
Reputation Patterns - Design Pattern Library. A person participating in a social structure expects to develop a reputation and hopes for insight into the reputations of others, but each designed model of participation and reputation embodies its own set of biases and incentive structures. Balancing these forces determines in large measure the success or failure of a social system.
Bookmark this on Delicious. Living Stories can reinvent the article. Content consumers — the people who seek information but don't create or curate it — are getting a raw deal. Why? Because static articles don't capture the kinetic energy newsworthy topics generate. Le conseguenze di iPad sull'editoria: il presente.
---