Internet
IP Subnet Calculator The IP Subnet Mask Calculator enables subnet network calculations using network class, IP address, subnet mask, subnet bits, mask bits, maximum required IP subnets and maximum required hosts per subnet. Results of the subnet calculation provide the hexadecimal IP address, the wildcard mask, for use with ACL (Access Control Lists), subnet ID, broadcast address, the subnet address range for the resulting subnet network and a subnet bitmap. For classless supernetting, please use the CIDR Calculator. For classful supernetting, please use the IP Supernet Calculator.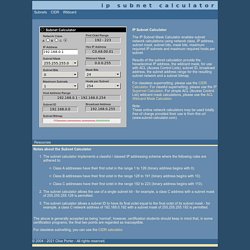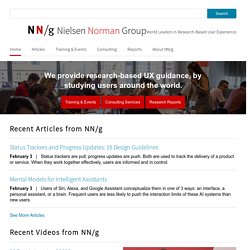 NN/g conducts groundbreaking research, evaluates user interfaces, and reports real findings – not what's popular or expected. With our approach, NN/g will help you create better experiences for real people and improve the bottom line for your business. Richly illustrated reports include case studies and actionable design guidelines for websites, intranets, applications, and mobile interfaces. Browse all reports Recent Research: 2014 Intranet Design Annual Full-day, immersive courses inform anyone working on web, application, and mobile design.
Internet copywriting tips door Aartjan van Erkel
Gebruik jij deze 2.000 jaar oude verkooptechniek? 16 januari 2014 — Storytelling, Tips, Verkooptechniek Mooi verhaal: een paar avonden geleden zat ik met vrouw en kinderen bij meneer pastoor. Een bejaarde man, die ons ontving in zijn woonkamer. Vloerbedekking, daar overheen een Perzisch tapijt, zware eikenhouten meubelen, kopje thee, een tikkende klok.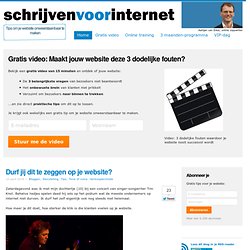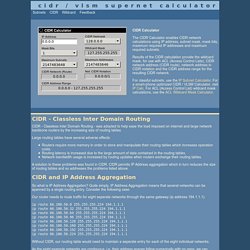 CIDR Calculator The CIDR Calculator enables CIDR network calculations using IP address, CIDR mask (subnet mask), mask bits, maximum required IP addresses and maximum required subnets. Results of the CIDR calculation provide the wildcard mask, for use with ACL (Access Control Lists), CIDR network address (CIDR route), network address in CIDR notation and the CIDR address range for the resulting CIDR network. For classful subnets, please use the IP Subnet Calculator. For classful supernets, please use the IP Supernet Calculator. For simple ACL (Access Control List) wildcard mask calculations, please use the ACL Wildcard Mask Calculator.
De Webrichtlijnen
* Dutch Payment Service Provider | ICEPAY (NL)
Browsershots makes screenshots of your web design in different operating systems and browsers. It is a free open-source online web application providing developers a convenient way to test their website's browser compatibility in one place. When you submit your web address, it will be added to the job queue. A number of distributed computers will open your website in their browser.