Internet
Online IP Subnet Calculator. HTML5_Canvas_Cheat_Sheet.pdf (application/pdf-object) Useit.com: Jakob Nielsen on Usability and Web Design. Internet copywriting tips door Aartjan van Erkel. Online IP CIDR / VLSM Supernet Calculator. CIDR Calculator The CIDR Calculator enables CIDR network calculations using IP address, subnet mask, mask bits, maximum required IP addresses and maximum required subnets.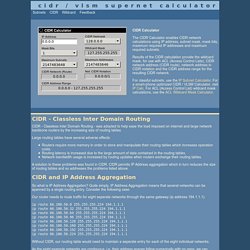 Results of the CIDR calculation provide the wildcard mask, for use with ACL (Access Control Lists), CIDR network address (CIDR route), network address in CIDR notation and the CIDR address range for the resulting CIDR network. For classful subnets, use the IP Subnet Calculator. For a smart-phone optimized CIDR / VLSM Calculator, visit IP Calc. For ACL (Access Control List) wildcard mask calculations, use the ACL Wildcard Mask Calculator. De Webrichtlijnen.
* Dutch Payment Service Provider | ICEPAY (NL) Check Browser Compatibility, Cross Platform Browser Test - Browsershots.
---