Other art instaallations
50 Unexplainable Black &White Photos: Pics, Videos, Links, News - StumbleUpon. Speed Painter - Speed Painting - Live Painting Performance. SUPAKITCH &KORALIE - ARTE, PINTURA DE UN MURAL , Song is by D.L.I.D.... A Portrait of Tobias Wong Using 13,138 Dice. Canadian artist and designer Tobias Wong died last year at the young age of 35, or more specifically, 13,138 days.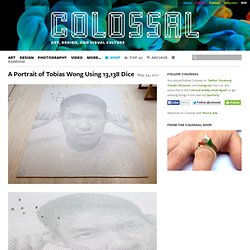 In tribute, his friend Frederick McSwain created this immense portrait of Wong entitled Die using 13,138 dice as part of the BrokenOff BrokenOff exhibition at Gallery R'Pure in NYC in memoriam to the artist during NY Design Week. McSwain via Core77: :::::: carnovsky :::::: RGB Color est e pluribus unus RGB is a work about the exploration of the "surface's deepness".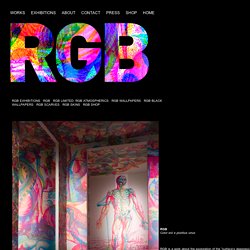 RGB designs create surfaces that mutate and interact with different chromatic stimulus. With a Passion for Skateboarding: Creative Art Sculptures by Haroshi |... Now that's a sick madness!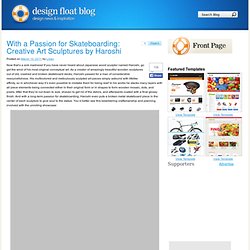 If you have never heard about Japanese wood sculptor named Haroshi, go get the wind of his most original conceptual art. As a creator of amazingly beautiful wooden sculptures out of old, crashed and broken skateboard decks, Haroshi passed for a man of considerable resourcefulness. His multicolored and meticulously sculpted art pieces simply astound with lifelike affinity, so in whichever way it's even possible to mistake them for being real! Soft gravitational pull towards fleshy architectural bodies. - Synaptic Sti... Pic-of-the-day-press-on-nails-as-art from flavorwire.com. In her Peacocks series artist Laurel Roth, a former park ranger, uses fake fingernails, nail polish, barrettes, false eyelashes, and Swarovski crystals as her medium.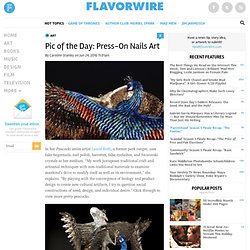 "My work juxtaposes traditional craft and artisanal techniques with non-traditional materials to examine mankind's drive to modify itself as well as its environment," she explains. "By playing with the convergence of biology and product design to create new cultural artifacts, I try to question social constructions of need, design, and individual desire." Click through to view more pretty peacocks. Beholder, 2010. Mixed media including fake fingernails, nail polish, barrettes, false eyelashes, jewelry, walnut, Swarovski crystal. 24 x 36 x 59″. Visit Chihuly: Through the Looking Glass at the MFA.
---