Fashion
I Spy DIY. Chic Steals Blogger of the Month-October! Hi everyone!
I'm Carly from Chic Steals , and I've been a huge fan of M&J Trimming for such a long time. I make it a point to always stop in the store and meander through whenever I'm in New York City. It's like a glittering treasure trove for me, stocked full of beads, baubles, trims, rhinestones, and appliqués – so much so that I'm never able to leave with empty hands. It's amazing how easily you can update a piece of clothing or an accessory with said beads, baubles, and appliqués…and how incredibly high-fashion projects can look when you've added a bit of frivolous sparkle to them. Project 1: Runway DIY.com | Page 6 - StumbleUpon. DIY Two Stitch Dress If the sauna of city smog has got you wondering what to wear, try DIY-ing your own simple and breathable summer dress.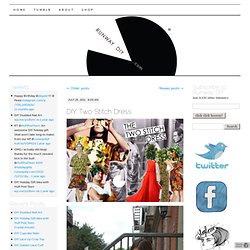 One cut and two stitches is all it takes! DIY Cutoffs with Closet Collage Cut offs are a seasoned summer staple. Fabulous and Twenty- A stylish guide for living on a budget - StumbleUpon. Quinn Johnson's Designs by quinnbryan. My Signature 2 (+) In 1 Snappy Clip In Feather Hair Extensions!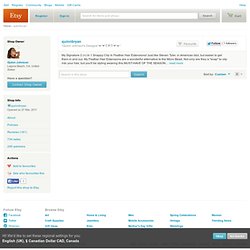 Just like Steven Tyler, in American Idol, but easier to get them in and out. My Feather Hair Extensions are a wonderful alternative to the Micro Bead. Not only are they a "snap" to clip into your hair, but you'll be styling wearing this MUST-HAVE OF THE SEASON without the commitment or hassles of a micro bead (its GREAT for those Gals who don't like to commit;).
Not only will this SAVE YOU MONEY (NO NEED to keep going back into a salon to fix your extension EVERY-TIME your hair grows or you want to dye your hair), and there is no need for any tools or worries of damaging your beautiful hair! * I also only use the BEST QUALITY FEATHERS....WHITING FARM FEATHERS in my Feather Extensions!!! Hair Extension Feathers. Tutorial : DIY Nautical Headband. How to make a Nautical HeadbandMaterials:-4 yds of rope or ribbon cut into 4 equal strands-1/2 yd 1 inch twill-hair band-sewing needle-thread The following pictures show you step by step how to make the sailor's knot with your first two strands of rope.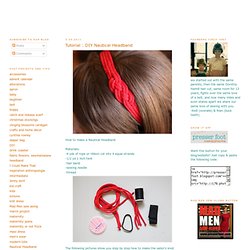 Pay careful attention to which strand is on top or under the other. Lace Zipper Tutorial... Want a quick update to an old shirt?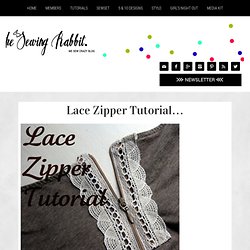 How about an exposed lace zipper?!! With some left over lace scraps, an invisible zipper, and a zipper foot for your sewing machine, this is an easy and quick refashion that turns any shirt into something just a tad more feminine and lovely. Ruffles & Buttons, Anthro Inspired. So here is that long promised (and sadly late) Anthro inspired tee tutorial.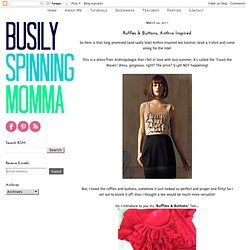 Grab a t-shirt and come along for the ride! This is a dress from Anthropologie that I fell in love with last summer. It's called the "Count the Waves" dress, gorgeous, right? The price? Watermark Tee by Sweet Verbana. Hello U-Create readers!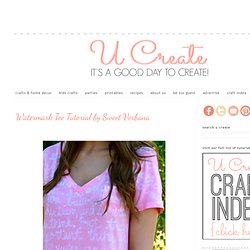 I am so excited to be guest posting here today. It just so happens to be my first guest post and I'm still a little shocked that it's here at Ucreate, one of my favorite blogs! A little bit about me.. DIY Color Block Moccasins. Our love of Minnatonka moccasins and obsession with Balenciaga's Fall 2010 shoes made this DIY we created for Foam Magazine a no brainer.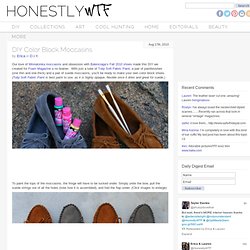 With just a tube of Tulip Soft Fabric Paint, a pair of paintbrushes (one thin and one thick) and a pair of suede moccasins, you'll be ready to make your own color block shoes. (Tulip Soft Fabric Paint is best paint to use, as it is highly opaque, flexible once it dries and great for suede.) To paint the tops of the moccasins, the fringe will have to be tucked under. Simply untie the bow, pull the suede strings out of all the holes (note how it is assembled), and fold the flap under. DIY Shibori. Shibori is a Japanese term for methods of dyeing cloth by binding, stitching, folding, twisting, and compressing.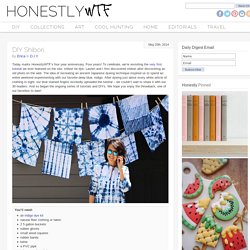 In Japan, the earliest known example of cloth dyed with the shibori technique dates back to the 8th century where indigo was the main dye used. We were immediately inspired by this fascinating technique, it's history and beauty. After much research, we decided to tackle 3 techniques of Shibori dyeing with an Indigo Tie Dye Kit, a few old white shirts and scarves, and several household items. DIY No Knit Scarf. We love Rike Feurstein.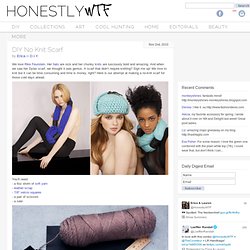 Her hats are sick and her chunky knits are lusciously bold and amazing. And when we saw her Dylan scarf, we thought it was genius. A scarf that didn't require knitting? Sign me up! DIY Bleach Tie Dye. Last summer, we were obsessed with shibori indigo tie dying. No, really . . . we just about dyed anything white in sight. So when Free People asked us to include a DIY in their guest blogger series, we knew a new tie dye project was absolutely in order. And as the weather is beginning to warm up, what better time than now to start experimenting with reverse tie dye using bleach! Black tees and tops: watch out! High school fashions, 1969. DIY Fendi Frill - Honestly WTF. It was love at first sight when we laid eyes on the amazing oversized, billowy, ruffled frills adorning the Fall 2010 runway looks at Fendi.
We immediately wanted one and just couldn't imagine having to wait another several months to actually see these frills materialize. With some research, persistence, and umpteen botched attempts, we finally figured out a fail-proof pattern. Heels/Wedges | Shoes & Boots.
Cheep Cheep Cute accessories galore by cheepcheep on Etsy. Simply Me Art by simplymeart. WORLD WIDE SHIPPING AVAILABLE~ ~WHEN VINTAGE AND CONTEMPORARY COME TOGETHER IN ONE OF KIND CREATIONS FROM HEAD TO TOE~ FOLLOW SIMPLY ME ART ON TUMBLR TO SEE WHAT INSPIRES MY DESIGNS~ Send a Picture Wearing a Piece of Simply Me Art that I can Post to the Face Book Fan Page and my Blog and I will send you a Coupon Code for 50% off your Next Simply Me Art Purchase~ I would Love to see your Beautiful Faces wearing some Vintage Sparkle! Simplymeart [!
At] gmail.com.
---