Web
Twitter Bots Create Surprising New Social Connections. You might have encountered a "Twitter bot" before: an automated program that perhaps retweeted something you wrote because it had particular keywords.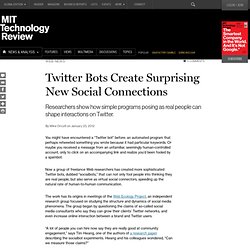 Or maybe you received a message from an unfamiliar, seemingly human-controlled account, only to click on an accompanying link and realize you'd been fooled by a spambot. Now a group of freelance Web researchers has created more sophisticated Twitter bots, dubbed "socialbots," that can not only fool people into thinking they are real people, but also serve as virtual social connectors, speeding up the natural rate of human-to-human communication. The work has its origins in meetings of the Web Ecology Project, an independent research group focused on studying the structure and dynamics of social media phenomena. The group began by questioning the claims of so-called social media consultants who say they can grow their clients' Twitter networks, and even increase online interaction between a brand and Twitter users. Short Film of the Day: Stuxnet: Anatomy of a Computer Virus | Film School... - StumbleUpon.
Why Watch?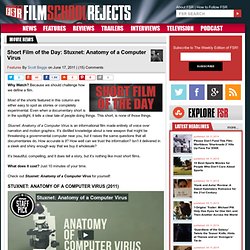 Because we should challenge how we define a film. Most of the shorts featured in this column are either easy to spot as stories or completely experimental. Even when a documentary short is in the spotlight, it tells a clear tale of people doing things. This short, is none of those things. Exploiting Unexploitable XSS. XSS that are protected by CSRF protection or where other mitigating factors are present are usually considered to be unexploitable or of limited exploitability.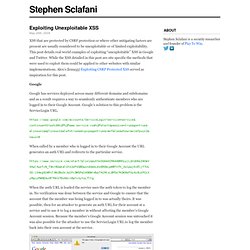 This post details real world examples of exploiting "unexploitable" XSS in Google and Twitter. While the XSS detailed in this post are site specific the methods that were used to exploit them could be applied to other websites with similar implementations. Alex's (kuza55) Exploiting CSRF Protected XSS served as inspiration for this post. Google. Hacked Gadgets - DIY Tech Blog. Dark Reading | Security | Protect The Business - Enable Access. Hexxeh's Blog - Home of…um, well, Hexxeh… The Internet map. The map of the Internet Like any other map, The Internet map is a scheme displaying objects' relative position; but unlike real maps (e.g. the map of the Earth) or virtual maps (e.g. the map of Mordor), the objects shown on it are not aligned on a surface.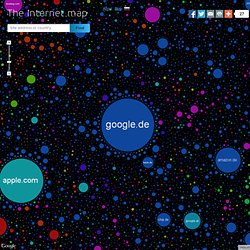 Mathematically speaking, The Internet map is a bi-dimensional presentation of links between websites on the Internet. Every site is a circle on the map, and its size is determined by website traffic, the larger the amount of traffic, the bigger the circle. Users' switching between websites forms links, and the stronger the link, the closer the websites tend to arrange themselves to each other. Hack-World.net - The Popular Computer Security Education Site. The War On Cyber. CyberTerrorists - The War On Cyber: CyberTerrorists - The War On Cyber Join us now to get access to all our features.
Once registered and logged in, you will be able to create topics, post replies to existing threads, give reputation to your fellow members, get your own private messenger, and so, so much more. InterN0T - Underground Security Training. iExploit. The Best Hacking Tutorial Sites - Learn Legal Hacking - StumbleUpon. Written by: Daniel Robson•edited by: Aaron R.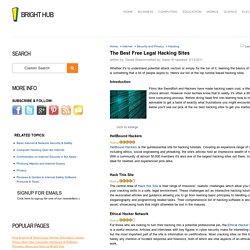 •updated: 2/13/2011 Whether it's to understand potential attack vectors or simply for the fun of it, learning the basics of hacking is something that a lot of people aspire to. Here's our list of the top tutorial based hacking sites. Introduction Films like Swordfish and Hackers have made hacking seem cool, a lifestyle choice almost. However most techies know that in reality it's often a difficult and time consuming process.
Exploiting Unexploitable XSS. Hacking. Stuxnet - Cyber Warfare. Ritter's Crypto Glossary and Dictionary of Technical Cryptography. Copyright 1995 to 2007 Terry Ritter.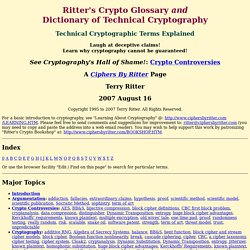 All Rights Reserved. Or use the browser facility "Edit / Find on this page" to search for particular terms. This Glossary started as a way to explain the terms on my cryptography web pages describing my: The value of a definition is insight. New Hacking Tools Pose Bigger Threats to Wi-Fi Users. Web Performance Analysis.
---