Cyber Security
Hard Drive Data Recovery - How to Recover Data from a Dead Hard Drive
Let's dispense with the I-told-you-sos. If you find yourself facing a data recovery job, then you have probably forgotten the cardinal rule of computing: All hard drives eventually fail. And you didn't back up your data, did you?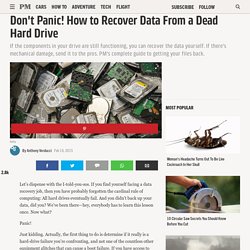 You are looking at the HoneyMap, a real-time world map which visualizes attacks captured by honeypots of the Honeynet Project. Red markers on the map represent attackers, yellow markers are targets (honeypot sensors). This project is highly experimental and should be considered a BETA version. So far, current Chrome and Firefox browsers should work fine.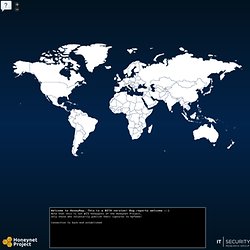 It has been suggested by UK ministers recently that there should be better awareness of theimportance of cyber security. Although conventionally, it is the more traditional generations that are wary of sharing their details in the new digital world, it is perhaps not such a bad thing to be more cautious. Jim Murphy, the Shadow Secretary of state for Defence recently said that cyber security could be the "arms race of the 21st century" – and he isn't wrong. In fact, he went on to say that the UK is particularly vulnerable to cyber attacks, ranking sixth in the world as a cyber crime hotspot, suffering losses of £27 billion a year. Taking this startling statistic on board, action is clearly needed. Without getting too political, the government are currently making a number of cuts across the country in order to save money and reduce national debt.
Daily cyber threats and internet security news: network security, online safety and latest security alerts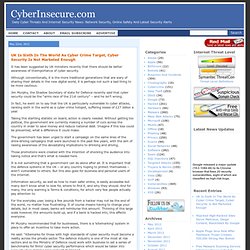 Spending Scarce Taxpayer Dollars on Security Programs that Work By Franklin S. Reeder, Daniel Chenok, Karen S. Evans, James Andrew Lewis and Alan Paller As the threat to the cyber infrastructure on which the federal government and the nation relies grows, the urgency of investing wisely in protection against, detecting, mitigating, and recovering from cyber events takes on increasing urgency. Our adversaries are well equipped and agile.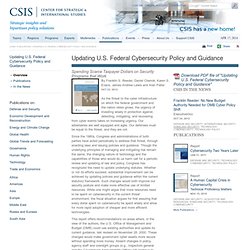 Updating U.S. Federal Cybersecurity Policy and Guidance
CERT - Tips
Depuis plus de 20 ans, Panda Security innove et développe de nouvelles technologies pour protéger ses clients de tous les types de menaces. Plus qu'un simple antivirus ! Le nouveau Panda Antivirus Pro 2014 offre la protection la plus facile à utiliser et la plus intuitive pour votre ordinateur. Installez-le et oubliez les virus, les logiciels espions, les rootkits, les pirates et les escroqueries en ligne.
Panda Antivirus Pro 2013 | Antivirus | Firewall | Anti-spyware | Security to buy | Download | Buy | Renew - Panda Security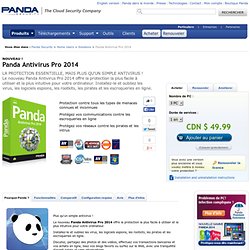 Belarc - System Management For The Internet Age. Software license management, IT asset management, IT security audits and more.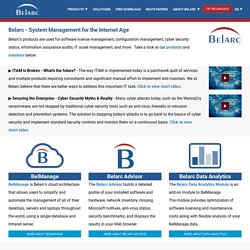 Belarc's WAN architecture allows users to simplify and automate the management of all of their desktops, servers and laptops throughout the world, using a single database and Intranet server. Belarc's products automatically create an accurate and up-to-date central repository (CMDB), consisting of detailed software, hardware and security configurations. Our products are used for software license management, configuration management, Windows 7 migration, cyber security status, information assurance audits, IT asset management, and more. Belarc's products are in use on well over twenty million computers and are licensed by numerous customers including: Agfa Healthcare, AIG, Catholic Relief Services, Dana, Defense Logistics Agency, FAA, Holcim, Kindred Healthcare, NASA, Sungard, Travelers, U.S. Air Force, U.S.
What is KeePass? Today you need to remember many passwords. You need a password for the Windows network logon, your e-mail account, your website's FTP password, online passwords (like website member account), etc. etc. etc. The list is endless. Also, you should use different passwords for each account. Because if you use only one password everywhere and someone gets this password you have a problem...
LastPass Does The Work LastPass is there when you need to login, generate a password for a new site, or complete an online order. Learn more. Browsing Is Faster We've streamlined the browsing experience with features that take the hassle out of logging in and signing up, so you can forget about passwords forever. Get started with LastPass for free.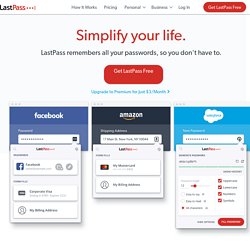 Lab US | Antivirus & Internet Security Protection Software
1. Nmap Nmap ("Network Mapper") is a free and open source (license) utility for network discovery and security auditing. Nmap uses raw IP packets in novel ways to determine what hosts are available on the network, what services (application name and version) those hosts are offering, what operating systems (and OS versions) they are running, what type of packet filters/firewalls are in use, and dozens of other characteristics. Nmap homepage. 2.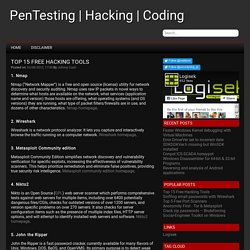 Understanding Cyber warfare