LinkedIn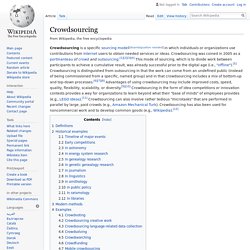 Crowdsourcing is the practice of obtaining needed services, ideas, or content by soliciting contributions from a large group of people, and especially from an online community, rather than from traditional employees or suppliers.[1] This process is often used to subdivide tedious work or to fund-raise startup companies and charities, and can also occur offline.[2] It combines the efforts of numerous self-identified volunteers or part-time workers, where each contributor of their own initiative adds a small portion to the greater result. Crowdsourcing is distinguished from outsourcing in that the work comes from an undefined public rather than being commissioned from a specific, named group.
4 Job Search Performance Enhancement Tips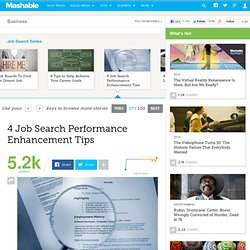 Chelsea P. Gladden is the Director of Marketing & PR for FlexJobs, an award-winning service that helps job-seekers find professional opportunities that also offer work flexibility, such as telecommuting, freelance, part-time or alternative schedules. To learn more about Chelsea, visit FlexJobs.com or tweet her @FlexJobsChelsea. If you're like millions of Americans looking for a job right now, it might be time to take a step back and evaluate your job-search tactics.
Screenshot By default, LinkedIn gives your profile a wonky URL with a bunch of numbers and letters. To help clean it up, you can choose a custom URL for your public profile.
How To Make The Most Out Of LinkedIn - Flock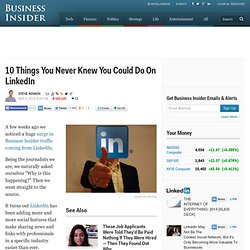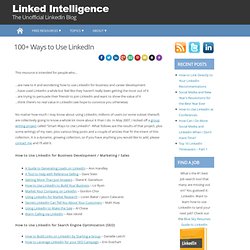 This resource is intended for people who… …are new to it and wondering how to use LinkedIn for business and career development …have used LinkedIn a while but feel like they haven't really been getting the most out of it …are trying to persuade their friends to join LinkedIn and want to show the value of it …think there's no real value in LinkedIn (we hope to convince you otherwise) No matter how much I may know about using LinkedIn, millions of users (or some subset thereof) are collectively going to know a whole lot more about it than I do. In May 2007, I kicked off a group writing project called "Smart Ways to Use LinkedIn". What follows are the results of that project, plus some writings of my own, plus various blog posts and a couple of articles that fit the intent of this collection.
Top Five Ways to Use LinkedIn for Social Media Marketing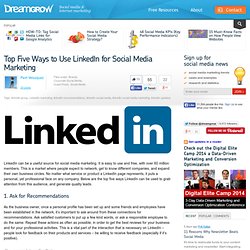 LinkedIn can be a useful source for social media marketing. It is easy to use and free, with over 60 million members. This is a market where people expect to network, get to know different companies, and expand their own business circles. No matter what service or product a LinkedIn page represents, it puts a personal, yet professional face on any company. Below are the top five ways LinkedIn can be used to grab attention from this audience, and generate quality leads.
Have you noticed the changes to LinkedIn recently? Although changes to LinkedIn are less frequent than on Facebook, they can have significant marketing implications. Read further to find out how the recent changes to LinkedIn impact your social media marketing.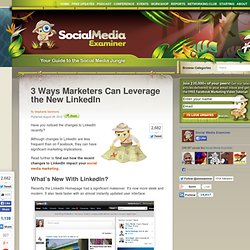 Are you a LinkedIn newbie? Do you struggle to network and show off your expertise? Do you want to secure new business? If so, the most important thing to know is that LinkedIn is not just a modern Rolodex or a glorified resume. It contains more valuable information about a contact than you could imagine.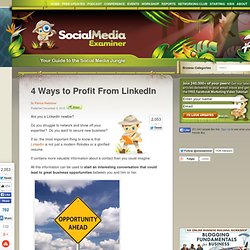 Back in November, I set out to write a post to highlight businesses that were using LinkedIn's company page features effectively. Needless to say, I couldn't find enough examples to create a compelling post, so in my dismay, what I actually ended up writing was, "11 Reasons Your LinkedIn Company Page Sucks." What can I say? I was a little bitter and, frankly, slightly disappointed in the social media marketers of the world. We recently reported that, in a study of the over 5,000 inbound marketers where we pitted LinkedIn against Facebook and Twitter, LinkedIn proved to be the most effective social media channel for lead generation -- 277% more effective, in fact.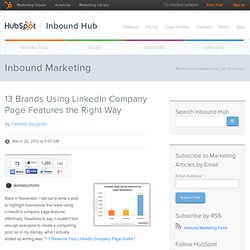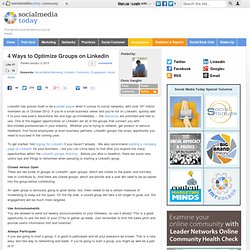 LinkedIn has proven itself to be a power player when it comes to social networks, with over 187 million members as of October 2012. If you're a small business owner and you're not on LinkedIn, quickly add it to your new year's resolutions list and sign up immediately – the resources are unlimited and free to use. One of the biggest opportunities on LinkedIn are all of the groups that connect you with like-minded professionals in your industry. Whether you're trying to network, get product or service feedback, find future employees or even business partners, LinkedIn groups has every opportunity you need to succeed in the coming year.
4 Ways to Optimize Groups on Linkedin
As a social media trainer, I get a few recurring LinkedIn questions in my workshops and seminars. I thought I would compile a little list with questions and answers here, hopefully they will be useful to you. Most questions are related to sales, marketing and recruitment which is basically the type of professionals I tend to train.
21 Ways To Build Your Personal Brand on LinkedIn | jorgensundberg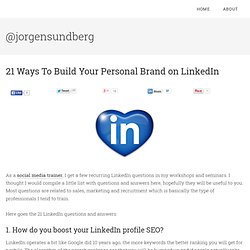 Apply with LinkedIn is an easy, elegant, flexible plugin that enables visitors to your career page to apply to jobs with their LinkedIn profiles. With just a few lines of copy-paste code, your users can get a frictionless, beautiful application experience that results in more candidates of higher quality for you. If you want, learn more about the benefits of Apply with LinkedIn before continuing with this technical guide. Click on the button to see Apply with LinkedIn in action: inApply with LinkedInGet hired faster
Apply with LinkedIn *New Button*
FC - 5 tips
Adam Foster Poverty of the Mind pic" width="610" height="340" /> Whether it's Mark Zuckerberg talking about killing pigs or a Hollywood blockbuster under its belt, Facebook has plenty of attention in our lives. Twitter falls into the same camp.
15 Tips To Optimize Your LinkedIn Initiative
This is a guest post by Lior Levin. LinkedIn has enjoyed explosive growth since its debut in 2003. The real question is whether or not you're making the most of your LinkedIn efforts and networking in general? LinkedIn is so much more than social networking for businesses and business people – it can totally change how you run your business as a whole.
Post your Facebook Business page here!