Twitter
Outil de buzz, rumeur Jun 14
Dupont-Aignan, @dupontaignan
Qu'elle soit volontaire ou non, la présence sur les réseaux sociaux est devenue une réalité pour chaque entreprise. Pour que celle-ci ne soit pas subie, plusieurs initiatives doivent être prises.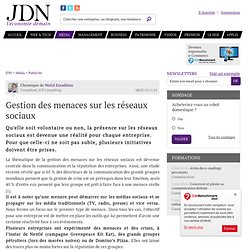 Gestion des menaces sur les réseaux sociaux - JDN Média
Les gens intelligents préfèrent Twitter ?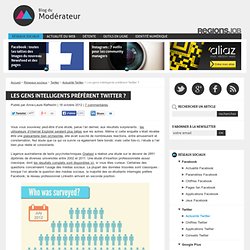 Vous vous souvenez peut-être d'une étude, parue l'an dernier, aux résultats surprenants : les utilisateurs d'Internet Explorer seraient plus bêtes que les autres. Même si cette enquête s'était révélée être une plaisanterie bien orchestrée, elle avait suscité de nombreuses réactions, entre amusement et consternation. Nul doute que ce qui va suivre va également faire bondir, mais cette fois-ci, l'étude a l'air bien plus réelle et consistante. L'agence australienne de tests psychotechniques Onetest a réalisé une étude sur le devenir de 2851 diplômés de diverses universités entre 2002 et 2011.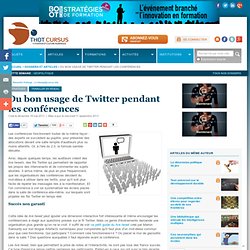 Les conférences fonctionnent toutes de la même façon : des experts se succèdent au pupitre, pour présenter des allocutions devant une salle remplie d'auditeurs plus ou moins attentifs.
Twitter pour les chercheurs
Comment Tweeter automatiquement ses anciens articles de blog
Tricklr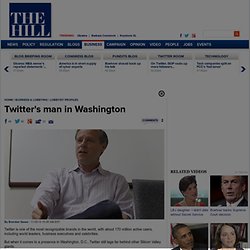 Twitter is one of the most recognizable brands in the world, with about 170 million active users, including world leaders, business executives and celebrities. But when it comes to a presence in Washington, D.C., Twitter still lags far behind other Silicon Valley giants. Facebook and Google have built extensive lobbying operations to ensure that policymakers look out for their interests. Twitter, the microblogging service that allows users to share their thoughts in 140-character messages, has no registered lobbyists and just two employees following policy issues. The company rents a handful of offices in a nondescript building about a mile from the U.S. Capitol.
Twitter's man in Washington - The Hill
15 Useful Twitter Applications
In requests for more information about our Twitter party and Twitter chat services, we are often asked, "How can I get my hashtag to become a trending topic on Twitter?" The question's frequency makes sense: To have your hashtag or brand name displayed along Twitter's 'trending topics' column is a coveted position, with the top or 'promoted' trend costing an advertiser a reported $120K to achieve it. Trending topics are seen and monitored by millions of sets of eyes per day; to be one of them can be game-changing for a company. When a user clicks on a trending topic, they will see a list of all recently-tweeted tweets that contain that term. For companies, this means having more people learn about them and get introduced to their products and services.
Hashtag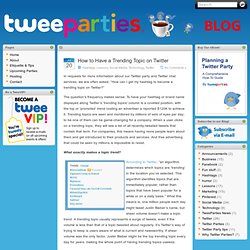 TagsInAction
Interesting tool, as Twitwheel or Tweeted Times around Twitter... by ocpourvoir Mar 31
Xeni Jardin (xeni
v6.9: Drag and drop image uploading, more templates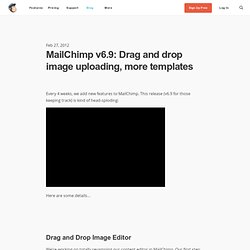 Every 4 weeks, we add new features to MailChimp. This release (v6.9 for those keeping track) is kind of head-sploding: Here are some details… Drag and Drop Image Editor We're working on totally revamping our content editor in MailChimp.
The Rainbow vanished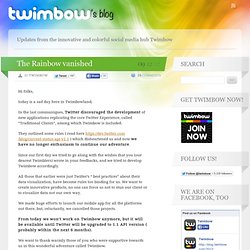 When you talk too much for Twitter
6 Tools That Allow You To Write Longer Twitter Tweets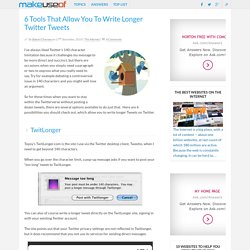 So for those times when you want to stay within the Twitterverse without posting a dozen tweets, there are several options available to do just that. Here are 6 possibilities you should check out, which allow you to write longer Tweets on Twitter. TwitLonger Topsy's TwitLonger.com is the site I use via the Twitter desktop client, Tweetie, when I need to get beyond 140 characters. When you go over the character limit, a pop-up message asks if you want to post your "too long" tweet to TwitLonger.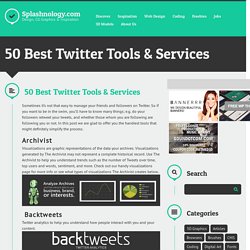 inShare27 Sometimes it's not that easy to manage your friends and followers on Twitter. So if you want to be in the swim, you'll have to know many things; e.g. do your followers retweet your tweets, and whether those whom you are following are following you or not.
10 Top Twitter Tools Suggested By the Pros
Yes, there are a ton of great Twitter Tools out there for you, but which ones should you pick? I thought one of the best ways to narrow your choice down is to get in touch with the real Social Media experts. I sent them an email and asked them about their recommended Tools for you. So here are the top 10 responses from the Twitter Pros out there.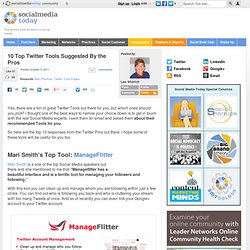 Now you can send your tweets directly into Evernote. Why is this cool?
Geek du social network, de bons conseils à prendre en compte, savoir utiliser les reseaux sociaux by ocpourvoir Dec 9
DOWNLOAD The Complete Guide To Twitter
Even though half the universe is on Twitter these days, beginning out of nothing isn't always that evident. If you really want your Twitter to fly high, it doesn't end with just creating an account. In 40+ pages, this guide tackles every Twitter feature, tip and trick you can think of.