PDA
Quelque peu dépassé, dommage, pourquoi sur/sous-spécifier les produits (+ phone, + photo, - IrDa...)... faire du fric... 3G/Wifi
Dell Axim Software. Monopoly, Tetris and More Games for Axim. Spb Pocket Plus - Products - Spb Software House. Weather - prévisions météorologiques exactes pour Windows Mobile 6 et 6.5 (Pocket PC et Smartphone) An Entire Weather Station on Your Pocket PC Elecont Weather is the most powerful and reliable Windows Mobile weather forecast software.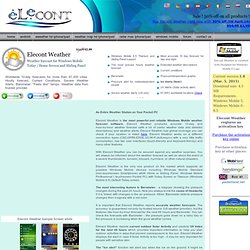 Elecont Weather produces accurate 10-day and hour-by-hour weather forecast (with a lot of useful weather data and detailed descriptions) and weather alerts. Elecont Weather has global coverage you can check if your location is listed here. Elecont Weather works on a different connection types (CSD,GPRS,EDGE,3G,Wi-Fi,Activesync) with a very little traffic consumption, has two user interfaces (touch-friendly and keyboard-friendy) and many other features. With Elecont Weather you can be secured against any weather surprises. Open source downloads. If you want to keep your pictures, videos, files, contacts and calendar in sync between your devices and desktop applications the easiest way is to try the free myFUNAMBOL demo service.
Install and run your own Funambol Community Edition Funambol Server Stable Release v. 10.0. PocketPCFreewares. Pocket PC Software - Télécharger des logiciels Pocket PC - Pocketland France - Logiciels pour Pocket PC et MS Smartphones. Cool Solutions GroupWise PDA Connect 1.0 SP1 Multi Lingual. There is now a new Product Support forum for PDA Connect.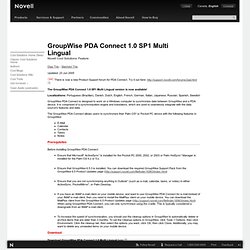 Try it out here: The GroupWise PDA Connect 1.0 SP1 Multi Lingual version is now available! Localizations: Portuguese (Brazilian), Danish, Dutch, English, French, German, Italian, Japanese, Russian, Spanish, Swedish. Skype For iPhone. Ultimate Pocket Everything about PocketPC , PDA , GPS & Mobility. Windows Mobile 5.0 Fix Site - Home.
---