Blocnote intranet / Sync / Collaboration extranet Saas
Trouver une solution, du type, post-it, bloc note (plrs pages), avec attribut texte enrichi (surlignage, polices, taille, attributs, puces, emot-icones...), sur le bureau, synchronisable, à travers un intranet ! ... parce que blog privée, trop compliqué pour le besoin, evernote c'est pas privée (intranet), c'est cloud dépendant, et trop lourd (environnement windows), il faudrait, qlqchoses du type environnement AIR (adobe)... si qlq'un à quelquechose je suis intérèssé à voir ... A+ les amis si vous le voulez bien... Oct 14
Google Drive, Skydrive, Dropbox, Box.net et des dizaines (centaines ?) d'autres se battent pour devenir votre espace de stockage de référence dans le Cloud. Malheureusement pour eux, il y a peu de clients loyaux et la plupart d'entre nous avont un compte gratuit et des données hébergées chez plusieurs d'entre eux.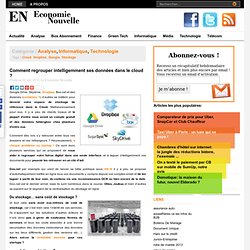 Comment regrouper intelligemment ses données dans le cloud ?
With Zoho, you focus on your business while we take care of the rest with apps that help you get more sales, get paid, support your customers and make your business more productive. "One of our favorite cloud office suites comes from Zoho" "Zoho is the most comprehensive suite of web-based programmes for small businesses..." "I typed this story in Zoho Writer, even though I had never even tried it until this week. So far, so good..." "Zoho CEO Sridhar Vembu weighs in on cloud computing business" More
More Than 6 Million Users Work Online With Zoho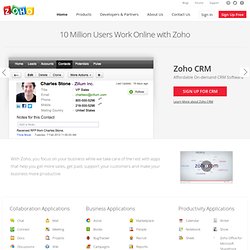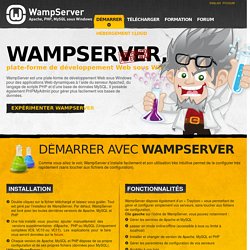 WampServer est disponible gratuitement (sous licence GPL). Vous pouvez remplir ce formulaire qui nous permettra de vous faire parvenir les actualités formation d'Alter Way, société éditrice, ainsi que toutes les informations liées aux évolutions de WampServer. Si vous ne le souhaitez pas, vous pouvez passer au téléchargement direct.
Quelles sont les mesures incontournables pour rendre son Intranet un minimum accessible ? La question s'est posée au cours d'une récente mission pour la refonte d'un Intranet, alors que le cahier des charges était rédigé depuis longtemps et que la livraison du dispositif approchait. L'accessibilité de l'Intranet (sujet déjà abordé sur ce blog avec la restitution de la présentation de l'Intranet de la BNF) avait bien été envisagée dès le cahier des charges mais il avait alors été décidé de s'en tenir à sa prise en compte native par la solution.
Les 4 piliers d'un Intranet accessible - Consultant e-communication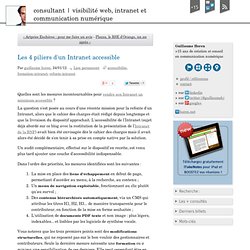 easyphp mysql
Organize, share and discuss all your information. A powerful editor to design your own intranet pages. Write rich text documents. Add discussions, custom forms, images, check lists, social media and much more. Create a knowledge base or internal wiki for your team. Designed from scratch: insanely easy to use, all you need to build a beautiful intranet.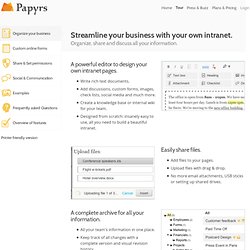 Papyrs Tour - Intranet as a Saas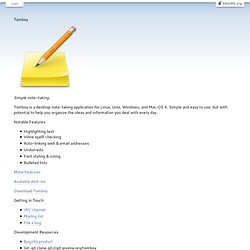 Login GNOME.org Tomboy Simple note-taking. Tomboy is a desktop note-taking application for Linux, Unix, Windows, and Mac OS X. Simple and easy to use, but with potential to help you organize the ideas and information you deal with every day.
Tomboy : Simple note taking
Google Drive vs. SkyDrive vs. Dropbox
Yesterday, Microsoft unleashed a desktop sync app for SkyDrive. Today, Google followed by finally launching Google Drive — after a series of early appearances hinted that it was going to be arriving very, very soon. So now that the dust has settled, how do the two new services stack up with the current king of cloud storage and sync, Dropbox? Let's take a look. Free Storage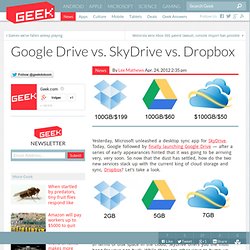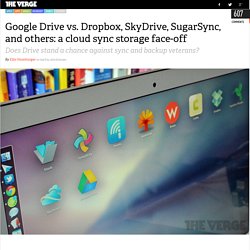 471inShare Jump To Close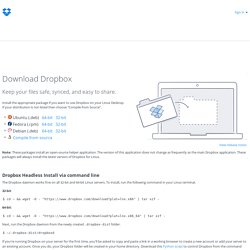 The Dropbox daemon works fine on all 32-bit and 64-bit Linux servers. To install, run the following command in your Linux terminal. 32-bit: cd ~ && wget -O - "https://www.dropbox.com/download?plat=lnx.x86" | tar xzf - 64-bit:
Working in IT for 5 years, I've learned that desktop sharing/screen sharing software applications make life a lot easier for both the users and for the administrators. It's not only a great way to supply technical support to users, but it's also a fabulous way to share data and collaborate with others remotely quickly and easily. I've been using remote desktop sharing software for a while now and it's worked wonders for our team. Multiple people in different locations around the country can work on a presentation or a project plan simultaneously from their desktop computers!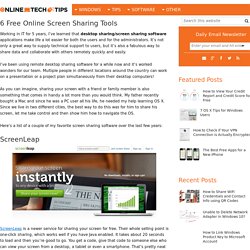 6 free remote desktop sharing and screen sharing solutions