Photo
30 Fresh Macro Photographs. Macro Photography is always the center point of attraction for photographers.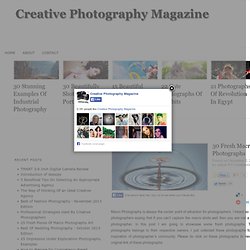 I heard so many photographers saying that if you can't capture the macro shots well then you are not a good photographer. In this post I am going to showcase some fresh photographs. Brilliant Examples Of Photo Manipulation. It is always good to gain inspiration from everywhere possible, if you are a new designer or an expert it does not matter.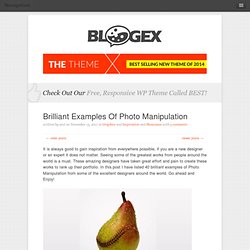 Seeing some of the greatest works from people around the world is a must. These amazing designers have taken great effort and pain to create these works to rank up their portfolio. In this post I have listed 40 brilliant examples of Photo Manipulation from some of the excellent designers around the world. Go ahead and Enjoy! 35 Stunning Examples Of Expressive Portraits Photography. Photographers are always keen to show the emotions and feelings in their photographs.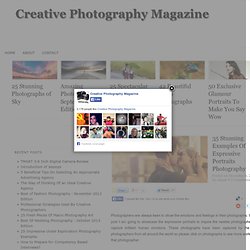 In this post I am going to showcase the expressive portraits to inspire the newbie photographers to capture brilliant human emotions. These photographs have been captured by the best photographers from all around the world so please click on photographs to see more work from that photographer. Hushing cheeks. 25 Outstanding Beach Photos. Beaches are common vacation spots, and the nature scenes can serve as an excellent source of inspiration for designers.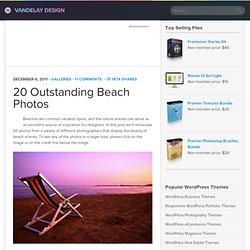 In this post we'll showcase 20 photos from a variety of different photographers that display the beauty of beach scenes. To see any of the photos in a larger size, please click on the image or on the credit link below the image. Photo credit: Moyan Brenn Photo credit: Ville Miettinen Photo credit: jkurl11. 20 Impressive Examples Of Sky Photography. This post features the beautiful and impressive examples of sky photography.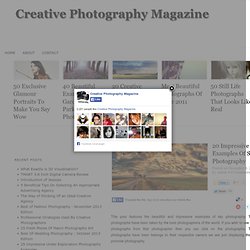 These photographs have been taken by the best photographers of the world. If you wish to see more photographs from that photographer then you can click on the photographs. Relevant Design Tips in Creating a Photography Online Portfolio. Having an online portfolio can certainly help one to promote his own skills and business.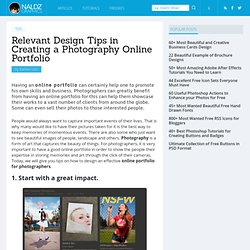 Photographers can greatly benefit from having an online portfolio for this can help them showcase their works to a vast number of clients from around the globe. Some can even sell their photos to those interested people. People would always want to capture important events of their lives. That is why many would like to have their pictures taken for it is the best way to keep memories of momentous events. 23 Websites with Full-Screen Photo Backgrounds.
Get the FlatPix UI Kit for only $7 - Learn More or Buy Now The art of crafting pixel-perfect website layouts can take many years to develop as a professional.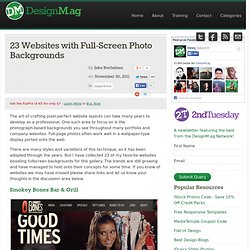 One such area to focus on is the photograph-based backgrounds you see throughout many portfolio and company websites. Full-page photos often work well in a wallpaper-type display ported onto the web. There are many styles and variations of this technique, as it has been adapted through the years. But I have collected 23 of my favorite websites boasting fullscreen backgrounds for this gallery. 33 Elegant-Looking Clock Photos to Inspire You. Time is said to be gold and for most people, Time is money.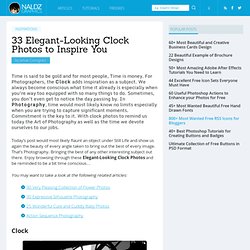 For Photographers, the Clock adds inspiration as a subject. We always become conscious what time it already is especially when you're way too equipped with so many things to do. 50+ Cool and Magical Morning Photos. Photography in Fashion. Nov 04 2011 When worlds collide, it is said to be a cataclysmic event.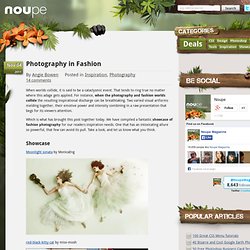 That tends to ring true no matter where this adage gets applied. For instance, when the photography and fashion worlds collide the resulting inspirational discharge can be breathtaking. Picfull - Free One Click Photo Editing. Stunning Photo Manipulations Inspired by Nature. Nov 10 2011 Nature is a popular subject amongst the Photoshop community, and subsequently is featured in a lot of photo manipulation work.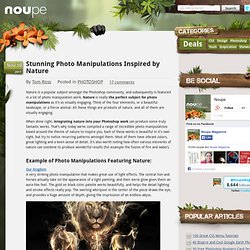 Nature is really the perfect subject for photo manipulations as it's so visually engaging. Think of the four elements, or a beautiful landscape, or a fierce animal. All these things are products of nature, and all of them are visually engaging. When done right, integrating nature into your Photoshop work can produce some truly fantastic works. 99 Excellent Examples of Forced Perspective Photography | Photography. Forced perspective is a technique that employs optical illusion to make an object appear farther away, closer, larger or smaller than it actually is. It is used primarily in photography, filmmaking and architecture. It manipulates human visual perception through the use of scaled objects and the correlation between them and the vantage point of the spectator or camera.
There are many ways to attack photography and some are much more expensive than others. Here in this showcase, we presenting a Stunning collection of Forced Perspective Photography and Pictures taken by various artists in which all pictures are linked to the author's pages. 40 Colorful Photographs of Crisp Autumn Nature at DzineBlog. A Selection Of Creative Photo Manipulations For Inspiration. It's been a while since I've published an article with photo manipulations and that's because I wanted to gather creations that will impress you.
Hopefully these will. In this article there are 30 photo manipulations for inspiration. 27 Creative Website Designs with Photograph Backgrounds. Home » Design » 27 Creative Website Designs with Photograph Backgrounds Integrating photos into your website cleanly is no small feat. That's why a trend in web design has just been to integrate photos into the background of designs. 35+ Examples of Hot Fashion Photography. Fashion photography is the type of photography devoted to displaying clothing and other fashionable items. Although this type of photography is usually used for advertisement purposes, but now with the growth of fashion industry it has now become separate field. Today we're showcasing 35+ examples of hot fashion photography. We hope that these fashion photography examples will surely takes your skills to the next level.
45 Most Wanted and Useful Photography Related Tutorials. The Top 100 Shots From Our Photography Contests in August 2011. 50 Fascinating Illustration Designs and Photo Manipulations. 25 Web Designs with Full Page Background Photos. 30 Brilliant Photoshop Photo Effects Tutorials. Inspiration: Black and White Photography. Incredible Illusions of Forced Perspective Photography. 30 Gorgeous Examples Of Cityscapes Photography. 20 Interesting Examples of Cosplay Photography. 30 Gorgeous Examples Of Fashion Photography.
50 Mind Blowing Photo Manipulations - Noupe Design Blog. Get Inspired: Great Examples of Web Design with Heavy Use of Photos. Useful Photography-Related Tutorials - Noupe Design Blog. White Intimity – Les photos sexy et extravagantes de Dennis Ziliotto. Surreal Photography by Leszek Bujnowski. Kawah Ijen by night. 40 Beautiful Examples of Sunrise Photography. Web Design Fact: 100+ Funny Photos Taken At Unusual Angle (Humor) 35 Amazing Photo Effect Photoshop Tutorials - Web Design Blog – DesignM.ag. Houses With Superb Architecture And Interior Design – 60 Photos | Design your way. Stunningly Creative Photos That Make You Say 'Wow'
60 Beautiful & Stunning Examples of Silhouette Photography on Deviantart. 44 Impressive Examples of Concert Photography | Inspiration | chethstudios Design Magazine. 53 Smashing National Geographic Photos | Design your way. 51 Spectacular Slow Shutter Speed Digital Photography. Surreal Photo Manipulation: 40 Amazing Artwork. Photography Inspiration: 40+ Inspiring Examples of Night Photos. In silhouette. 30+ Ingenious Book Photomanipulations | Designious Times. 40 Superb Photoshop Tutorials For Attractive Photo Effects. Free Pictures - FreeFoto.Com.
Photo libre de droits : Rechercher des images et photos libres d. Free Photo - Cepolina Photos. PHANIE. Photos libres de droits - banque d'images françaises en libre dr. Creative Stock Photography that's good for your eyes. FREE STOCK IMAGES.
Ipernity O° (Partagez ce que vous voulez, avec qui vous voulez) 100 (Legal) Sources for Free Stock Images | Virtual Hosting Blog. Free Photos Index. Unprofound.com : royalty free photography project - a public dom. The leading free stock photography site. Webshots - Photo Sharing, Free Wallpaper and Free Screensavers. Vintage Pixels - Your Source for FREE vintage and antique photos. Stock Photos - Abstract Influence. S atmosphere // Free stockphotos // Free icons // Weblog. Stockvault.net | Free Stock Photos and Free Images.
Free Pictures. Everystockphoto - searching free photos. Fotolia - Banque d'Images - Photos libres de droits - Images lib. PD Photo - Free Photos And Pictures (public domain, stock pictur.
Free Photos, Free Stock Photos, Images. Free Royalty Free Stock Photography - Accueil. Free Photos - Free Images - Royalty Free Photos - Free Stock Pho. Human Photo Manipulation: 50 Amazing Artworks | Inspiration. Give a Photo a Complete Glamour Makeover With Stunning Light and. 40 Creative "Transparent Screen" Trick Photos | Inspiration. 30 Fantastic Photo Manipulations Featuring Wings « PSDFan. 45 Photoshop Actions To Enhance Your Photos And Stand Out.
---
laik Aug 27 2012

il veu dire koi se pearltrees???
---