R=
A protester holds a sign at the Occupy Wall Street protest last weekend Douglas Rushkoff says traditional media condescends to Occupy Wall Street movement He says that's because its 21st-century, net-driven narrative doesn't fit old media model He says protest not about end-point, it's about a new discourse on variety of complaints Rushkoff: Protest may be unwieldy, but aims to correct disconnects in U.S. Editor's note: Douglas Rushkoff is a media theorist and the author of "Program or Be Programmed: Ten Commands for a Digital Age" and "Life Inc: How Corporatism Conquered the World and How We Can Take it Back." (CNN) -- Like the spokesmen for Arab dictators feigning bewilderment over protesters' demands, mainstream television news reporters finally training their attention on the growing Occupy Wall Street protest movement seem determined to cast it as the random, silly blather of an ungrateful and lazy generation of weirdos.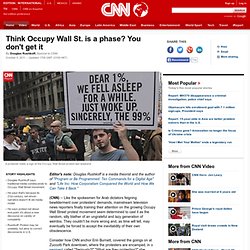 Think Occupy Wall St. is a phase? You don't get it
I AM NOT MOVING - Short Film - Occupy Wall Street
EL VIDEO QUE NO QUIEREN QUE MIREMOS !!!
ANONYMOUS 'EL PLAN' FASE 1. INICIADA GUERRA CONTRA EL SISTEMA. Subtitulos Esp