TUTORIALI
Yet Another Colorization Tutorial. How To Give Your Photos a Dark Processed Lomo Effect. Follow this step by step post processing guide to give your photos a dark lomo style effect with high contrast, blue tones and vignette burns.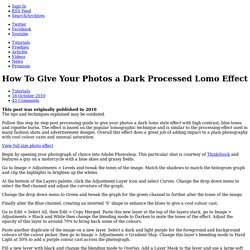 The effect is based on the popular lomographic technique and is similar to the processing effect used in many fashion shots and advertisement designs. Overall this effect does a great job of adding impact to a plain photography with cool colour casts and unusual saturation. View full size photo effect Begin by opening your photograph of choice into Adobe Photoshop. This particular shot is courtesy of ThinkStock and features a guy on a motorcycle with a blue skies and grassy fields. How to Transfer a Photograph Onto a Block of Wood. 80+ Color Altering Photoshop Actions. 353 shares Inspiring Architecture and City Photography I believe that architecture and general city landscapes are pretty inspiring.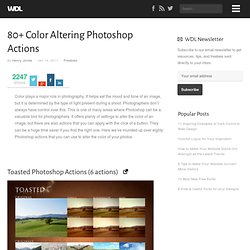 If we stop to pay attention to it, it is amazing the amount of textures, angles, symmetry, depth and other details we can find on the streets surrounding us. This is why today we gathered some inspiring photography to inspire you to look around… 80+ Color Altering Photoshop Actions.
---