Mobile, Touchscreen
Introduction Mobile apps and HTML5 are two of the hottest technologies right now, and there's plenty of overlap. Web apps run in mobile browsers and can also be re-packaged as native apps on the various mobile platforms. With the wide range of platforms to support, combined with the sheer power of mobile browsers, developers are turning to HTML5 as a "write one, run many" solution.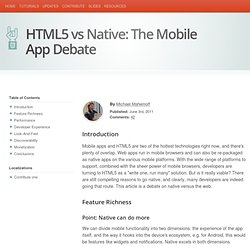 HTML5 Rocks - HTML5 vs Native: The Mobile App Debate
Best Collection of Mobile User Interface Patterns
A User-Centered Approach To Web Design For Mobile Devices - Smashing Magazine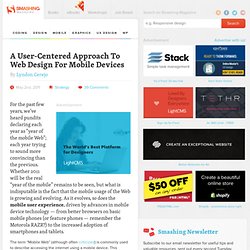 Unfortunately, the page you've requested cannot be displayed. It appears that you've lost your way either through an outdated link or a typo on the page you were trying to reach. Please feel free to return to the front page or use the search box in the upper area of the page to find the information you were looking for. We are very sorry for any inconvenience.
Three Layers of Mobile User Experience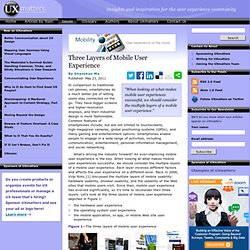 By Shanshan Ma Published: May 23, 2011 "When looking at what makes mobile user experiences successful, we should consider the multiple layers of a mobile user experience." In comparison to traditional cell phones, smartphones do a much better job of letting users stay connected on the go.
Mobile HTML5 - compatibility tables for iPhone, Android, BlackBerry, Symbian, iPad and other mobile devices
Cactus Blog - 10 UX Tips For Your Mobile Checklist - E-commerce insights and strategies
Mobitest – Mobile Web Performance Tool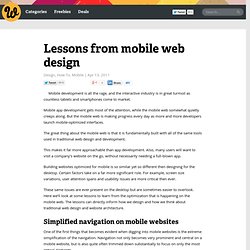 Lessons from mobile web design
Mobile development is all the rage, and the interactive industry is in great turmoil as countless tablets and smartphones come to market. Mobile app development gets most of the attention, while the mobile web somewhat quietly creeps along. But the mobile web is making progress every day as more and more developers launch mobile-optimized interfaces.
Optimizing a Screen for Mobile Use
Designing Mobile Interfaces: Patterns for Interaction Design is a comprehensive reference for mobile design patterns. Whether designing for smartphones, featurephones or other related devices, common principles are discussed and codified as 76 universal interaction and interface patterns. Aside from suggestions, each pattern lists pitfalls and implementations to avoid. Every pattern is grouped with similar or optional patterns, and explained with the underlying psychology and physiology.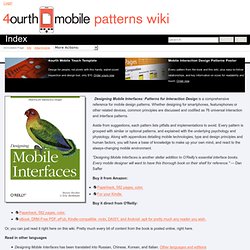 Index - 4ourth Mobile Design Pattern Library
Getting Ahead Of The Curve: Branding On Mobile Devices And Desktop Browsers - Smashing Magazine
Advertisement According to Brandweek, "brands are the express checkout for people living their lives at ever increasing speed. This article shows you how, and why, to add "app"-like icons to your sites for several mobile and desktop browser displays, to clearly and elegantly identify your site with an icon that stands out from the crowd. Logo Presentation And The Nine Basic Ballet Movements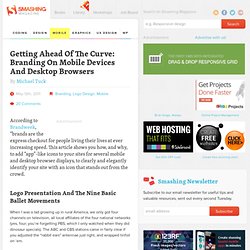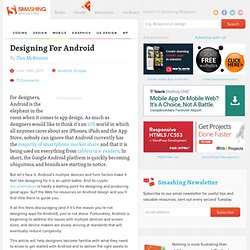 Designing For Android - Smashing Magazine
Advertisement For designers, Android is the elephant in the room when it comes to app design. As much as designers would like to think it's an iOS world in which all anyones cares about are iPhones, iPads and the App Store, nobody can ignore that Android currently has the majority of smartphone market share and that it is being used on everything from tablets to e-readers.
Mobile UI Patterns ? Splash Screens
Introduction to Widget Handset APIs in WAC 1.0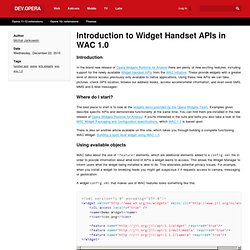 By Michał Jankowski Introduction In the brand new release of Opera Widgets Runtime for Android there are plenty of new exciting features, including support for the newly available Widget Handset APIs from the WAC initiative. These provide widgets with a greater level of device access previously only available to native applications.
By Michał Borek Introduction The WAC initiative is a joint effort by mobile industry leaders to make mobile applications more interoperable across devices, easier for developers to create, and more powerful and useful for end users.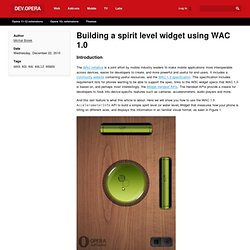 Building a spirit level widget using WAC 1.0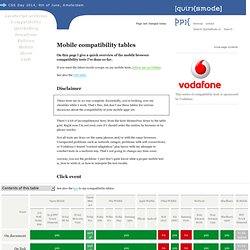 Page last changed today This series of compatibility tests is sponsored by Vodafone. On this page I give a quick overview of the mobile browser compatibility tests I've done so far. If you want the latest inside scoops on my mobile tests, follow me on Twitter. See also the CSS table. These tests are in no way complete.
Mobile compatibility tables
Mobile Web Best Practices 1.0
Épargnez le réseau Maîtriser les protocoles réseaux du Web permet de réduire la latence et de chasser le superflu. Compressez le contenu avant envoi Ajoutez une empreinte aux adresses Web pour une mise en cache efficace Mettez en cache les données AJAX Réduisez les ressources externes Minimisez taille des données et application Optimisez le nombre d'échanges réseau Modérez l'utilisation de cookies N'envoyez pas les cookies lorsque ce n'est pas nécessaire Evitez les redirections Haut ↑ Libérez les utilisateurs Les terminaux mobiles sont utilisés dans des contextes très différents.
Les cartes des bonnes pratiques des applications Web mobiles
Mobile Web Application Best Practices
Abstract The goal of this document is to aid the development of rich and dynamic mobile Web applications. It collects the most relevant engineering practices, promoting those that enable a better user experience and warning against those that are considered harmful. Status of This Document This section describes the status of this document at the time of its publication.
La toolbar de l'application correspond à la partie haute de chacune des fenêtres de l'application. Elle contient au centre le titre de la fenêtre, puis un éventuel bouton sur la partie gauche permettant de revenir à la fenêtre précédente. Cela correspond à une partie du code HTML de notre exemple test précédent : L'élément <h1>(dont l'id est obligatoirement pageTitle) contiendra le titre de la fenêtre actuellement affichée, tandis que l'élément <a> (dont l'id est obligatoirement backButton) contiendra un bouton permettant de revenir à la fenêtre précédente (si elle existe). La classe button associée à ce lien permet de lui donner par l'intermédiaire des CSS l'apparence d'un bouton. L'adresse du lien est indiquée par l'attribut href et celui-ci sera mis à jour automatiquement par le code JavaScript de iUI.
Développement Web pour mobiles - iUI côté CSS
iUI: User Interface Framework for Mobile Web Devices iUI is a framework consisting of a JavaScript library, CSS, and images for developing advanced mobile webapps for iPhone and comparable/compatible devices. Create Mobile-optimized WebApps with just HTML and CSS iUI has the following features:
iui - Project Hosting on Google Code
How the World Is Using Cellphones [INFOGRAPHIC]
mobiForge
Effective Design for Multiple Screen Sizes
Mobile Web Design: Getting to the Point - Part I
Mobile Web Design: Getting to the Point - Part II
A Very Modern Mobile Switching Algorithm - Part I
A Very Modern Mobile Switching Algorithm - Part II
mobiReady - dotMobi compliance & mobileOK checker
Designing for the iPhone 4's Retina display
Designing for Retina display, part 2
Fonts for iPad & iPhone | Michael Critz
All the sizes of iOS app icons
Designing the new Campaign Monitor iOS icons
Redirection iPad & iPhone par PHP, Javascript ou htaccess | Victor Coulon
Mobile-friendly: The mobile web optimization guide - Opera Developer Community
Penser mobile d''abord
Penser mobile d''abord aide pour les décisions critiques
Rethinking the Mobile Web by Yiibu
Modeling the Mobile User Experience
XUI | javascript micro-framework
Next-generation UX
Mobile - Table of contents
There is no WebKit on Mobile
A tale of two viewports — part one
A tale of two viewports — part two
The Great WebKit Comparison Table
State of mobile web development, part 1/3: the problem
State of mobile web development, part 2/3: progressive enhancement
State of mobile web development, part 3/3: the mobile industry's failings
Considerations for Mobile Design (Part 1): Speed
Building Mobile Web Apps the Right Way: Tips and Techniques
Mobile Strategy, Data Visualization, and Design Process - Big Challenges, Big Rewards
WURFL
DeviceAtlas | DeviceAtlas
Tera-WURFL - Mobile Device Identification
Simulez votre site sur téléphones mobiles avec ProtoFluid - Alsacréations
Mobile 10 and the Opera Widgets Mobile Emulator on your desktop - Opera Developer Community
Mobile emulator for desktop - Opera Developer Community
Mini Simulator
ProtoFluid. Rapid Prototyping of Adaptive CSS and Responsive Design.