Mobile, Touchscreen
Introduction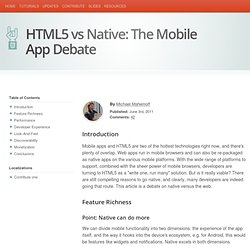 HTML5 Rocks - HTML5 vs Native: The Mobile App Debate
Best Collection of Mobile User Interface Patterns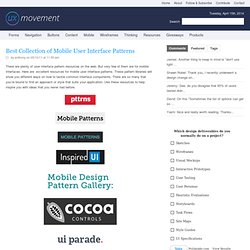 by anthony on 05/10/11 at 11:30 am There are plenty of user interface pattern resources on the web. But very few of them are for mobile interfaces.
A User-Centered Approach To Web Design For Mobile Devices - Smashing Magazine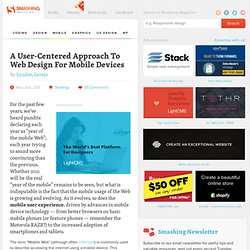 For the past few years, we've heard pundits declaring each year as "year of the mobile Web"; each year trying to sound more convincing than the previous.
Three Layers of Mobile User Experience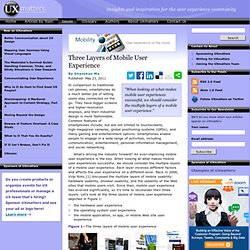 By Shanshan Ma
Cactus Blog - 10 UX Tips For Your Mobile Checklist - E-commerce insights and strategies
August 2, 2011 · Posted by Caroline Zenss · 0 Comments · Trackback Url Sharing: As more and more retailers are exploring and deploying mobile shopping sites , I wanted to shed light on emerging patterns in mobile user experience.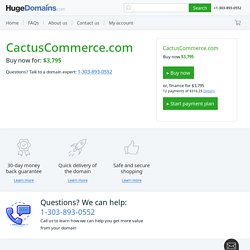 Mobitest – Mobile Web Performance Tool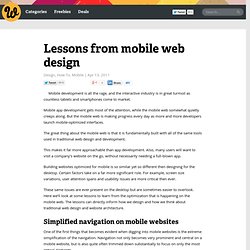 Lessons from mobile web design
Mobile development is all the rage, and the interactive industry is in great turmoil as countless tablets and smartphones come to market. Mobile app development gets most of the attention, while the mobile web somewhat quietly creeps along. But the mobile web is making progress every day as more and more developers launch mobile-optimized interfaces.
Optimizing a Screen for Mobile Use
Summary: A single mobile screen with almost no features still required 10 design changes to meet usability guidelines for mobile websites.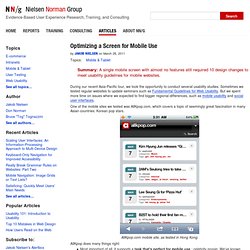 Designing Mobile Interfaces: Patterns for Interaction Design is a comprehensive reference for mobile design patterns.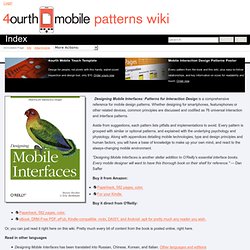 Index - 4ourth Mobile Design Pattern Library
Getting Ahead Of The Curve: Branding On Mobile Devices And Desktop Browsers - Smashing Magazine
According to Brandweek , "brands are the express checkout for people living their lives at ever increasing speed.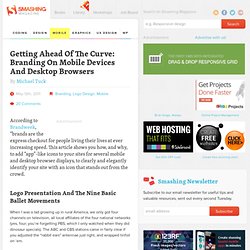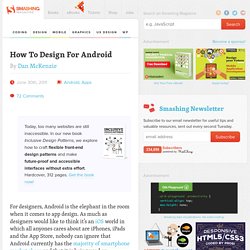 For designers, Android is the elephant in the room when it comes to app design.
Introduction to Widget Handset APIs in WAC 1.0
By Michał Jankowski
By Michał Borek Introduction The WAC initiative is a joint effort by mobile industry leaders to make mobile applications more interoperable across devices, easier for developers to create, and more powerful and useful for end users.
Building a spirit level widget using WAC 1.0
Page last changed today This series of compatibility tests is sponsored by Vodafone. On this page I give a quick overview of the mobile browser compatibility tests I've done so far. If you want the latest inside scoops on my mobile tests, follow me on Twitter . See also the CSS table . These tests are in no way complete.
Mobile compatibility tables
Épargnez le réseau Maîtriser les protocoles réseaux du Web permet de réduire la latence et de chasser le superflu.
Les cartes des bonnes pratiques des applications Web mobiles
Mobile Web Application Best Practices
Abstract
Développement Web pour mobiles - iUI côté CSS
iui - Project Hosting on Google Code
How the World Is Using Cellphones [INFOGRAPHIC]
A Study of Trends in Mobile Design - Smashing Magazine
mobiForge
Effective Design for Multiple Screen Sizes
Mobile Web Design: Getting to the Point - Part I
Mobile Web Design: Getting to the Point - Part II
A Very Modern Mobile Switching Algorithm - Part I
A Very Modern Mobile Switching Algorithm - Part II
Mobile Boilerplate Beta - GitHub
Designing for Retina display, part 2
Fonts for iPad & iPhone | Michael Critz
All the sizes of iOS app icons
Designing the new Campaign Monitor iOS icons
Redirection iPad & iPhone par PHP, Javascript ou htaccess | Victor Coulon
Mobile-friendly: The mobile web optimization guide - Opera Developer Community
Rethinking the Mobile Web
Penser mobile d''abord
Penser mobile d''abord aide pour les décisions critiques
Rethinking the Mobile Web by Yiibu
Modeling the Mobile User Experience
Mobile Image Adaptation — Bryan Rieger
Mobile Image Replacement — Bryan Rieger
Next-generation UX
Mobile - Table of contents
There is no WebKit on Mobile
A tale of two viewports — part one
A tale of two viewports — part two
The Great WebKit Comparison Table
State of mobile web development, part 1/3: the problem
State of mobile web development, part 2/3: progressive enhancement
State of mobile web development, part 3/3: the mobile industry's failings
Considerations for Mobile Design (Part 1): Speed
Mobile Strategy, Data Visualization, and Design Process - Big Challenges, Big Rewards
WURFL
DeviceAtlas | DeviceAtlas
Tera-WURFL - Mobile Device Identification
Simulez votre site sur téléphones mobiles avec ProtoFluid - Alsacréations
Mobile 10 and the Opera Widgets Mobile Emulator on your desktop - Opera Developer Community
Mobile emulator for desktop - Opera Developer Community