P-S-D
Europe Écologie Les Verts. Internationale Socialiste - Politiques Progressistes Pour un Monde Plus Juste. Partido Socialista Obrero Español. Republicans Abroad France. Site officiel du Mouvement Démocrate - MoDem. UMP. Parti socialiste.
Democrats.org. Obama for America — 2012. Democrats Abroad | The official Democratic Party for Americans living outside of the United States. Secretary Bob Vallier with Paulette Theodore: Get Out the Vote (GOTV) 2014.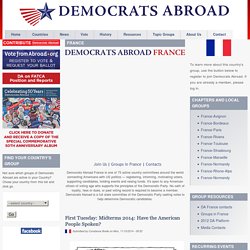 Take back that Congress! Democrats Abroad France holds its meetings every few months "in person" (instead of on Webex), where Chapters leaders from all over France assemble. The last in-person meeting was held in Paris on September 7, 2013 and all of the Chapter reps came to the Capitol for the weekend get-together and an all-day Saturday meeting. Startseite | Sozialdemokratische Partei Deutschlands (SPD) 3.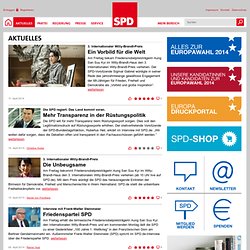 Internationaler Willy-Brandt-Preis Ein Vorbild für die Welt Am Freitag bekam Friedensnobelpreisträgerin Aung San Suu Kyi im Willy-Brandt-Haus den 3.
---