Faith
Jesus according to sources outside the Bible
What do we know about Jesus - from non-biblical sources? Jesus Christ is the only proof of the living God. We only know God through Jesus Christ. 1 - Blaise Pascal There was no such person in the history of the world as Jesus Christ. There was no historical, living, breathing, sentient human being by that name. Ever. [The Bible] is a fictional, nonhistorical narrative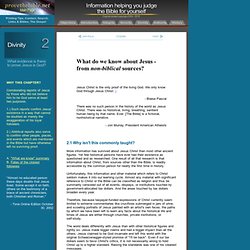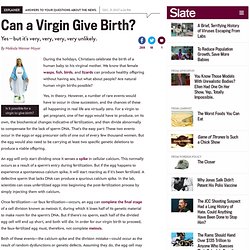 During the holidays, Christians celebrate the birth of a human baby to his virginal mother. We know that female wasps, fish, birds, and lizards can produce healthy offspring without having sex, but what about people? Are natural human virgin births possible? Yes, in theory. However, a number of rare events would have to occur in close succession, and the chances of these all happening in real life are virtually zero.
Is it possible for a virgin to give birth? - By Melinda Wenner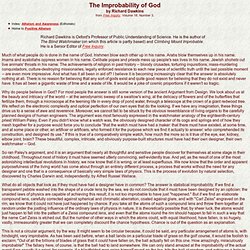 The Improbability of God by Richard Dawkins from Free Inquiry, Volume 18, Number 3. Much of what people do is done in the name of God. Irishmen blow each other up in his name. Arabs blow themselves up in his name.
Brought to you by The Augustine Club at Columbia University Up to the Apologetics Toolkit THE CATHOLIC CHURCH is the world's largest, and Christianity's oldest, religious body. Her 860 million members inhabit the width and breadth of the earth, comprising almost one-fifth of the total human population. She is far and away the most popular religious concept the world has ever known.