University/HE~Media (in medias res) Mijnheer de rector magnificus, zeer gewaardeerde toehoerders, in a further exploration of University + Sponsorship let us embark on a little thought experiment during which we turn our attention towards it's infrathin boundary with journalism .
http://translate.google.com :-) by notpicnic Jun 5
Is Using A Minotaur To Gore Detainees A Form Of Torture? | The Onion - America's Finest News Source | Onion News Network
studentenbladen overzicht
@hopersbureau
Breda University of Applied Sciences: education in digital entertainment, hospitality, leisure, mobility and tourism
NHTV Insight (InsightNHTV) on Twitter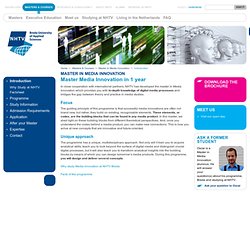 In close cooperation with international partners, NHTV has developed the master in Media Innovation which provides you with in-depth knowledge of digital media processes and bridges the gap between theory and practice in media studies. Focus The guiding principle of this programme is that successful media innovations are often not brand new, but rather, they build on existing, recognisable elements. These elements, codes, are the building blocks that can be found in any media product. In this master, we shed light on these building blocks from different theoretical perspectives. And, once you understand the codes behind a media product, you can make new connections.
Introduction - Master in Media Innovation | NHTV Breda
Tijdschrift OnderwijsInnovatie
Nederlandse Defensie Academie | Ministerie van Defensie
Saxion Aangenaam
SAX Deventer
Sax.nu (Sax_nu) sur Twitter
Thijs Klaverstijn (TheRealThijs) on Twitter
android store: Sax Media
@wendyvantil
Nieuws
TV
Avans Hogeschool, hbo-opleidingen in Breda, 's-Hertogenbosch & Tilburg
Punt Avans
Punt (PuntAvans) on Twitter
Laura Janssen (LCWJanssen) on Twitter
Maarten Gerats (maartengerats) on Twitter
hskwin' (hskwin) sur Twitter
UK student newspapers (in media res)
USA student newspapers (in media res)
De Leeslijst van Toon Boon De boeken van Bill Bryson Avonturen van een Nederbelg van Derk Jan Eppink Belgistán – el laboratoria nacionalista van Jacobo de Regoyos Mijn Vlaamse jaren van Jeroen Brouwers België – een parcours van herinnering van Jo Tollebeek La ciudad de los prodigos van Eduardo Mendoza Ons feilbare denken van Daniel Kahneman Traffic – Waarom wij rijden zoals wij rijden van Tom Vanderbilt A Mathematician Reads the Newspaper van John Allen Paulos Aantekeningen uit het ondergrondse van Dostojevski Oblomov van Gontsjarov Van oude mensen, de dingen die voorbijgaan van Louis Couperus Max Havelaar van Multatuli Juristen zijn ordelijke mensen. Toon Boon, juridisch raadgever op het rectoraat en specialist onderwijsrecht, komt dan ook niet met boeken aandragen, maar met een netjes gestructureerde inventaris van zijn boekenkast. "Ja, ik lees graag, terwijl de televisie door anderen wordt ingepalmd. Geef mij een terrasje, een glas wijn en een boek, en je hoort me niet meer.
Campuskrant | Nieuws