Government
Mgt350. USA.gov The U.S. Government's Official Web Portal. Student Gateway to the U.S. Government. Science.govUSA.gov for Science - Government Science Portal. GPO Access Home Page. U.S. National Archives and Records Administration - Archives.gov Home. Oregon.gov. Www.fedworld.gov. Welcome to the USGS - U.S. Geological Survey. Business Registry Business Name Search. Http--www.oea.das.state.or.us-economic-appendixc.pdf. Oregon Geospatial Data Clearinghouse (OGDC) - Home Page. Oregon Secretary of State Corporation Division OFFICIAL Government website. Oregon State Legislature. Sen. George Issues and Information. FedStats. State of Oregon Real Estate Agency.
State of Oregon Oregon DMV. Whether you're applying for the 1st time or renewing for the 10th All applicants for driver licenses, instruction permits and ID cards (including renewals and replacements) must present proof of their full legal name and U.S. citizenship or lawful presence in the United States.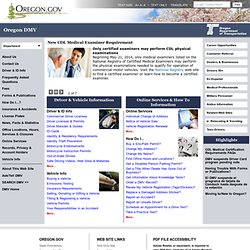 It can take weeks to obtain some of the documents you may need to meet the applicable laws, so don't wait until your license, permit or ID card expires. The Library of Congress.
---