Shambhala
Don Croner's "The Legend of Shambhala"
Shambhala
The Chronicles of Chögyam Trungpa Rinpoche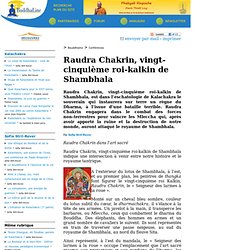 envoyer par mail - imprimer > Bouddhisme > Conférences Raudra Chakrin, vingt-cinquième roi-kalkin de Shambhala, est dans l'eschatologie de Kalachakra le souverain qui instaurera sur terre un règne du Dharma, à l'issue d'une bataille terrible.
Raudra Chakrin, vingt-cinquième roi-kalkin de Shambhala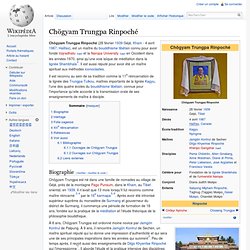 Chögyam Trungpa Rinpoché
Un article de Wikipédia, l'encyclopédie libre. Chögyam Trungpa Rinpoché Chögyam Trungpa Rinpoché Rinpoché Le monastère Kagyu Samye Ling et le Centre Tibétain à Eskdalemuir, près de Langholm, Dumfries et Galloway, en Écosse, fondé par Chögyam Trungpa Rinpoché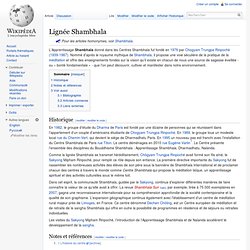 Un article de Wikipédia, l'encyclopédie libre. L'Apprentissage Shambhala donné dans les Centres Shambhala fut fondé en 1976 par Chogyam Trungpa Rinpoché (1939-1987). Nommé d'après le royaume mythique de Shambhala, il propose une voie séculière de la pratique de la méditation et offre des enseignements fondés sur la vision qu'il existe en chacun de nous une source de sagesse éveillée - ou « bonté fondamentale » - que l'on peut découvrir, cultiver et manifester dans notre environnement. Historique[modifier | modifier le code]
Lignée Shambhala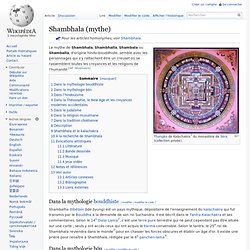 Shambhala (mythe)
Un article de Wikipédia, l'encyclopédie libre. Le mythe de Shambhala, Shambhalla, Shambala ou Shamballa, avec les personnages qui s'y rattachent, semble être un étonnant creuset où se rassemblent toutes les croyances et les religions de l'humanité. Shambalha (tibétain bde byung) est un pays mythique, dépositaire de l'enseignement du kalachakra qui fut transmis par le Bouddha à la demande de son roi Suchandra. Il est décrit dans le Tantra Kalachakra et ses commentaires. Selon le 14e Dalai Lama[2], c'est une terre pure terrestre qui ne peut cependant pas être située sur une carte ; seuls y ont accès ceux qui ont acquis le karma convenable. Selon le tantra, le 25e roi de Shambhala reviendra dans le monde[3] pour en chasser les forces obscures et établir un âge d'or.
Kootenay Shambhala Blog » Shambhala Buddhist path
July 4th, 2010 by James Northcote Enlarge image The Shambhala Office of Practice and Education recently updated its Shambhala Buddhist Path illustration. The update (shown at the left) clarifies how the key elements of the path fit together. Many of the constituent programs and events are offered at the Kootenay Shambhala Centre, either regularly or occasionally; participation in some of the in-depth training requires travel outside of the Nelson area. To download the illustration as a PDF file, click here.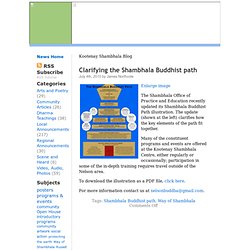 Shambhala Mountain Center
Shambhala Training Glossary
Shambhala Publications
It is unaffiliated with either Shambhala Buddhism or the Shambhala Sun magazine. History[edit] Shambhala was founded in 1969 by Samuel Bercholz[1] and Michael Fagan, in Berkeley, California. Its books are distributed by Penguin Random House. In 1976 Shambhala moved to Boulder, Colorado to be near the Naropa Institute. In 1986 Shambhala moved to Boston.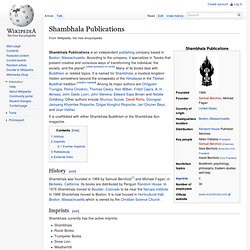 Chögyam Trungpa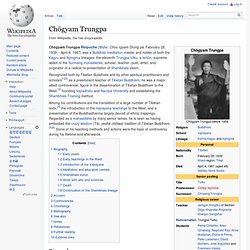 Chögyam Trungpa Rinpoche (Wylie: Chos rgyam Drung pa; February 28, 1939 – April 4, 1987) was a Buddhist meditation master and holder of both the Kagyu and Nyingma lineages, the eleventh Trungpa tülku, a tertön, supreme abbot of the Surmang monasteries, scholar, teacher, poet, artist, and originator of a radical re-presentation of Shambhala vision. Recognized both by Tibetan Buddhists and by other spiritual practitioners and scholars[1][2] as a preeminent teacher of Tibetan Buddhism, he was a major, albeit controversial, figure in the dissemination of Tibetan Buddhism to the West,[3] founding Vajradhatu and Naropa University and establishing the Shambhala Training method. Among his contributions are the translation of a large number of Tibetan texts,[4] the introduction of the Vajrayana teachings to the West, and a presentation of the Buddhadharma largely devoid of ethnic trappings.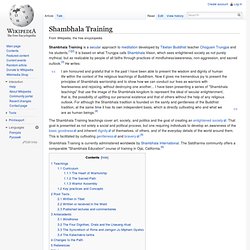 Shambhala Training is a secular approach to meditation developed by Tibetan Buddhist teacher Chogyam Trungpa and his students.[1][2] It is based on what Trungpa calls Shambhala Vision, which sees enlightened society as not purely mythical, but as realizable by people of all faiths through practices of mindfulness/awareness, non-aggression, and sacred outlook.[3] He writes: The Shambhala Training teachings cover art, society, and politics and the goal of creating an enlightened society. That goal is presented as not solely a social and political process, but one requiring individuals to develop an awareness of the basic goodness and inherent dignity of themselves, of others, and of the everyday details of the world around them.
Shambhala Training
In Tibetan Buddhist and Indian Hindu/Buddhist traditions, Shambhala (also spelled Shambala or Shamballa; Tibetan: བདེ་འབྱུང་; Wylie: bde 'byung, pron. de-jung; Chinese: 香巴拉; pinyin: xiāngbālā) is a mythical kingdom hidden somewhere in Inner Asia. It is mentioned in various ancient texts, including the Kalachakra Tantra[2] and the ancient texts of the Zhang Zhung culture which predated Tibetan Buddhism in western Tibet. The Bön[3] scriptures speak of a closely related land called Olmolungring. Hindu texts such as Vishnu Purana mention Shambhala as the birth place of Kalki, the final incarnation of Vishnu who will usher in a new Golden Age (Satya Yuga).[4]
Shambhala