Shambhala
Don Croner's "The Legend of Shambhala"
Shambhala
Descriptions of the kingdom of Shambhala are based both on literature said to emanate from Shambhala itself and by later commentators, mainly Tibetans, who claimed to have visited the kingdom in the material realm, on an etheric plane, in dreams, or by some other means. As the descriptions will make clear, this is not an "historical" Shambhala; i.e., a country that once existed in the time-space continuum recognized by Western historiography—for instance, the ancient kingdom of Uighur kingdom of Khocho, sometimes identified as Shambhala, but instead what we may call the "Pure Land" version of Shambhala. This of course does not necessarily imply that this version does not "exist" in some spiritual or etheric plane.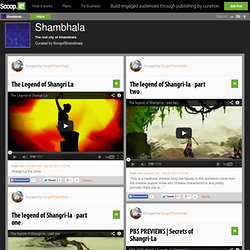 eBooks of Trungpa Rinpoche's Seminary Transcripts Posted April4, 2014 Shambhala Media is publishing all 13 years of Trungpa Rinpoche's seminary transcripts as ebooks. The 1973 Vajrayana ebook is available now.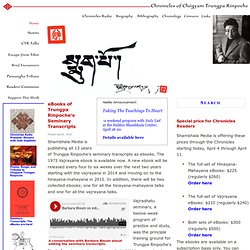 The Chronicles of Chögyam Trungpa Rinpoche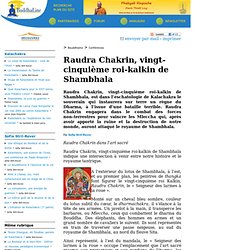 Raudra Chakrin dans l'art sacré Raudra Chakrin, vingt-cinquième roi-kalkin de Shambhala indique une intersection à venir entre notre histoire et le royaume tantrique. A l'extérieur du lotus de Shambhala, à l'est, et au premier plan, les peintres de thangka font figurer le vingt-cinquième roi Kalkin, Raudra Chakrin, le « Seigneur des larmes à la roue ».
Raudra Chakrin, vingt-cinquième roi-kalkin de Shambhala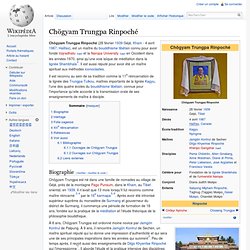 Chögyam Trungpa Rinpoché
Un article de Wikipédia, l'encyclopédie libre. Chögyam Trungpa Rinpoché Chögyam Trungpa Rinpoché Rinpoché Le monastère Kagyu Samye Ling et le Centre Tibétain à Eskdalemuir, près de Langholm, Dumfries et Galloway, en Écosse, fondé par Chögyam Trungpa Rinpoché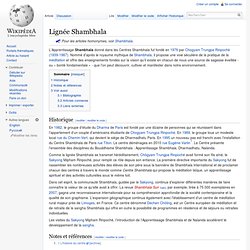 Un article de Wikipédia, l'encyclopédie libre. Historique[modifier | modifier le code] En 1982, le groupe d'étude du Dharma de Paris est fondé par une dizaine de personnes qui se réunissent dans l'appartement d'un couple d'américains étudiants de Chogyam Trungpa Rinpoché. En 1989, le groupe loue un modeste local rue du Chemin-Vert, qui devient le siège de Dharmadhatu Paris.
Lignée Shambhala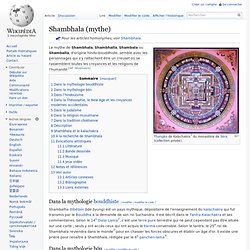 Shambhala (mythe)
Un article de Wikipédia, l'encyclopédie libre. Le mythe de Shambhala, Shambhalla, Shambala ou Shamballa, avec les personnages qui s'y rattachent, semble être un étonnant creuset où se rassemblent toutes les croyances et les religions de l'humanité. Shambalha (tibétain bde byung) est un pays mythique, dépositaire de l'enseignement du kalachakra qui fut transmis par le Bouddha à la demande de son roi Suchandra. Il est décrit dans le Tantra Kalachakra et ses commentaires. Selon le 14e Dalai Lama[2], c'est une terre pure terrestre qui ne peut cependant pas être située sur une carte ; seuls y ont accès ceux qui ont acquis le karma convenable. Selon le tantra, le 25e roi de Shambhala reviendra dans le monde[3] pour en chasser les forces obscures et établir un âge d'or.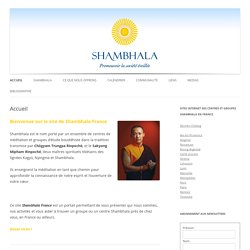 Shambhala est le nom porté par un ensemble de centres de méditation et groupes d'étude bouddhiste dans la tradition transmise par Chögyam Trungpa Rinpoché, et le Sakyong Mipham Rinpoché, deux maîtres spirituels tibétains des lignées Kagyü, Nyingma et Shambhala. Ils enseignent la méditation en tant que chemin pour approfondir la connaissance de notre esprit et l'ouverture de notre cœur. Ce site Shambhala France est un portail permettant de vous présenter qui nous sommes, nos activités et vous aider à trouver un groupe ou un centre Shambhala près de chez vous, en France ou ailleurs. Bonne visite !
Kootenay Shambhala Blog » Shambhala Buddhist path
July 4th, 2010 by James Northcote Enlarge image The Shambhala Office of Practice and Education recently updated its Shambhala Buddhist Path illustration. The update (shown at the left) clarifies how the key elements of the path fit together. Many of the constituent programs and events are offered at the Kootenay Shambhala Centre, either regularly or occasionally; participation in some of the in-depth training requires travel outside of the Nelson area. To download the illustration as a PDF file, click here.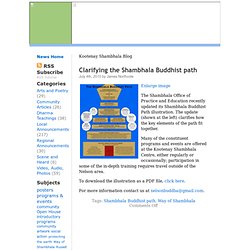 Want to know more about this issue's contributors and subjects, or Buddhism or meditation in general? See these special collections of pieces by favorite Shambhala Sun authors: The Dalai Lama The Shambhala Sun is proud to share this special selection of pieces by and about this unique teacher and world leader.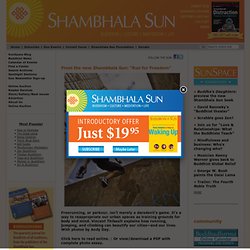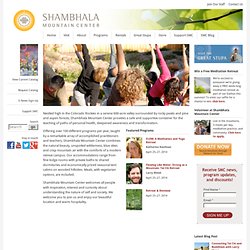 Nestled high in the Colorado Rockies in a serene 600-acre valley surrounded by rocky peaks and pine and aspen forests, Shambhala Mountain Center provides a safe and supportive container for the teaching of paths of personal health, deepened awareness and transformation. Offering over 100 different programs per year, taught by a remarkable array of accomplished practitioners and teachers, Shambhala Mountain Center combines the natural beauty, unspoiled wilderness, blue skies and crisp mountain air with the comforts of a modern retreat campus. Our accommodations range from fine lodge rooms with private baths to shared dormitories and economically priced seasonal tent cabins on wooded hillsides.
Shambhala Mountain Center
This glossary is compiled from the writings and teachings of the Venerable Chogyam Trungpa Rinpoche, the Dorje Dradul of Mukpo, and his students. To study these teachings in depth, one may attend Shambhala Training weekends and read Trungpa's book, "Shambhala, Sacred Path of the Warrior", (Shambhala Publ., 1984), from which the material in this glossary is derived. This document is referenced in accordance with MLA guidelines for academic citations. The book is transcribed from talks by Chogyam Trungpa. Most of the grammar and spelling is from oral transmission, thus it is not in perfect English. It is left as is from the the publication.
Shambhala Training Glossary
Shambhala Publications
It is unaffiliated with either Shambhala Buddhism or the Shambhala Sun magazine. History[edit] Shambhala was founded in 1969 by Samuel Bercholz[1] and Michael Fagan, in Berkeley, California. Its books are distributed by Penguin Random House. In 1976 Shambhala moved to Boulder, Colorado to be near the Naropa Institute. In 1986 Shambhala moved to Boston.
Chögyam Trungpa
Chögyam Trungpa Rinpoche (Wylie: Chos rgyam Drung pa; February 28, 1939 – April 4, 1987) was a Buddhist meditation master and holder of both the Kagyu and Nyingma lineages, the eleventh Trungpa tülku, a tertön, supreme abbot of the Surmang monasteries, scholar, teacher, poet, artist, and originator of a radical re-presentation of Shambhala vision. Recognized both by Tibetan Buddhists and by other spiritual practitioners and scholars[1][2] as a preeminent teacher of Tibetan Buddhism, he was a major, albeit controversial, figure in the dissemination of Tibetan Buddhism to the West,[3] founding Vajradhatu and Naropa University and establishing the Shambhala Training method. Among his contributions are the translation of a large number of Tibetan texts,[4] the introduction of the Vajrayana teachings to the West, and a presentation of the Buddhadharma largely devoid of ethnic trappings.
Shambhala Training is a secular approach to meditation developed by Tibetan Buddhist teacher Chogyam Trungpa and his students.[1][2] It is based on what Trungpa calls Shambhala Vision, which sees enlightened society as not purely mythical, but as realizable by people of all faiths through practices of mindfulness/awareness, non-aggression, and sacred outlook.[3] He writes: The Shambhala Training teachings cover art, society, and politics and the goal of creating an enlightened society. That goal is presented as not solely a social and political process, but one requiring individuals to develop an awareness of the basic goodness and inherent dignity of themselves, of others, and of the everyday details of the world around them.
Shambhala Training
Shambhala