Nonprofit Resource...
Nonprofit Technology
Nonprofit Technology | Technology Nonprofit | Nonprofit Software | Fundraising Software I Fund Accounting Software
Conscious Coder (New York, NY) - Meetup
Technology for Transparency Network |
Category:Nonprofit technology
From Wikipedia, the free encyclopedia Nonprofit technology is the umbrella term for information and communication technologies that serve the missions of nonprofit and nongovernmental organizations or directly serve the common good. Subcategories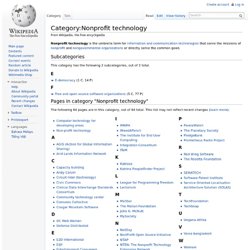 Non-profit technology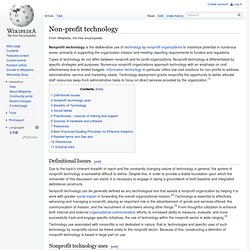 Nonprofit technology comprises information and communication technologies that support the goals of nonprofit , nongovernmental , third sector , grassroots , and other mission-based organizations .
Non-profit Tech
Beth Kanter is a trainer and consultant to nonprofits and individuals in effective use of social media. Her expertise is how to use new web tools (blogging, tagging, wikis, photo sharing, video blogging, screencasting, social networking sites, and virtual worlds) to support nonprofit work. She has worked on projects that include training, curriculum development, research, and evaluation.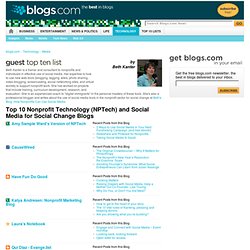 Top 10 Nonprofit Technology (NPTech) and Social Media for Social Change Blogs : Media : Technology
Zoetica Media - Communication Services for Nonprofits & Social Good
Youtube Nonprofit Program
Tactical Technology Collective | Turning information into action
What is the Base Edition of NGO-in-a-box? | BaseBox
Security In A Box | Tools and tactics for your digital security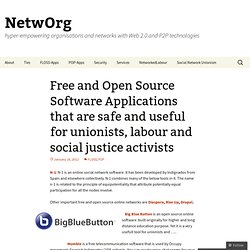 Free and Open Source Software Applications that are safe and useful for unionists, labour and social justice activists | NetwOrganisation
N-1 : N-1 is an online social network software.
Beth Kanter
Beth kanter, Author, blogger, and master trainer at Beth's blog | SlideShare
NTEN (ntenorg) on Twitter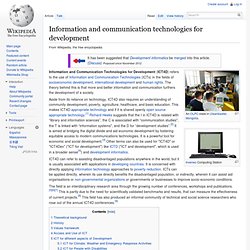 Information and communication technologies for development
Information and Communication Technologies for Development ( ICT4D ) refers to the use of Information and Communication Technologies (ICTs) in the fields of socioeconomic development , international development and human rights . The theory behind this is that more and better information and communication furthers the development of a society.
NTEN: The Nonprofit Technology Network
New Tactics in Human Rights
Idealware | Helping Nonprofits Make Smart Software Decisions
Hi Noroshi
SocialButterfly
Causecast for Nonprofits | Causecast for Nonprofits
Nonprofit Resource Center
Celebrity Charity News, Events, Organizations & Causes
Evil Twin Booking -
Nonprofit Tech
Teamshaker - Reseau Social d'Entreprise et Intranet 2.0 sous Drupal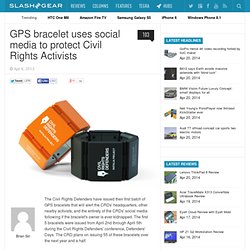 GPS bracelet uses social media to protect Civil Rights Activists
The Civil Rights Defenders have issued their first batch of GPS bracelets that will alert the CRDs' headquarters, other nearby activists, and the entirety of the CRDs' social media following if the bracelet's owner is ever kidnapped. The first 5 bracelets were issued from April 2nd through April 5th during the Civil Rights Defenders' conference, Defenders' Days. The CRD plans on issuing 55 of these bracelets over the next year and a half.
Idealware | Helping Nonprofits Make Smart Software Decisions
HelloCoolWorld.com : Welcome!
Grassroots.org | Free Services for Nonprofits | We Help Charities Succeed!