Nonprofit Resource...
Nonprofit Technology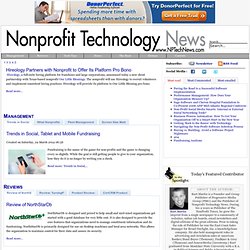 Nonprofit Technology | Technology Nonprofit | Nonprofit Software | Fundraising Software I Fund Accounting Software
Review of NorthStarDb NorthStarDb is designed and priced to help small and mid-sized organizations get started with a good database for very little cost. It is also designed to provide the core features that organizations need to manage constituent information and do fundraising. NorthStarDb is primarily designed for use on desktop machines and local area networks. This allows the organization to maintain control for their data and assure its security. Read more...
Conscious Coder (New York, NY) - Meetup
Hack for Humanity is a meetup for hacker types making the world a better place. We provide a hub for exchanging ideas and inspiration while learning about new technologies. Whether it's collaborative consumption, crowd funding, local commerce, collective action, micro finance, online learning, clean tech, or a completely new concept that moves humanity in a positive direction, if you believe that the intelligent application of technology can create a better world, then this meetup is for you.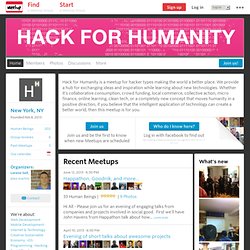 Technology for Transparency Network |
Non-profit technology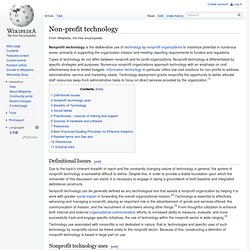 Nonprofit technology is the deliberative use of technology by nonprofit organizations to maximize potential in numerous areas, primarily in supporting the organization mission and meeting reporting requirements to funders and regulators. Types of technology do not differ between nonprofit and for profit organizations. Nonprofit technology is differentiated by specific strategies and purposes. Numerous nonprofit organizations approach technology with an emphasis on cost effectiveness due to limited budgets. Information technology in particular offers low-cost solutions for non profits to address administrative, service and marketing needs.
Non-profit Tech
Curated by Beth Kanter http://www.bethkanter.org There four different types of metrics to think about in terms of your content strategy: Consumption MetricsSharing Metrics Lead Generation Metrics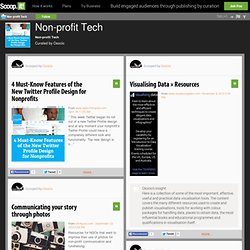 Top 10 Nonprofit Technology (NPTech) and Social Media for Social Change Blogs : Media : Technology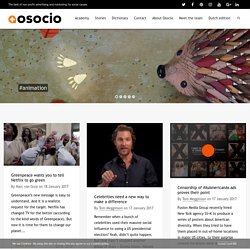 The best of non-profit advertising and marketing for social causes Posted by Marc van Gurp | 16-01-2014 17:00 | Category: Fundraising, Homelessness, Poverty, Women's Issues As a society we're completely obsessed with celebrity culture, meanwhile, some single mothers struggle every day just to provide the basics for their children. To raise awareness and support for WoodGreen Community Services' "Homeward Bound" program, DDB Canada Toronto has launched a provocative campaign that prompts people to care about those living in poverty as much as they care about celebrities. The program helps homeless or inadequately-housed single mothers earn a tuition-paid college diploma, start a career and achieve economic self-sufficiency.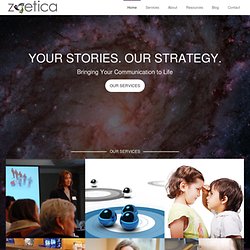 Training and Support If you are planning a social media project and not sure you have the staff to implement it, we can help you build capacity. We can also read more... Digital Strategy
Youtube Nonprofit Program
To help nonprofits recruit qualified volunteers and to assist individuals eager to volunteer with nonprofits, LinkedIn has launched a Volunteer Marketplace where nonprofits can post volunteer opportunities and LinkedIn members can search for volunteer opportunities in their local communities. According to LinkedIn for Good, 82% of surveyed LinkedIn members Without a doubt, 2013 was the year of visual content — particularly infographics. With tens of millions of brands now tweeting, posting, and sharing content online on a daily basis, to get your message to stand out from the clutter brands need to communicate more often their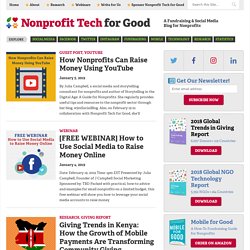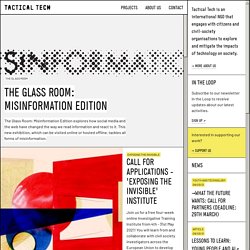 Tactical Technology Collective | Turning information into action
Child mortality, large scale land deals, progress towards Millennium Development Goals, slavery, immigration detention and the misuse of EU Bank funds are just some of the subjects that we have brought to life through compelling data visualisations. About the way we work We begin by creating handpicked project teams best suited to your specific project and issue areas, drawn from our own NGO, and from our extensive network of designers, animators, filmmakers, information specialists and technologists.We work with you to formulate strategic messaging designed to grab the attention and improve the understanding of complex issues of your intended audience. We develop projects by starting from small ideas, moving to a clear concept and finally onto to a fully developed product that communicates engagingly and clearly to your specific audience.
What is the Base Edition of NGO-in-a-box? | BaseBox
How Do I Get My Nonprofit's CEO To Use Twitter or other Social Media? Organizational Culture, Professional Networking Last month, I participated in a keynote panel at the AFP Annual Conference in San Antonio, TX on the theme, "Social Media for Social Change" with Carolyn Miles, CEO of Save the Children, Ben Rattray, Founder of Change.Org, and Ritu Sharma and Darian Rodriguez Heyman, co-founders of Social Media for Nonprofits Conference. … Read More The Mobilisation Journal: A Way To Spread Learning About Social Change Movements Innovative Use of Technology Experimentation, Movement Building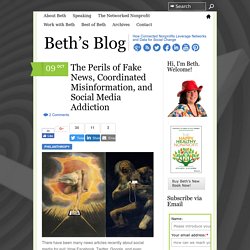 Security In A Box | Tools and tactics for your digital security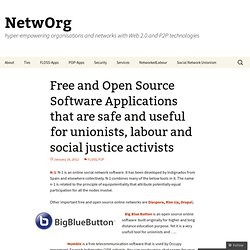 Free and Open Source Software Applications that are safe and useful for unionists, labour and social justice activists | NetwOrganisation
N-1: N-1 is an online social network software. It has been developed by Indignados from Spain and elsewhere collectively. N-1 combines many of the below tools in it. The name n-1 is related to the principle of equipotentiality that attribute potentially equal participation for all the nodes involve. Other important free and open source online networks are Diaspora, Rise Up, Drupal.
Beth Kanter
Beth kanter, Author, blogger, and master trainer at Beth's blog | SlideShare
NTEN (ntenorg) on Twitter
Information and communication technologies for development
Information and Communication Technologies for Development (ICT4D) refers to the use of Information and Communication Technologies (ICTs) in the fields of socioeconomic development, international development and human rights. The theory behind this is that more and better information and communication furthers the development of a society. Aside from its reliance on technology, ICT4D also requires an understanding of community development, poverty, agriculture, healthcare, and basic education. This makes ICT4D appropriate technology and if it is shared openly open source appropriate technology.[1] Richard Heeks suggests that the I in ICT4D is related with "library and information sciences", the C is associated with "communication studies", the T is linked with "information systems", and the D for "development studies".[2] It is aimed at bridging the digital divide and aid economic development by fostering equitable access to modern communications technologies.
NTEN: The Nonprofit Technology Network
New Tactics in Human Rights
Current Conversation Engaging Regional Human Rights Mechanisms Join Lisa Reinsberg of the International Justice Resource Center and the New Tactics community for an online conversation on Engaging Regional Human Rights Mechanisms from April 21 to 25, 2014.
Hi Noroshi
SocialButterfly
Causecast for Nonprofits | Causecast for Nonprofits
Nonprofit Resource Center
Celebrity Charity News, Events, Organizations & Causes
Evil Twin Booking -
Nonprofit Tech
Teamshaker - Reseau Social d'Entreprise et Intranet 2.0 sous Drupal
GPS bracelet uses social media to protect Civil Rights Activists
HelloCoolWorld.com : Welcome!
Grassroots.org | Free Services for Nonprofits | We Help Charities Succeed!