Leaks & Watchdogs
Skeptic. Org watch & review. Corporations & Gov Watch. Category:Internet vigilantism. A daily TV/radio news program, hosted by Amy Goodman and Juan Gonzalez, airing on over 900 stations, pioneering the largest community media collaboration in the United States. Watchdog International. 4-Veille.
Consumer Reports WebWatch: The leader in investigative reporting on credibility and trust online. Government Accountability Project. ICANNWatch. Judicial Watch. FUnfolding News - Watch your favourite story unfold. Anonymous... Insight - Organized Crime in the Americas. Inequality watch. Lutte pour la transparence. The Transparent Society. Synopsis[edit] David Brin with sousveillance "maybecamera" at the Association of Computing Machinery's (ACM's) CFP conference where such a sousveillance device was given to each attendee.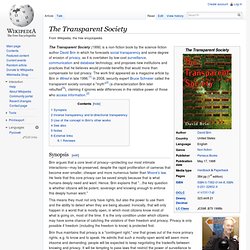 Brin participated in the Opening Keynote on the "inverse panopticon".
HumaneWatch. Breaking Nuke News | NukeFree.org. EcoWatch: Uniting the Voice of the Grassroots Environmental Movement. Quackwatch. Religious Right Alert.
---