Collective Intelligence Refs...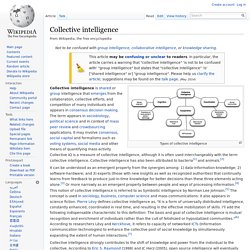 Types of collective intelligence Collective intelligence is shared or group intelligence that emerges from the collaboration, collective efforts, and competition of many individuals and appears in consensus decision making. The term appears in sociobiology, political science and in context of mass peer review and crowdsourcing applications.
Les maîtres ignorants » L'intelligence collective (fiche de synthèse)
Cette fiche est une proposition de synthèse des différentes interventions lors de la session d'« autoformation » du 20/10/2012, à laquelle une quarantaine de personnes ont participé. Problématique : pourquoi ce sujet ?(introduction par Jean-Baptiste) A l'époque de la démocratie athénienne, les opposants à ce système de gouvernance déclaraient en substance : « comment le peuple, qui n'arrive pas à se gouverner lui-même, pourrait-il gouverner la cité ?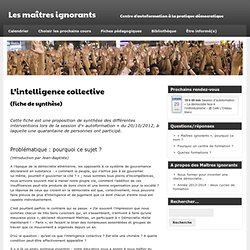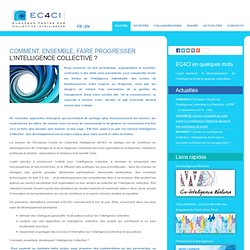 European Centre For Collective Intelligence - Comment, ensemble, faire progresser l'Intelligence Collective ?
Nous sommes, en tant qu'individus, organisations et sociétés, confrontés à des défis sans précédents. Leur complexité révèle les limites de l'intelligence individuelle, des modes de fonctionnement entre experts ou dirigeants, ainsi que les dangers de visions trop mécanistes de la gestion du changement.
Dr. Peter H. Diamandis — We are evolving into meta-intelligence group-minds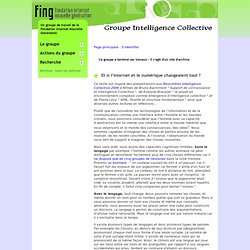 Ce texte est inspiré des présentations aux Rencontres Intelligence Collective 2006 à Nîmes de Bruno Bachimont " Support de connaissance et Intelligence Collective ", de Evelyne Biausser " le projet en environnement complexe comme émergence d'intelligence collective " et de Pierre Levy " IEML, finalité et structure fondamentale " ainsi que diverses autres lectures et réflexions…
Et si l'internet et le numérique changeaient tout ?
Douglas Engelbart: Only Collective IQ Can Save Us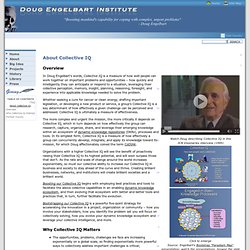 In Doug Engelbart's words, Collective IQ is a measure of how well people can work on important problems and opportunities collectively – how quickly and intelligently they can anticipate or respond to a situation, leveraging their collective perception, memory, insight, planning, reasoning, foresight, and experience into applicable knowledge. Collective IQ is ultimately a measure of effectiveness. 1a In its simplest form, Collective IQ is a measure of how effectively a collection of people can concurrently develop, integrate, and apply its knowledge toward its mission (for which Doug affectionately coined the term CoDIAK). And, the more complex the mission, the more critically this depends on how effectively the group can capture, organize, share, and utilize this emerging knowledge in dynamic knowledge repositories (DKRs). 1b
Collective IQ 
"Global brain" Custom Search
MIT Center for Collective Intelligence
Collective Intelligence 2014
Global Futures Intelligence System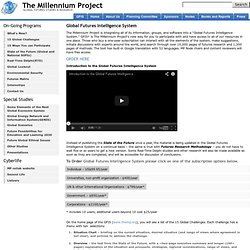 The Millennium Project is integrating all of its information, groups, and software into a "Global Futures Intelligence System." GFIS* is The Millennium Project's new way for you to participate with and have access to all of our resources in one place. Those who buy a one-year subscription can interact with all the elements of the system, make suggestions, initiate discussions with experts around the world, and search through over 10,000 pages of futures research and 1,300 pages of methods. The text has built-in Google translation with 52 languages. MP Node chairs and content reviewers will have free access.
Introduction The MIT Center for Collective Intelligence recently published an important overview of the theory and mechanisms behind successful crowdsourcing efforts. Their report, called "Harnessing Crowds: Mapping the Genome of Collective Intelligence", can be found here. Their research reveals similarities behind many high-profile collective intelligence (CI) systems, including Threadless, Wikipedia and InnoCentive.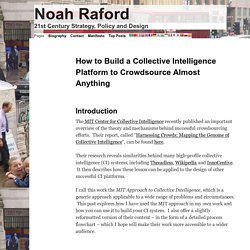 The World Knowledge Dialogue - The World Knowledge Dialogue
Catégorie:Intelligence collective
Metasystem transition
A metasystem transition is the emergence, through evolution, of a higher level of organization or control. The concept of metasystem transition was introduced by the cybernetician Valentin Turchin in his 1970 book "The Phenomenon of Science", and developed among others by Francis Heylighen in the Principia Cybernetica Project.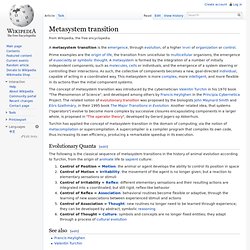 The Metasystem Transition