Build a Network...
<div class="demo-name">Users</div> Many people already open their wireless networks. They may not realize it, but they're part of the Open Wireless Movement. We're looking to tap into the potential of these Internet users to help showcase what a world of ubiquitous open wireless would look like. We're going to be providing users with tools to help keep them maximize security when opening their networks. Our technologists are building routers that let you open your wireless without losing the quality of your Internet access or compromising your security.
Open Wireless Movement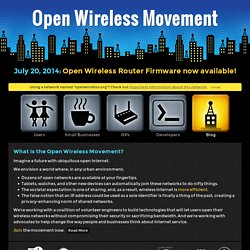 Tidepools
Stop & Frisk Due to the high number of NYPD Stop, Question, & Frisk incidents in the Red Hook neighborhood, members of the Community Change Workers (CCWs) at RHI have been collecting their own data on these incidents. While they've been surveying residents on their experiences with the NYPD on paper, the CCWs wanted to adapt the survey digitally.
Hyperboria
Hyperboria is a global decentralized network of "nodes" running cjdns software. The goal of Hyperboria is to provide an alternative to the internet with the principles of security, scalability and decentralization at the core. Anyone can participate in the network by locating a peer that is already connected. Anyone can join by peering with someone already connected.
Social Network That You Own And Control With BoonEx you just download, install and run software for your very own online community, that you control from top to bottom. You get all the source code, your host your site and you reap all the benefits of your hard work. Backed By Strong Community Of Over 200,000 Web-Masters BoonEx community software is used on hundreds of thousands of social networks, online dating sites and niche web-communities.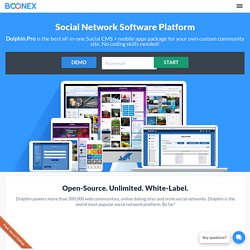 When your visitors or customers have questions, they typically contact you directly or ask their question(s) in your site forum—assuming you have one. In most situations, a forum isn't available either. Qhub provides a fast way to setup a customizable Q&A website in a matter of minutes. With Qhub you can eliminate repetitive questions, save your inbox and make it easier for your visitors or customers to get the answers they're looking for. Here's a quick how-to covering this already popular web app.
Create a Q&A Website in a Snap with Qhub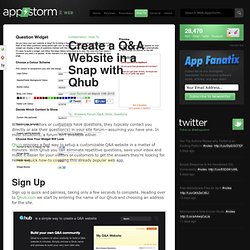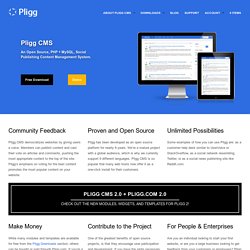 Pligg CMS democratizes websites by giving users a voice. Members can publish content and cast their vote on articles and comments, pushing the most appropriate content to the top of the site. Pligg's emphasis on voting for the best content promotes the most popular content on your website. Pligg has been developed as an open source platform for nearly 8 years. We're a mature project with a global audience, which is why we currently support 9 different languages.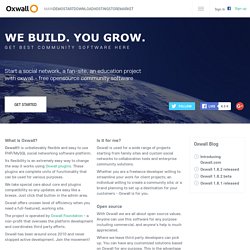 What is Oxwall? Oxwall® is unbelievably flexible and easy to use PHP/MySQL social networking software platform. Its flexibility is an extremely easy way to change the way it works using Oxwall plugins. These plugins are complete units of functionality that can be used for various purposes. We take special care about core and plugins compatibility so any updates are easy like a breeze.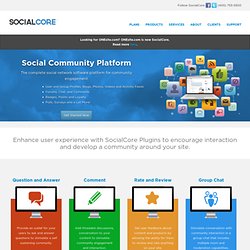 Looking for ONEsite.com? ONEsite.com is now SocialCore.Read more here. The complete social network software platform for community engagementUser and Group Profiles, Blogs, Photos, Videos and Activity FeedsForums, Chat, and CommentsBadges, Points and LoyaltyPolls, Surveys and a Lot More! Get Started Now Enhance user experience with SocialCore Plugins to encourage interaction and develop a community around your site.
Social Network Software Platform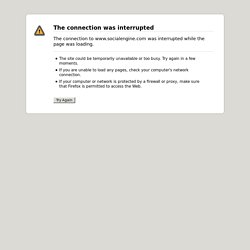 Affinity Groups Are you really passionate about something? Use SocialEngine to create a unique social network just for people that share your passion. Startups & Businesses
build Forums (online & soft)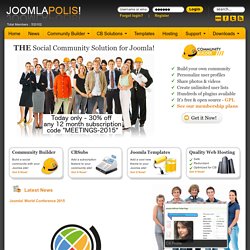 Community Builder 2.0 - CB 2.0 beta 2 released! Community Builder 2.0 - the next generation - is getting closer with the release of CB 2.0 beta 2 ! Hundreds of awesome new features are being tested and fine-tuned by our Developer member community as the CB Team is pushing forward in full speed to implement even more innovative community building ideas. The XML MVC AhaWow engine technology included in the new CBLib Library along with a powerful new imaging library provides the technical foundation for greatness. CB 2.0 development effort will continue to improve and build upon this great new architecture but the benefits are already visible (click pictures to enlarge): Our developer forge is on fire with hundreds of new features and many more planned for the next beta release.
Community Builder extensions
All about community. We are the leading social website provider for those that are passionate about their community. We give you the platform to build an online hub for the people you want to connect with.
Simple on the surface. Sophisticated in the soul. You are free to choose any set of features from our ever-increasing functionality pool. You can go live instantly with predefined website model or configure every single feature to death. We are proud how we managed to make it meet the needs of any level. Groups, events, private messaging, video chat