Food
Sucré - Salé
le cari thon est une recette réunionnaise, ce n'est certainement pas la recette de référence pour les réunionnais mais je me suis inspirée de la recette d'une amie. C'est rapide à faire et délicieux, merci Béné! Cari thon (pour 3 personnes) Ingrédients:. 300g de thon au naturel en boîte. 2 petites boîtes de tomates pelées ou 3 à 4 grosses tomates. 1 gousse d'ail. 1 oignon. 1 petit morceau de gingembre frais environ la taille d'1/2 pouce. Le jus d'un citron jaune. 1 cuillère à soupe d'huile d'olive. Quelques gouttes de tabasco (selon si vous aimez épicé ou non). 1/2 cuillère à café de curcuma en poudre (facultatif)
Tartelette
I am really excited to announce that I am teaming up again with my dear friend John Ondo, Chef at Lana restaurant in Charleston, South Carolina for a 4 day workshop in Myrtle Beach, South Carolina, May 13th-17th 2014, combining cooking classes and photo/styling....! We were able to open registration to one more student thanks to the property we chose which is always good since our workshop always sell fast and with a wait list. Hopefully you will be lucky number 13! Yes, it's a good number (my birthday is May13th...)
Food52 - food community, recipe search and cookbook contests
Sarah Copeland has a way of making every recipe she writes seem deeply and immediately exciting. It's in the way she pulls ingredients together (Plumped plums and lime with oatmeal? Apples and rye pancakes? Asparagus and miso butter? Yes to all of the above), partly in the photos that make me want to nibble the pages, and partly something ineffable that just screams, "Yes. This food, right now. The Kitchn | Inspiring cooks, nourishing homes
SPROUTED KITCHEN - A Tastier Take on Whole Foods
"It's funny: I always imagined when I was a kid that adults had some kind of inner toolbox full of shiny tools: the saw of discernment, the hammer of wisdom, the sandpaper of patience. But then when I grew up I found that life handed you these rusty bent old tools - friendships, prayer, conscience, honesty - and said 'do the best you can with these, they will have to do'. And mostly, against all odds, they do."―Anne Lamott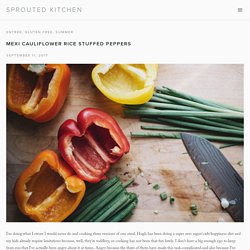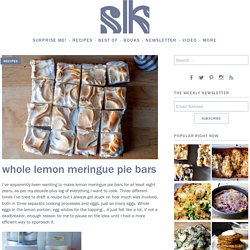 Thursday, January 16, 2014 pear and hazelnut muffins We all know that muffins teeter precariously on a razor-thin line that divides the food categories of "Acceptable for Breakfast" and "Nope, This Is Dessert" and one must maintain firm boundaries during the breakfast hours lest the day that follows devolve into a full-on bacchanal of Resolution decompensation that ends with one passed out amid scatters of Cheetos, ketchup packets and French fry grease with a side of cronut. Thus, when I come upon a new muffin recipe — or in this case, when my son is told to pick a recipe for us to make from a new book, and he predictably chooses the thing that most resembles cake — I immediately assess the list of ingredients and label them accordingly:
smitten kitchen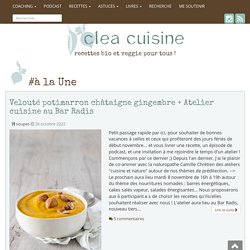 Burger : nom masculin (de hamburger). Sorte de sandwich rond, produit de base de la restauration rapide. (On distingue les hamburgers, les fishburgers, etc.)
Clea Cuisine | #blog #recettes #bio
Gagner du temps Cuisiner sans viande ou moins souvent n'implique pas d'y passer plus de temps. Pensez à ces quelques astuces : - Cuisiner en plus grande quantité et congeler les portions restantes (même les tout petits restes, vous serez bien content de les retrouver le jour où vous voudrez assembler rapidement une lunch-box pour le lendemain). - Tremper et cuire les légumineuses en grandes quantités. Le temps de cuisson des légumineuses, assez long (parfois 1 à 2h) ne changeant pas en fonction de la quantité, il est intéressant de congeler l'excédent par portions (de 200 g par exemple), pour les réutiliser ensuite sans cuisson préalable. - Toujours réaliser le double de pâte à tarte ou à crumble, et congeler la seconde portion.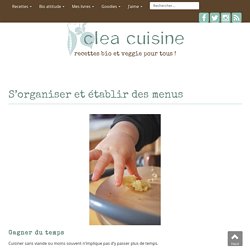 S'organiser et établir des menus
Clea Cuisine | #blog #recettes #bio
vendredi 28 mars 2014 Chocolats faits-maison en 3 ingrédients et 5 min Dans la série recette en 3 ingrédients, voici comment faire des chocolats faits-maison en 3 ingrédients et 5 min ! Il faut tout simplement une matière grasse (de l'huile de noix de coco ici), du cacao en poudre et un agent sucrant (sirop d'agave ici, mais c'est possible d'opter pour du miel, du sirop d'érable ou du sirop de riz...).Et ensuite ?
Les 3 sœurs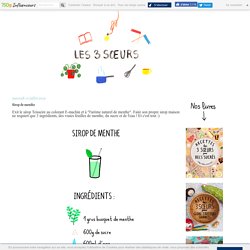 Marmiton : 54000 recettes de cuisine ! Recettes commentées et notées pour toutes les cuisines. Recette de cuisine. - Accueil - Marmiton.org