Food
Sucré - Salé
Gagner du temps Cuisiner sans viande ou moins souvent n'implique pas d'y passer plus de temps. Pensez à ces quelques astuces : - Cuisiner en plus grande quantité et congeler les portions restantes (même les tout petits restes, vous serez bien content de les retrouver le jour où vous voudrez assembler rapidement une lunch-box pour le lendemain). - Tremper et cuire les légumineuses en grandes quantités. Le temps de cuisson des légumineuses, assez long (parfois 1 à 2h) ne changeant pas en fonction de la quantité, il est intéressant de congeler l'excédent par portions (de 200 g par exemple), pour les réutiliser ensuite sans cuisson préalable. - Toujours réaliser le double de pâte à tarte ou à crumble, et congeler la seconde portion.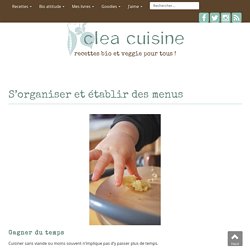 S'organiser et établir des menus
Spring/Summer Second Issue of What Liberty Ate Magazine | What Liberty Ate Magazine
Thank you to all great guest contributors from this issue : Designist.ro - is a small journalism team, happily living in a world full of enriching ideas. The girls behind Designist are very curious, patriotic and gourmet after design ideas, especially made in Romania. They have many years worked for a interior design Romanian magazine, and recently they decided to take a break from the printed word and start exploring the unknown possibilities of Romanian online. Andreea Mira has a bachelor degree in Journalism and a master diploma in Communication.