*
Looking for the last piece of the puzzle? Try these 7 research-based techniques for increasing creativity. Everyone is creative: we can all innovate given time, freedom, autonomy, experience to draw on, perhaps a role model to emulate and the motivation to get on with it. But there are times when even the most creative person gets bored, starts going round in circles, or hits a cul-de-sac.
8 Steps to Creativity | Care2 Healthy & Green Living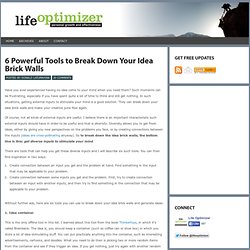 Have you ever experienced having no idea come to your mind when you need them? Such moments can be frustrating, especially if you have spent quite a lot of time to think and still get nothing. In such situations, getting external inputs to stimulate your mind is a good solution.
8chapter8enhancing.pdf (Obiekt application/pdf)
Exercise your brain. Brains, like bodies, need exercise to keep fit. If you don't exercise your brain, it will get flabby and useless.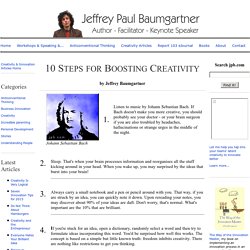 The three dumbest guys I can think of: Charles Lindbergh, Steve Jobs, Winston Churchill. Why? Because any smart person who understood how impossibly arduous were the tasks they had set themselves would have pulled the plug before he even began. I gnorance and arrogance are the artist and entrepreneur's indispensable allies. She must be clueless enough to have no idea how difficult her enterprise is going to be—and cocky enough to believe she can pull it off anyway.How do we achieve this state of mind?
Overcome Resistance and Get Out of Your Own Way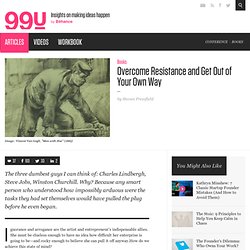 Current neuroscience research confirms what creatives intuitively know about being innovative: that it usually happens in the shower. After focusing intently on a project or problem, the brain needs to fully disengage and relax in order for a "Eureka!" moment to arise. It's often the mundane activities like taking a shower, driving, or taking a walk that lure great ideas to the surface. Composer Steve Reich, for instance, would ride the subway around New York when he was stuck.
Developing Your Creative Practice: Tips from Brian Eno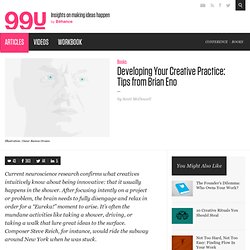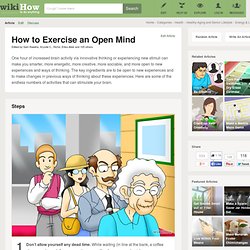 One hour of increased brain activity via innovative thinking or experiencing new stimuli can make you smarter, more energetic, more creative, more sociable, and more open to new experiences and ways of thinking. The key ingredients are to be open to new experiences and to make changes in previous ways of thinking about these experiences. Here are some of the endless numbers of activities that can stimulate your brain.
Mind & Brain :: Mind Matters :: July 21, 2009 :: :: Email :: Print Why thinking about distant things can make us more creative By Oren Shapira and Nira Liberman Image: iStock Creativity is commonly thought of as a personality trait that resides within the individual.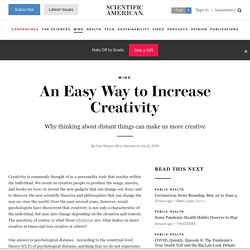 An Easy Way to Increase Creativity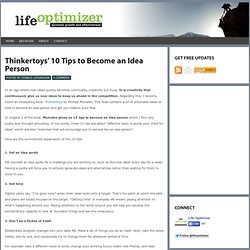 In an age where new ideas quickly becomes commodity, creativity is a must. It is creativity that continuously give us new ideas to keep us ahead in the competition . Regarding this, I recently found an interesting book: Thinkertoys by Michael Michalko. This book contains a lot of actionable ideas on how to become an idea person and get our creative juice flow.