MUSIC
Stemage - Phendrana Drifts. #10 múm - The Ballad of the Broken Birdie Records. Esben and the Witch - "Marching Song" Dj Food - The Riff. Pure Reason Revolution - Deux Ex Machina. Gazpacho- Dream of Stone. Kammerflimmer Kollektief - Never Collapse, Always Dazzle! (unofficial fan video) 2011)
Veokami | Home. INTERESTING LABELS. Nick Cave Online - Interview fron "FHM Magazine" [1998] by Mike Peake. The rock legend on low-tar ciggies, scrapping with waiters and sports day antics.
Q: You've just had a Best of... album released. What's the last song you'd have included? Nick Cave Collector's Hell. "all his books and his notes and all the junk that he wrote" Song lists, discographies and live overviews were last updated on August 16, 2011.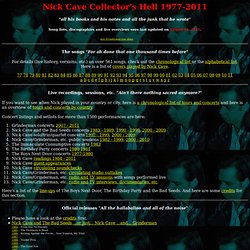 The songs "For ah done that one thousand times before" For details (live history, versions, etc.) on over 561 songs, check out the chronological list or the alphabetical list. Only Solitaire: George Starostin's Music Reviews. Back in the old business, in a new way Please Note: All currently produced reviews are monitored on the Only Solitaire Blog, which gives the opportunity to access them as soon as they are written and also - yes!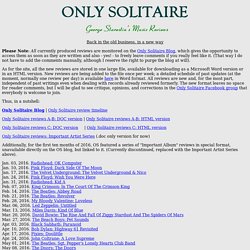 - to freely leave comments if you really feel like it. (That way I do not have to add the comments manually, although I reserve the right to purge the blog at will). Personalized music magazine. Jango - Free Music -- Listen to Music Online - Internet Radio. Music Video Awesomeness.
---