DIY/ INSPIRATION
Modding Project: Ring Light MetkuMods. Intro When taking close-up photos, the lighting can become a problem.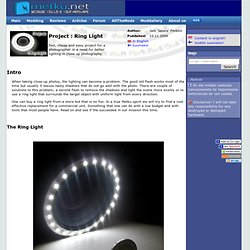 The good old flash works most of the time but usually it leaves nasty shadows that do not go well with the photo. There are couple of solutions to this problem; a second flash to remove the shadows and light the scene more evenly or to use a ring light that surrounds the target object with uniform light from every direction. Bean Art Tutorial. DIY: Mod Podge. Don't you guys love Pinterest?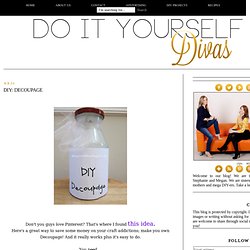 That's where I found this idea. Here's a great way to save some money on your craft addictions; make you own Decoupage!
∆DIY∆ Chalkboard Wall. Things you need for this DIY: *chalkboard paint *painter's tape.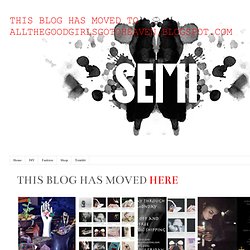 Origami Kusudama Flower Folding Instructions - How to make an Origami Kusudama Flower. Kusudama (translated as "medicine ball") were traditionally used as incense and poutpurri, from real flowers or herbs.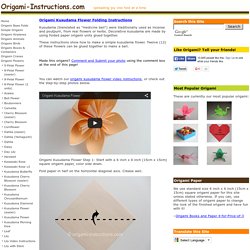 Decorative kusudama are made by using folded paper origami units glued together. These instructions show how to make a simple kusudama flower. Twelve (12) of these flowers can be glued together to make a ball. Made this origami? Comment and Submit your photo using the comment box at the end of this page! DRAWDIO - draw music with a pencil, or a kitchen sink, or a banana, or... What is Drawdio?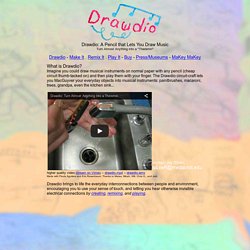 Imagine you could draw musical instruments on normal paper with any pencil (cheap circuit thumb-tacked on) and then play them with your finger. The Drawdio circuit-craft lets you MacGuyver your everyday objects into musical instruments: paintbrushes, macaroni, trees, grandpa, even the kitchen sink... higher quality video:Stream on Vimeo -- drawdio.mp4 -- drawdio.wmvMade with Paula Aguilera and Eric Rosenbaum. Thanks to Matea, Micah, Will, Chris G., and Jodi. Drawdio brings to life the everyday interconnections between people and environment, encouraging you to use your sense of touch, and letting you hear otherwise invisible electrical connections by creating, remixing, and playing.
Make a Wide Sturdy Handle With The Portuguese Sinnet. Paracord Monkey Fist. The Monkey Fist knot has a long history since 1800's, main purpose as a weight at the end of a rope or just for decorative use.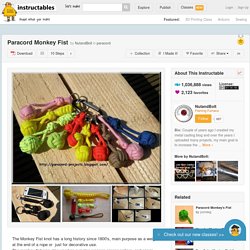 The monkey fist was also used as a melee weapon among sailors and gangs. In this guide I will show how to make the Monkey Fist using a marble inside the knot. The first few attempts could go wrong - this knot needs a LOT of patience so take your time and especially the final tightening part, do it slowly and you will get a cool Monkey fist. Everyone are welcomed to vist my blog for more paracord guides and projects: How to Make Fried Marble Jewelry. Car key magnetic switch plate hook. UPDATE: Thanks everyone for the kind words.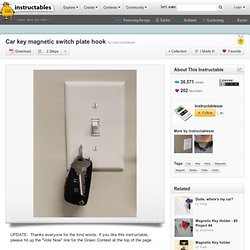 If you like this instructable, please hit up the "Vote Now" link for the Green Contest at the top of the page. This is the final product: A surprisingly strong magnetic key hook that takes just a few minutes to do. It is ridiculously inexpensive and does not involve replacing your existing plastic switch plate. Two Color Paracord Solomon Bar. Green...Easy Knit Produce Bag. Wall Art for Sienna's Room. First off, let me just say, I really love photos printed onto a canvas.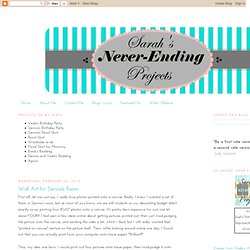 Really. I knew I wanted a set of them in Sienna's room, but as most of you know, we are still students so our decorating budget didn't exactly cover printing four 8"x10" photos onto a canvas. It's pretty darn expensive for just one let alone FOUR!!! I had seen a few ideas online about getting pictures printed out, then just mod-podging the picture onto the canvas, and sanding the sides a bit, which I liked, but I still really wanted that "printed on canvas" texture on the picture itself.
Then, while looking around online one day, I found out that you can actually print from your computer onto tissue paper! DIY Cartier-Esque Bracelet. DIY rowing machine. The rowing machine is one of the less familiar fitness machines for cardiovascular training.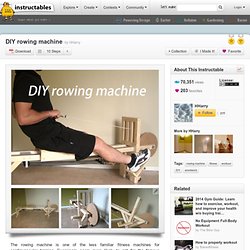 Exercisers seem more likely to opt for the famous treadmill or the exercise bike. Nevertheless the rowing machine is as well and maybe even better than other fitness machines. On a rowing machine you strengthen your arms, legs, stomach, back and other muscles. Mod Circle side table, step stool, basket, etc. Untitled. Czwórka w skrócie Tragiczny romantyk, ma bardzo wrażliwe odczucia i emocje, jest wrażliwy, czuły, spostrzegawczy.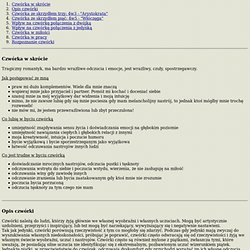 Jak postępować ze mną praw mi dużo komplementów. Wiele dla mnie znaczą wspieraj mnie jako przyjaciel i partner. 21 ways of turning pallets into unique pieces of furniture. Wood pallets have been around for decades as mechanisms for shipping and storing larger items (among other things). Recently, however, wooden pallets have become much more than a once-and-done packaging piece. They've become a useful resource in home décor and design. Used by beginner to professional DIYers in projects from wall coverings to large and small furniture pieces to home décor accessories, wood pallets can be disassembled into wood planks that can be used for any number of projects.
The wood can be like new, rustic with patina, or somewhere in between. Super Special Bananas. Bananas are an awesome source of potassium and other vitamins, but they aren't everyone's favorite lunchtime treat. Inscribing the skins (without any markers or pens!) And magically pre-slicing them before packing them up alongside the peanut butter and jelly helps ensure that they'll get eaten, and that they'll make someone feel extra special.
You'll Need. . . Banana - try to pick ones with even-toned skins that haven't been bruised much and aren't too dark (dark spots will make your messages harder to read) A toothpick A straight pin or sewing needleHow To Decide what you'd like your extra-special message to be Using your toothpick, etch the message into the skin. Epiphanie - HOME - My Life List. We started this business last year with the tag line: "Live life the way you picture it. " It can be taken literally in the sense that our camera bags allow you to "picture your life" with more ease. But more importantly, it's about the idea that your life is waiting for you to make it yours. "What do you intend to do with your one precious life"? The first part of this post can be found here.
Solar powered stove using 100% recycled materials. A Beautiful Mess. Project Ideas. Plucked right out of a Cartoon Handbags – Jump From Paper. Sisal Rope Bowl. Tutorials. DIY Doily Lamp. Craftgawker | look to inspire. It's Dollar Store Week!The Pot | The Art of Doing Stuff - StumbleUpon. Most favorited all-time. This to That (Glue Advice) Unique Gifts & Unusual Gift Ideas. Tutorial: Quick Envelope Pillow Case. Our Clean Up Crew! Do It 101 .com, a do-it-yourself index to just about anything. It's in the NEWS! Sketchbook on the Behance Network. Homemaker on a Dime: Projects. Craft-Ease: Monogram from rolled book pages. DIY $5 Flower Vase! Emmas designblogg - design and style from a scandinavian perspective. Make: Projects How-to Projects Library — Electronics, Arduino, Crafts, Solar, Robots.
Crazy Domestic. The decorated cookie: fondant gerbera daisies (on cookie pops) DIY Eco Bags. Projects and DIY.
---
jemm520 Mar 24 2013

YOU HAVE A LOT OF WONDERFUL PEARLTREES! THANK YOU SO MUCH!
---