Knitting
The &How Many&?& Knitting Tool. If I want to decrease 14 stitches over 6 inches - how many rows should I work between decreases?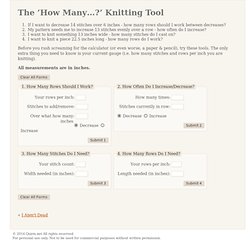 My pattern needs me to increase 13 stitches evenly over a row - how often do I increase? I want to knit something 13 inches wide - how many stitches do I cast on? I want to knit a piece 22.5 inches long - how many rows do I work? Marnie MacLean Designs. StumbleUpon. WigUsing straight needles or one set of circulars, cast on 96 sts.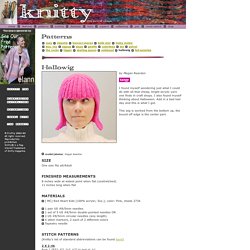 Work in 2 x 2 rib until the piece is as long as the distance between the bottom of your chin, and your eyebrow (about 6.5"), ending with a WS row. NOTE: The extra stitches along the edge of the work will balance the width of the first and last ribs. Later on, when the bangs are added, these stitches will become parts of purl ribs. If more length in the main body of the wig is desired, work more rows at this point. Next row [RS]: work as before, but slip the first and last stitch. MODx Content Manager &. How to Make Pom Pom Flowers. I have a thing for flowers that look like pom poms.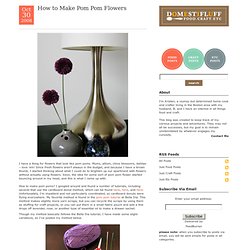 Mums, allium, chive blossoms, dahlias – love 'em! Since fresh flowers aren't always in the budget, and because I have a brown thumb, I started thinking about what I could do to brighten up our apartment with flowers without actually using flowers. Soon, the idea for some sort of pom pom flower started bouncing around in my head, and this is what I came up with. How to make pom poms? Patterns - free patterns - cocoknits by julie weisenberger. Loading...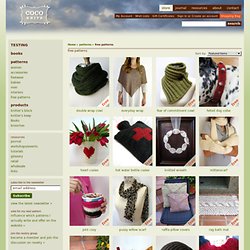 Please wait... resources. Double Knitting - Knitting Community. Double knitting is the exception to many knitting rules.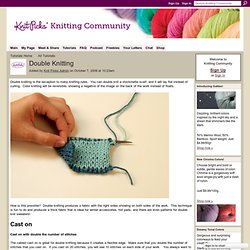 You can double knit a stockinette scarf, and it will lay flat instead of curling. Color knitting will be reversible, showing a negative of the image on the back of the work instead of floats. How is this possible? TLC Home &Free Scarf Knitting Patterns&. Braiding adds another dimension to an otherwise very simple pattern.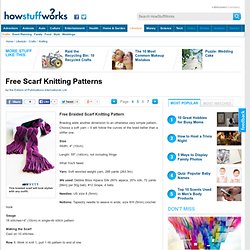 Choose a soft yarn -- it will follow the curves of the braid better than a stiffer one. Size Width: 4" (10cm) Length: 55" (140cm), not including fringe.
---