MISC
The Microwave Miracle Of Cooking In Mugs : The Salt. Hide captionWashington Post Food and Travel Editor Joe Yonan whips up some macaroni and cheese in an NPR mug.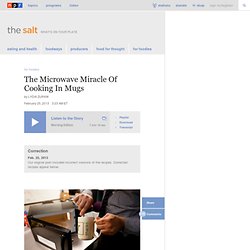 Maggie Starbard/NPR Lunchtime is around the corner, and your tummy is rumbling. Emotional Bag Check. YouTube to MP3 Converter - Video2mp3 - Converter. Famous Quotes at BrainyQuote. Dictionary.com | Free Online Dictionary for English Definitions.
EasyBib: Free Bibliography Maker - MLA, APA, Chicago citation styles. More Intelligent Life. Did you know.
---