Paper Toys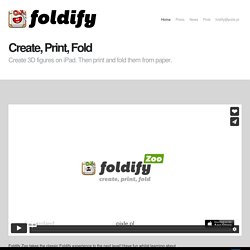 Create, Print, Fold Create 3D figures on iPad. Then print and fold them from paper. Foldify gives you a fun way to create 3D figures on iPad! But what if we told you that fun doesn't need to end there? You can print figures from the app, then it's as easy as cutting it and folding.
Poseid0n: I was cruisin your origami section and I thought you G3 model was cool, but rather outdated. So Basically, I downloaded it, added nessicarry changes, some special Effects, and a couple other things, Now it's a G4!
Paper Mac's "Make your own Mac" - Page 2 @ The Apple Collection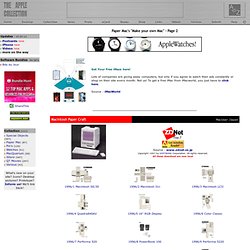 Origamic Architecture pop-up cards World Famous Buildings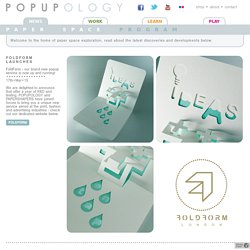 SOLAR LIGHT LAMPSHADES FOR PANASONIC •••••••••••••••• 27th•Dec•13 My latest paper collaboration is a great cause - bringing light to remote communities by donating Panasonic solar lights to areas without electricity. Everyone is encouraged to take part by designing their own paper cut shades for the project.
do it yourself paper lampshades by mostlikelyShop on Etsy
Our newest set is for sale for the first time online. Wait-a-minute! Before you click away, let me explain how cool buying this will be: it's a totally DIM (Done-It-Myself) package for you to get the DIY fun you are used to find here.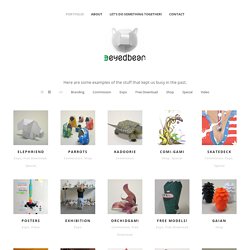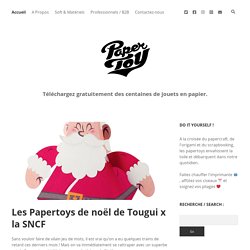 Ce ne sont pas les premiers papertoys d'Hello Kitty que nous partageons, mais ceux de Paper Minions portent particulièrement bien leur nom ! Pour ajouter du fun à l'histoire, l'auteur nous propose un template avec plusieurs options : 2 ensembles de vêtement et 3 accessoires au choix. De quoi commencer la semaine de super bonne humeur… Partager Citroën Type H Command Car Ce papercraft est une reproduction assez fidèle du fameux Citroën Type H, une fourgonnette emblématique des années 50/60, qu'on a pu apercevoir dans de nombreux films et séries.
A.G Paper Toys
I spent the weekend sketching out paper toys, a lot of paper toys 20 or more paper toys. Some of these are for books and prints etc. But 15 of these toys will be free for download once they are designed.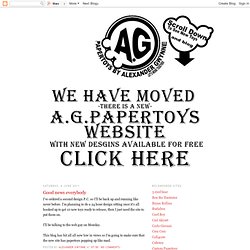 Happy Jolly Time from Custom Papertoys, everybody! Here is a special holiday gift to you, Mr. Merry a free holiday papertoy as a special thanks to all those who have supported my work and various crazy projects this year.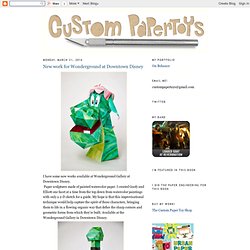 3EyedBear (Calendar)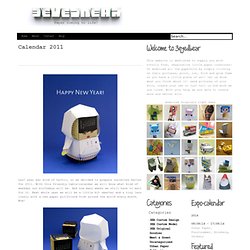 Last year was kind of hectic, so we decided to prepare ourselves better for 2011. With this friendly table-calendar we will know what kind of weekday our birthdays will be. And how many weeks we still have to wait for it. Next whole year we will be a little bit smarter and a tiny less lonely with a new paper girlfriend from around the world every month.
Chiba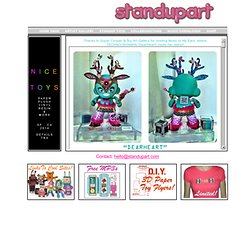 StandUpArt
Thanks to Super Cooper & Toy Art Gallery for hosting Music to My Ears, where TECHNO*SHAMAN "DearHeart" made her debut! Artists brought together by Bay Kid Dead for a great cause! Read more about the show below. Spanky Stokes Write Up
Funk Food MechaBunny
back again with the big hopping madness known as the Mecha6!! i am so proud to today present you with the next series of my MechaBunny template. this time around is as amazing as the first time; again all all-star line-up of paper-artists deluxe! this time there were Scott Schaller (second custom by him, he must really like the template..(: ), Greg Madden , VinsArt , Sal Azad , ABZ and OLLA BOKU ! and again i couldn't tell you my favorite, each one is so unique in its own way..love'em all!
e440 Squirrel
A paper model of the iconic tank from SNK's console/arcade platform video game Metal Slug: Super Vehicle-001.Metal Slug Papercraft - Super Vehicle-001 Didier has created these papertoys inspired by the popular Adventures of Tintin comics by the Belgian cartoonist Herge. Included are Tintin, Captain Haddock and Snowy.Adventures of Tintin Papercraft
I know from personal experience how hard it can be to keep the little people in your life entertained, particularly if like me you live in a country where winter just seems to drag on and on. So I thought I would dig out some easy, fun and damn cute paper models for that crafty kid in your life. Hey even if they get bored and want to watch cartoons at least you have something to do rather than watching Toy Story for the 30th time that week.
Paperkraft.net
cafetera
Yebomaycu
flickr paper toys
Mitsubishi Paper Cars
Uncle Ghastly!
FrankenPaper
Paper Toys
Pepakura
Recortables
Pay-Per-Toy