Paper Toys
Soroche Creates 3D Paper Animal Masks For The Wall. Or Your Head. | if it's hip, it's here. "SOROCHE de los andes," an Ecuadorian design studio based in Rotterdam, hand makes these unusual functional and decorative masks.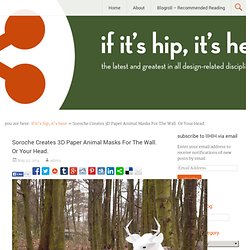 Die cut with a small mechanical press, the Animal Masks (Maska) are three dimensional paper sculptures that can be decorated, mounted upon the wall or yes, worn. The beautiful masks arrive flat packed and are created by folding, gluing and assembling with ease. They can be placed on a wall as art or decoration, but are also wearable as masks for a costume or just for fun. DaiShi's PaperCraft And Game Mods. PaperCraft Museum. Star Wars - Page 1 of 8. SuperUnitedKingdom. SHIN TANAKA. Optical illusion cut-out and fold characters | Gags Area.
Foldify. Paper Mac's "Make your own Mac" - Page 2 @ The Apple Collection. Poseid0n: I was cruisin your origami section and I thought you G3 model was cool, but rather outdated.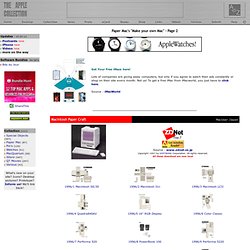 So Basically, I downloaded it, added nessicarry changes, some special Effects, and a couple other things, Now it's a G4! Origamic Architecture pop-up cards World Famous Buildings. Popupology. Do it yourself paper lampshades by mostlikelyShop. Zerolabor. 3EyedBear. Paper-Toy.fr. A.G Paper Toys. Custom Paper Toys.
3EyedBear (Calendar) Last year was kind of hectic, so we decided to prepare ourselves better for 2011.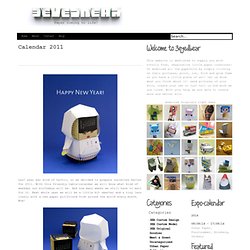 With this friendly table-calendar we will know what kind of weekday our birthdays will be. And how many weeks we still have to wait for it. Next whole year we will be a little bit smarter and a tiny less lonely with a new paper girlfriend from around the world every month. Chiba. StandUpArt. Fwis Readymech. Funk Food MechaBunny. Back again with the big hopping madness known as the Mecha6!!
I am so proud to today present you with the next series of my MechaBunny template. this time around is as amazing as the first time; again all all-star line-up of paper-artists deluxe! This time there were Scott Schaller (second custom by him, he must really like the template..(: ), Greg Madden , VinsArt , Sal Azad , ABZ and OLLA BOKU ! And again i couldn't tell you my favorite, each one is so unique in its own way..love'em all! e440 Squirrel. Cubeecraft. Online ToyMaker.
Papercraft Paradise. Papercraft World. Paperkraft.net. Cafetera. Yebomaycu. Flickr paper toys. Mitsubishi Paper Cars. How about displaying a paper craft version of your own car, a favorite car, or even a past generation car on your desk?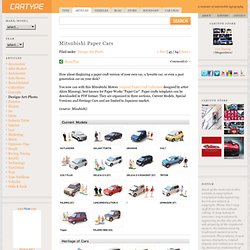 You now can with this Mitsubishi Motors Original Paper Craft Collection designed by artist Akira Mizorogi, best known for Paper Works "Paper Car". Paper crafts templates can be downloaded in PDF format. They are organized in three sections, Current Models, Special Versions and Heritage Cars and are limited to Japanese market. (source: Misubishi) Uncle Ghastly! FrankenPaper. Fun Halloween paper craft!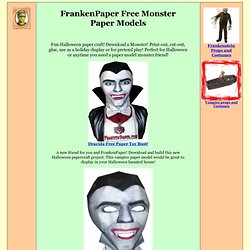 Download a Monster! Print-out, cut-out, glue, use as a holiday display or for pretend play! Perfect for Halloween or anytime you need a paper model monster friend! Dracula Free Paper Toy Bust! A new friend for you and FrankenPaper! Nice Paper Toys. Paper Toys. Pepakura. What game is going on here?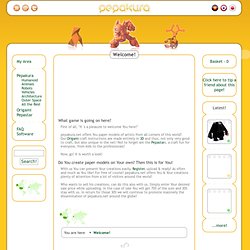 First of all, "It´s a pleasure to welcome You here! " pepakura.net offers You paper models of artists from all corners of this world! Recortables. Pay-Per-Toy.
---