Psychology
Music. Art. Music. ‪Coldplay - The Scientist‬‏ ‪Lemon Tree Fools Garden‬‏ ‪Nirvana - Smells Like Teen Spirit‬‏ ‪Nirvana - Come As You Are‬‏ ‪Pale blue eyes - Velvet Underground - Lyrics‬‏ ‪Red Hot Chili Peppers - Californication (Video)‬‏
Carol's Site - YouTube - Bob Dylan - Like A Rolling Stone (with Lyric) Psychology Studies. Why powerful people -- many of whom take a moral high ground -- don't practice what they preach. 2009 may well be remembered for its scandal-ridden headlines, from admissions of extramarital affairs by governors and senators, to corporate executives flying private jets while cutting employee benefits, and most recently, to a mysterious early morning car crash in Florida.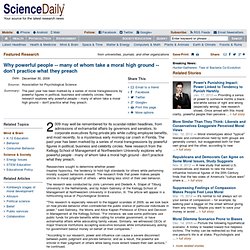 The past year has been marked by a series of moral transgressions by powerful figures in political, business and celebrity circles. New research from the Kellogg School of Management at Northwestern University explores why powerful people - many of whom take a moral high ground - don't practice what they preach. Researchers sought to determine whether power inspires hypocrisy, the tendency to hold high standards for others while performing morally suspect behaviors oneself.
The research finds that power makes people stricter in moral judgment of others - while being less strict of their own behavior. 10 Practical Uses For Psychological Research in Everyday Life | People love to give each other advice.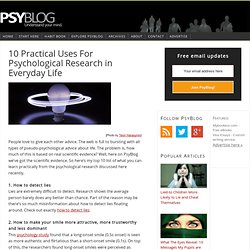 The web is full to bursting with all types of pseudo-psychological advice about life. The problem is, how much of this is based on real scientific evidence? Books. Buddhism & Mind. Meditation.
---