Organiseren
Create a Sliding Storage System On the Garage Ceiling - Step by Step. Out-of-the-way storage 1 of 3 Utilize dead space.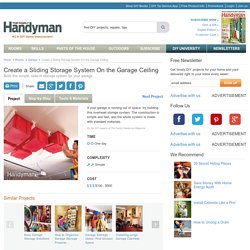 Pottery Barn Knockoff: Summer Buckets - My Life and Kids. When my friend Cara emailed me a link to these adorable Pottery Barn Buckets, I knew I could make them myself.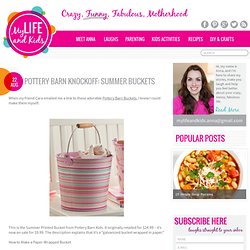 This is the Summer Printed Bucket from Pottery Barn Kids. It originally retailed for $24.99 – it's now on sale for $9.99. Pottery Barn Wall. Lined Canvas Diaper Box. You can find almost anything on Pinterest…it's true.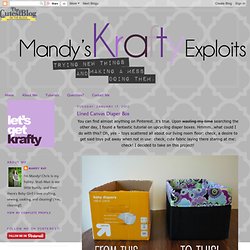 Upon wasting my time searching the other day, I found a fantastic tutorial on upcycling diaper boxes. Hmmm…what could I do with this? Oh, yes – toys scattered all about our living room floor: check, a desire to get said toys put away when not in use: check, cute fabric laying there staring at me: check!
Wii Game Storage. Weaved Fabric Basket *TUTORIAL* My mom made this adorable basket by weaving strips of fabric up like a basket, and she is sharing a tutorial with you guys!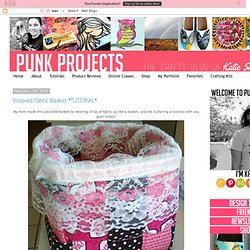 Enjoy! Supplies-- 3 Different Fabrics (Half a yard of each.) No-interfacing Storage Basket Tutorial. As promised, a recipe for making washable stand-up storage baskets: You'll need to cut 2 of each of these pieces (click on the pic to enlarge it to a readable size).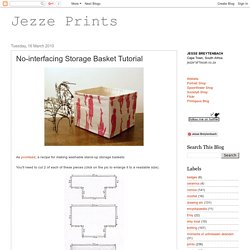 The measurements are in centimetres because that's the way I was brought up (sorry). Stylish Baby Nursery: Collapsible Storage Baskets - Sew4Home. These clever storage baskets are not only cute and handy, they're also a secret recycling project.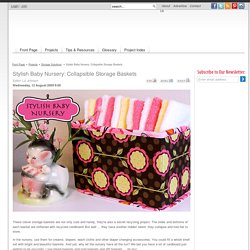 The sides and bottoms of each basket are stiffened with recycled cardboard! But wait ... they have another hidden talent: they collapse and fold flat to store. In the nursery, use them for creams, diapers, wash cloths and other diaper changing accessories. Fabric basket and bin tutorials. Tutorial ~ Hanging Fabric Storage Baskets. If there were ever a project that was my most favorite, it would have to be these Hanging Fabric Baskets.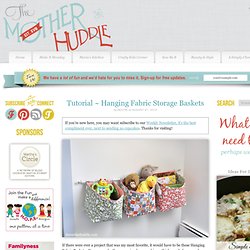 You can make them any size, hang on bigger thicker rods for more drama, or single baskets hung one over the other in a narrow space, really so many possibilities. It has been fun to see the different variations people have made to use in their homes too. Some of the pictures I've been sent include burlap for kitchens storing potatoes and onions, in classrooms to hold student's things, dorm room storage, even a single one holding magazines by a favorite chair. Flashback: Woven Map Basket. Maps can be amazing design elements, with all their intricately drawn lines and minute details.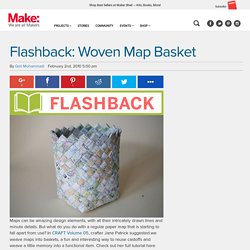 But what do you do with a regular paper map that is starting to fall apart from use? In CRAFT Volume 05, crafter Jane Patrick suggested we weave maps into baskets, a fun and interesting way to reuse castoffs and weave a little memory into a functional item. Check out her full tutorial here and pick up a back issue of CRAFT Volume 05, the Paper issue, in the Maker Shed.Woven Memory Basket Weave your vacation road maps into an attractive souvenir. By Jane Patrick Think of basketry as three-dimensional weaving.
If you ever wove paper as a child, that's the basis for this plaited basket. Category: 1 - Welcome to GoJindy. Going to a wedding soon?
Or a baby shower, bridal shower maybe? This is a fun thing to make. Projects on WKOW TV - stampTV. Magnetic Locker Caddy with White Board & Pockets - Sew4Home. School's been rollin' for awhile.
Lockers are filling up with paper and books and perhaps a few weeks' worth of lunch bags. It's probably time to force a little organization on the chaos with this super cute locker caddy. There's just a little bit of sewing and a whole lot of glueing. We used some very specific sizes and items, and we've linked directly to products wherever possible. But not to worry, it would be easy to revise the shapes and sizes to best fit your locker and whatever dry erase board you find. Recycling The News. At least twice a day I promise myself I will no longer watch or read the news, it's just too upsetting. I stopped buying the paper.... But my local dollar store recycles it and gladly gave me a bundle. So I have combined my love for baskets with my need to forget what I just read, LOL.
I saw this tutorial on weaving a basket from newspaper, quickly realized I had everything I needed and jumped in with both feet. I wrote down the website and now the link seems to be no good???? Homemade Wooden Crates. My two year old's room used to be a death trap. There were toys scattered all over her floor 24/7, mostly because I didn't have enough baskets or whatever to store them in. So after stubbing my toe in her room a few too many times, the wheels in my head starting moving when I saw this picture from Pottery Barn Kids... I was going to get those toys organized by making my own wooden crates!!! Recycled Wrapping Paper Basket | My Kids Make... We had a ton of wrapping paper after our Christmas festivities. It filled up a huge trash bag and was sitting at the back door ready to go out for recycling.
I kept looking at it, thinking that there must be something we could do with all that nice looking paper (besides recycling it). I really didn't want to straighten it out and actually re-wrap gifts with it. But, I wanted to find a new purpose for that paper. A Nest for All Seasons. I am a big fan of using fabric that has already had some of the work completed for you. I will often buy flat sheet or single curtain panels or any number of other premade fabric items on clearance. Then I cut them up and use them for other projects, taking advantage or all those finished edges. I just recently cut up this tapestry to use all over my kitchen and the adjoining room with the kid's table. Once I added that fabric to the room, the black of my pocket organizers stuck out like a sore thumb, so I decided to replace them with white organizers. Baby Week: Memory Box. The House of Smiths - Home DIY Blog - Interior Decorating Blog - Decorating on a Budget Blog.
---