News Articles
IMF chief warns a US default could spark recession. 13 October 2013Last updated at 19:00 ET Angry protests took place outside the White House on Sunday, as Mark Mardell reports The head of the International Monetary Fund, Christine Lagarde, has warned that a US default could tip the world into recession.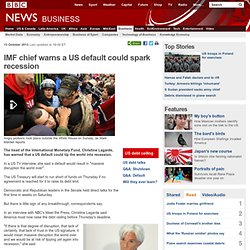 In a US TV interview, she said a default would result in "massive disruption the world over". Pope Francis: Church too focused on gays and abortion. 19 September 2013Last updated at 13:29 ET Pope Francis says the Catholic Church must strive to heal wounds Pope Francis has said the Catholic Church is too focused on preaching about abortion, gay people and contraception and needs to become more merciful.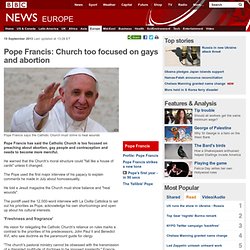 He warned that the Church's moral structure could "fall like a house of cards" unless it changed. The Pope used the first major interview of his papacy to explain comments he made in July about homosexuality. Honesty pays off for homeless Boston man. Quebec's student tuition protest: Who really won the dispute? - Montreal. [Listen to the full discussion of the legacy of the Quebec student protests in the audio player to the left of this page, or visit The Sunday Edition's website.]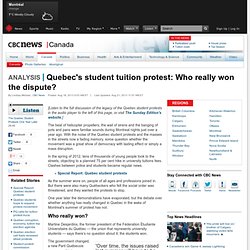 The beat of helicopter propellers, the wail of sirens and the banging of pots and pans were familiar sounds during Montreal nights just over a year ago. With the noise of the Quebec student protests and the masses in the streets now a fading memory, some question whether the movement was a great show of democracy with lasting effect or simply a mass disruption. In the spring of 2012, tens of thousands of young people took to the streets, objecting to a planned 75 per cent hike in university tuitions fees.
Clashes between police and students became regular news. Special Report: Quebec student protests. Languages of love: 10 unusual terms of endearment. 29 May 2013 Last updated at 19:22 ET "Chouchou" is Carla Bruni's term for her husband, the former French President Nicolas Sarkozy.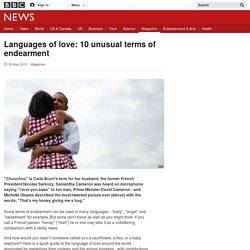 Samantha Cameron was heard on microphone saying "I love you babe" to her man, Prime Minister David Cameron - and Michelle Obama described the most-tweeted picture ever (above) with the words, "That's my honey giving me a hug. " Some terms of endearment can be used in many languages - "baby", "angel" and "sweetheart" for example. The myth of the eight-hour sleep. 22 February 2012Last updated at 16:58 GMT By Stephanie Hegarty BBC World Service We often worry about lying awake in the middle of the night - but it could be good for you.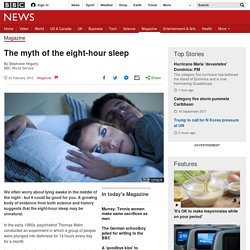 A growing body of evidence from both science and history suggests that the eight-hour sleep may be unnatural. In the early 1990s, psychiatrist Thomas Wehr conducted an experiment in which a group of people were plunged into darkness for 14 hours every day for a month. It took some time for their sleep to regulate but by the fourth week the subjects had settled into a very distinct sleeping pattern. VIDEO: Meet Windsor's Millennials - Windsor. Join the Conversation This is the first story in CBC Windsor's There's No Place Like Home series, an in-depth local look at the city's generation Y.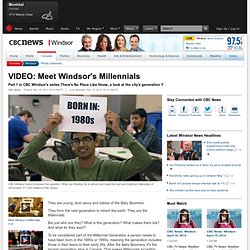 Join the conversation on Twitter #cbcwdr or by logging onto cbc.ca/windsor and Facebook to discuss how Windsor can attract and retain the best and brightest Millennials. They are young, tech savvy and babies of the Baby Boomers. They form the next generation to inherit the earth. Tech conversion: India's richest shrine goes green.
31 January 2012Last updated at 00:09 By Shilpa Kannan BBC News, Tirumala Green temple: India's Tirupati Temple has adopted a range of green technologies - and the shrine is now trading carbon credits Surrounded by seven hills, high above lush green forests is the temple town of Tirumala.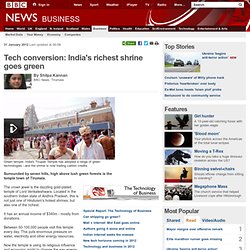 The crown jewel is the dazzling gold-plated temple of Lord Venkateshwara. Speed-of-light experiments give baffling result at Cern. 23 September 2011Last updated at 18:03 By Jason Palmer Science and technology reporter, BBC News Enormous underground detectors are needed to catch neutrinos, that are so elusive as to be dubbed "ghost particles" A meeting at Cern, the world's largest physics lab, has addressed results that suggest subatomic particles have gone faster than the speed of light.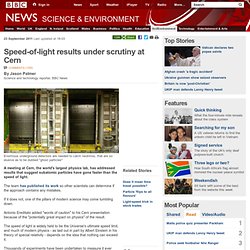 The team has published its work so other scientists can determine if the approach contains any mistakes. If it does not, one of the pillars of modern science may come tumbling down. Antonio Ereditato added "words of caution" to his Cern presentation because of the "potentially great impact on physics" of the result. Earth's rarest metals ranked in a new 'risk list' 13 September 2011Last updated at 18:50 By Leila Battison Science reporter, Bradford Rare earth metals are vital for production of a range of electronic items The relative risks to the supply of some of Earth's rarest elements have been detailed in a new list published by the British Geological Survey (BGS).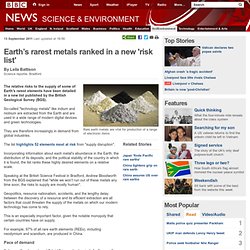 So-called "technology metals" like indium and niobium are extracted from the Earth and are used in a wide range of modern digital devices and green technologies. Icann increases web domain suffixes. 20 June 2011Last updated at 11:08 The move has opened up new possibilities for the internet, Icann says A global internet body has voted to allow the creation of new website domain suffixes, the biggest change for the online world in years.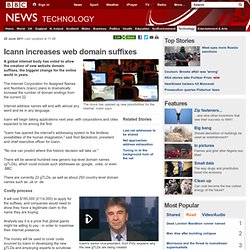 ---