aMiNaLz
Get flash to fully experience Pearltrees
There's a species in the animal kingdom that needs to be eliminated from planet earth and it's called "a cat," or Felis domesticus , traditionally adopted by many lonely individuals as a stand-in companion to an actual person, handicapped or upright-walking. Cats, also known as felines, pussies, overgrown hamsters, slow-witted ferrets, dander demons, are representative of America's growing trend of entitled laziness and inertia.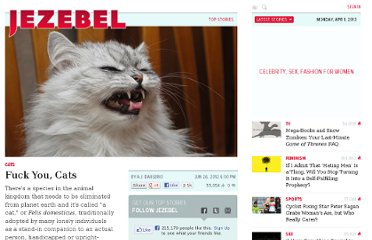 About birds with arms or a bird with arms: It's pictures or images of birds Photoshopped with human arms and hands on them. Bird with arms is a bird with some arms, hands, clothes and other human-like features.
"The big mistake people" Well. That was a huge design flaw, space station dudes.
The Design Inspiration Articles Go Back