Crafts
DIY Organic Sugar Scrub Recipe. Movie Inspired Craft: Snail Shell Candles. I love a good movie.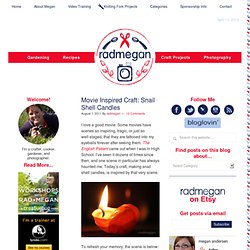 Some movies have scenes so inspiring, tragic, or just so well-staged, that they are tattooed into my eyeballs forever after seeing them. The English Patient came out when I was in High School. I've seen it dozens of times since then, and one scene in particular has always haunted me. The Burlap Bag - High Quality Handmade Goods Shop - Austin Texas. November 22, 2011 by Lauren Things I love: Saving money Yummy smelling things EASY projects.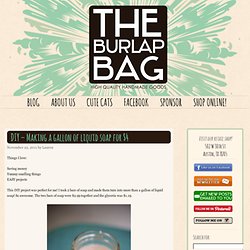 Cahier de vacances – Transformer son foulard en turban. Vous avez envie de porter ce joli foulard qui va si bien avec votre robe, mais il fait beaucoup trop chaud pour ça ?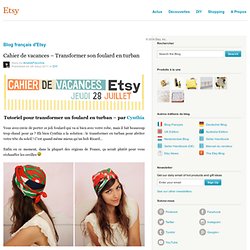 Eh bien Cynthia a la solution : le transformer en turban pour abriter votre tête du soleil ! C'est quand même mieux qu'un bob Ricard… Enfin en ce moment, dans la plupart des régions de France, ça serait plutôt pour vous réchauffer les oreilles Pour réaliser ce turban tout simple il vous suffit d'un foulard de forme carré ou triangulaire et un peu d'huile de coude. LUCSIOUS LOCKS FRIDAY: Head Scarf. Newspaper Nails. A few weeks ago I shared in this post that I learned how to do this amazing thing called "newspaper nails.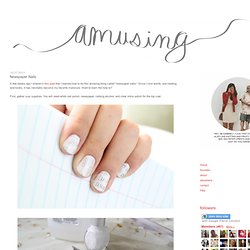 " Since I love words, and reading, and books, it has inevitably become my favorite manicure. Want to learn the how-to? First, gather your supplies. You will need white nail polish, newspaper, rubbing alcohol, and clear shiny polish for the top coat. How To Make Paper. Making Handmade Paper in 10 Easy Steps Ancient Egyptians invented the first substance like the paper we know today called Papyrus.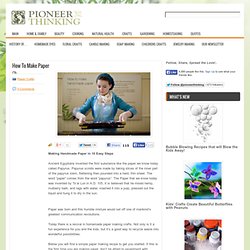 Papyrus scrolls were made by taking slices of the inner part of the papyrus stem, flattening then pounded into a hard, thin sheet. Paper Flowers – Anyone Can Do That | FindInspirations.com. Japanese Kusudama, this tutorial is featured on Craftuts Anyone can do that, I assure you.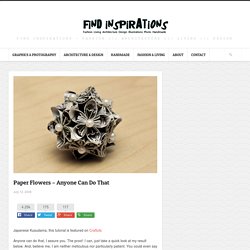 The proof: I can, just take a quick look at my result below. And, believe me, I am neither meticulous nor particularly patient. You could even say I'm the opposite. Below you can see my very first attempt to create paper flowers. How to Weave a Paper Ball Ornament. When I was in Thailand, I would see the local people weave palm leaves into beautiful bowls, fans, balls and other amazing things.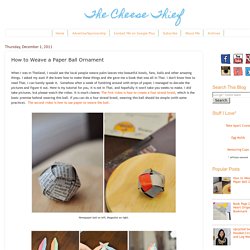 I asked my aunt if she knew how to make these things and she gave me a book that was all in Thai. I don't know how to read Thai, I can barely speak it. Gift Ideas for poor creative souls (6) You know how it goes, a friend calls you and invites you to dinner at the last minute.
OMG! What gift can you take?! You scrabble around the cupboards trying to find a box of chocolates or a bottle of wine but find that most of the chocolates have been eaten and the wine has gone. I thought this was a wonderful idea. The Hipster Home » Blog Archive » How to Make a Tiny Terrarium in a Light Bulb. Ahoy there Hipster Homers!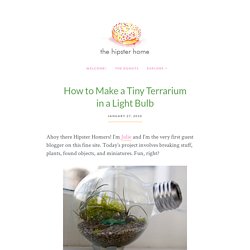 I'm Julie and I'm the very first guest blogger on this fine site. Today's project involves breaking stuff, plants, found objects, and miniatures. Fun with moss | Little People - a selection of street installations. Sewing 101: making a pouf. Add a burst of color to your room with this crafty pouf!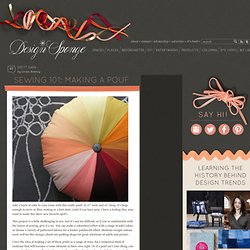 At 17" wide and 10" deep, it's large enough to serve as floor seating or a foot stool. (And if you have pets, I have a feeling they may want to make this their new favorite spot!) This project is a little challenging to sew, but it's not too difficult, so if you're comfortable with the basics of sewing, give it a try. Raised fishbone stitch. This stitch is typically used for leaf patterns. It throws out a padded effect on the motif. The stitch looks a bit difficult, but has no complications when you start to stitch. In fact, you will enjoy it as you see a beautiful, richly filled leaf emerging as you go along. I have used a leaf pattern to illustrate . 50 Free Apron Patterns You Can Make.
Home / Crafts / 50+ Free Apron Patterns You Can Make [Updated 2012] Here's a treat for Tipnut readers, three free booklets packed full of apron patterns! I've scanned, re-typed and organized over 50 vintage goodies from my personal collection and organized them into separate eBooks for you to download (they are in pdf format). Please Note: The files are quite large so they may take a few seconds to load. Tie a Perfect Bow. Leather Pennant Necklace DIY Fashion and Craft Tutorials | Stars for StreetlightsStars for Streetlights. I saw a necklace like this on Rebecca's blog a long time ago but I cannot seem to find the photo again! It was really simple, I found little leather scraps, cut triangles, poked holes, and threaded them through an old necklace. Also, these Converse shoes used to be pink. I had them in 7th grade but I haven't worn them in a while because pink is not really my thing at the moment.
Now I wear these shoes ALL THE TIME again. Re-purposing: Tshirts into 5-strand-braided-headbands. I was walking through Target a few weeks ago and noticed this little knit fabric headband that was not just braided together…….but woven. I decided they were charging way too much for something that could be made with t-shirt scraps.
And that means free. So there you have it. Felt Flowers.
---