A écouter
► Mother Noontime by bluedirts | 8tracks | Handcrafted internet radio. Leonard Bernstein torrent dvdrip. Aquaserge - Sillage 1. Don't Salt My Meal With Your Tears in Dream Ocean EP. La Revue du Spectacle, le magazine des arts de la scène et du spectacle vivant. Infos théâtre, chanson, café-théâtre, cirque, arts de la rue, agenda, CD, etc. ► The Promise of Space by musicisprettycool | 8tracks | Handcrafted internet radio. Raphael - Balada de la trompeta (De la Película "Sin un adiós", 1971) Podcasts. DEEPNESS Rock. La Machine du Moulin Rouge organise le premier Paris International Festival Of Psychedelic Music. Excellente initiative car, s'il est un peu cavalier de parler de « revival psyché », il faut bien admettre que le genre a de nouveau le vent en poupe.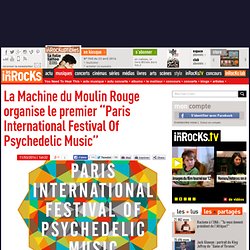 Que l'on pense à MGMT qui s'éloigne un peu plus de la pop à chaque album, à Of Montreal qui creuse ce sillon depuis un moment, ou encore à Jacco Gardner, Tame Impala, Outfit, voire Jackson Scott, adoubé par le site Pitchfork grâce à un unique morceau, il est indéniable que les guitares distordues, les mélodies répétitives et les buvards connaissent un regain d'intérêt certain. On ne parle même pas de tout ces groupes pop qui ont malgré tout digéré les compilations Nugget's de leurs parents, La Femme en tête.
France, Etats-Unis, Angleterre, le psyché s'est propagé jusqu'à se diluer. Sitting on the Shelf ~ Without Shelly (Plaisir de France remix) De Bach à C.P.E. Bach - 27 mai 2014. 1971 Comus - First Utterance [Full album] On VHS | The Fierce And The Dead. Wampire - The Hearse [OFFICIAL MUSIC VIDEO] Cosmic Machine: Multi-Artistes: Amazon.fr: Musique. Space 1999: Year Two – music by Derek Wadsworth | theLogBook.com Music Reviews. The often unfairly derided '70s sci-fi melodrama Space: 1999 is a classic example of a TV show whose renewal came at the expense of a lot of creative interference.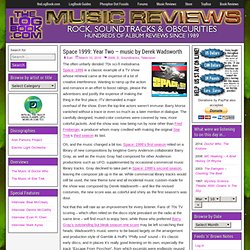 Wanting to ramp up the action and romance in an effort to boost ratings, please the advertisers and justify the expense of making the thing in the first place, ITV demanded a major overhaul of the show. Even the top-line actors weren't immune: Barry Morse vanished without a trace or even so much as a later mention in dialogue.
The carefully-designed, muted-color costumes were covered by new, more colorful jackets. And the show was now being run by none other than Fred Freiberger, a producer whom many credited with making the original Star Trek's third season its last. Kings of Convenience. THE ACTIVE LISTENER. Active Listener Radio Jacco Gardner Guest Mix by The Active Listener. Tom Odell - Another Love. The Strypes. ► Neo-psychedelia | 8tracks | Handcrafted internet radio. Nunavut (Kronos Quartet and Tanya Tagaq) First Listen: 'The Space Project'
Hide captionThe Space Project comes out on Record Store Day, which takes place April 19.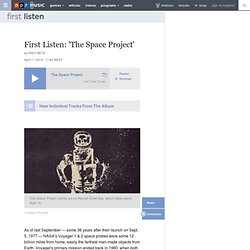 Courtesy of the artist The Space Project comes out on Record Store Day, which takes place April 19. As of last September — some 36 years after their launch on Sept. 5, 1977 — NASA's Voyager 1 & 2 space probes were some 12 billion miles from home, easily the farthest man-made objects from Earth. Voyager's primary mission ended back in 1980, when both satellites provided the closest, most detailed pictures taken of the gaseous planets of Jupiter and Saturn and their moons before continuing outward into space. Jupiters Garden | Violet Swells. POP, ROCK : Les 25 ALBUMS sans lesquels on ne peut VIVRE!!! Le rock progressif est (toujours) vivant. : Musique. S'il y a des amateurs de rock progressif dans ce forum, je peux tenter de leur faire découvrir mes coups de coeur.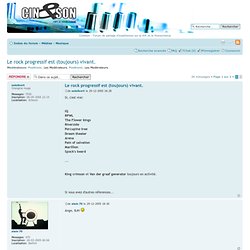 Ce genre musical n'a jamais été aussi vivant et les nouvelles formations se comptent par dizaines. Bien que les groupes britanniques soient encore bien présents, ces derniers doivent maintenant partager la scène avec des formations de partout. Les groupes polonais, suédois et américains ont particulièrement le vent dans les voiles ces temps-ci. Les groupes français comptent aussi parmi mes préférés; connaissez-vous Nil? Baba Scholae - Kaleidoscope ('69, FR) Nicolas Lens - Sumus Vicinae (Flamma Flamma) Les nuages mentent - brian jonestown massacre. MOOD TRIPPY : Une sélection de morceaux planants, entre rock psyché et électro hallucinée, pour rester accroché(e) bien en haut… Un trip musical à savourer en pleine montée comme en descente. | mood of the day. Melody's Echo Chamber - I Follow You. Emerson, Lake And Palmer - The Manticore Special (BBC OGWT 1973 Documentary)
---
nicoxbus Mar 17 2011

The contorsions
The avant garden
Guru guru
Giles, Giles & Fripp
---