A écouter
Alain Bashung - J'passe pour une caravane - Le clip
Tanya Tagaq in Puebla Mexico
Anna Betty-Odessa (vidéo)
Whylanders
Andrew Bird en boucle - Musique Vidéo de nouvOson
Jellywine - Gardening
MGMT - Congratulations - Rock - DjBPMStudio.com
▶ The Simms
Jean Jean
On VHS | The Fierce And The Dead
La Femme - Sur La Planche 2013
Full Circle - Half Moon Run
▶ Junip - Line Of Fire (Official Video)
▶ Tom Odell - Another Love
Nunavut (Kronos Quartet and Tanya Tagaq)
The Bewitched Hands - Birds & Drums - Live to Abreuvoir 04 03 2011 - Concert The Bewitched Hands
POP, ROCK : Les 25 ALBUMS sans lesquels on ne peut VIVRE!!!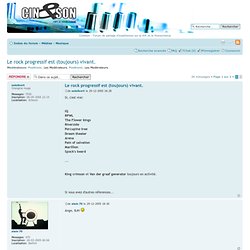 Le rock progressif est (toujours) vivant. : Musique - Cinetson - Hifi et Homecinema
S'il y a des amateurs de rock progressif dans ce forum, je peux tenter de leur faire découvrir mes coups de coeur.
Sepulcros de Miel - Omar Rodriguez Quartet - Album Overview
Jacco Gardner — Marseilles — Le Poste à Galène — Concert Tickets — 13 November 2013
Jacco Gardner - Clear The Air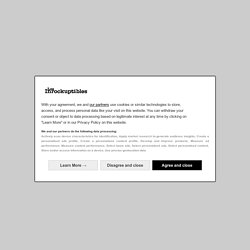 Il y a quelques semaines, on commençait l'année 2013 de la plus belle des manières, quelque part dans le nord de la Hollande.
Groupe à suivre : Jacco Gardner
Jacco Gardner
Baba Scholae - Kaleidoscope ('69, FR)
Nicolas Lens - Sumus Vicinae (Flamma Flamma)
les nuages mentent - brian jonestown massacre
MOOD TRIPPY : Une sélection de morceaux planants, entre rock psyché et électro hallucinée, pour rester accroché(e) bien en haut… Un trip musical à savourer en pleine montée comme en descente. | mood of the day
Orval Carlos Sibelius - Desintegraçao
Avant-première : l'album grandiose d'Orval Carlos Sibelius en écoute
N'y allons pas par quatre chemins, ils mènent de toute façon tous à Super Forma : pour l'avoir écouté environ mille fois, pour avoir pénétré son dédale magique sans encore, bonheur, en avoir trouvé la sortie, le nouvel album du parisien Orval Carlos Sibelius est un grand, grand, immense disque.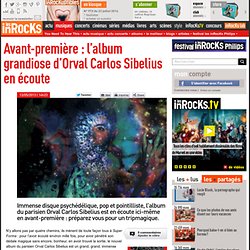 Matthew E. White, le doux colosse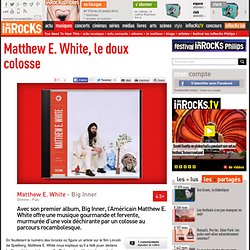 En feuilletant le numéro des Inrocks où figure un article sur le film Lincoln de Spielberg, Matthew E. White nous explique qu'il a failli jouer dedans. Le film a été tourné dans sa ville, Richmond, en Virginie.
the very best of MTV Unplugged vol. 1: Artistes Divers: Amazon.fr: Musique