Studi
AOC
Sergison Bates architects
4th EDITION OF "EL OBSERVATORIO D´ACHTALL AWARDS". Architecture Awards: Mansilla + Tuñón Architects. Cultural Management Award: Miguel Zugaza. Essay Award: Javier Gomá. Cinema Award: Alberto Iglesias.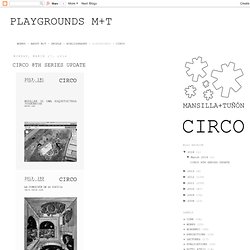 ANOUK VOGEL landscape architecture
Saunders Architecture
Documento sin título
Iotti + Pavarani Architetti
diverserighe studio
modostudio | Cibinel Laurenti Martocchia Architetti Associati
人気のコエンザイムQ10サプリメント よく目にする事も多くなった人気のコエンザイムQ10ですが、何から摂取するのかを考えるとやはり、食材と考える方も多くいると思われます。 もちろん食材にもコエンザイムQ10は含まれています。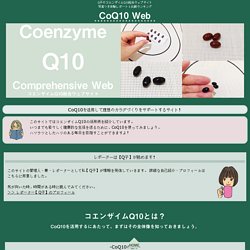 news: 5th november 2013 Sauerbruch Hutton wins first prize for Experimenta, Heilbronn /// 31st october 2013 The Ministry for Urban Development and the Environment in Hamburg has been awarded 'IBA-excellency' for outstanding quality, innovation and sustainability ///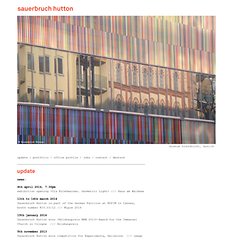 sauerbruch hutton
Rocha Tombal Architecten
TOPOTEK1
Stéphane Beel Architects Stéphane Beel is een Vlaams hedendaags architect. Beel is een opvallende vertegenwoordiger van de Nieuwe Eenvoud die de laatste decennia van de 20e eeuw in Vlaanderen tot ontwikkeling kwam.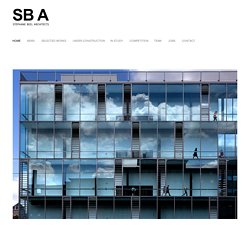 Nabito | Architects & Partners
Cie.
de Cie. designs satellite city near Moscow. de Architekten Cie. won an invited international Request for Proposal and Tender for a new satellite city on the periphery of Moscow. lees meer >> Hotel Sun Garden wins OPP Award 2011 Hotel Sun Garden wins OPP Gold Industry Southern Europe Award 2011 read more >> FIRST Rotterdam is BREEAM Excellent
Ravalli Architetti
IaN+
Luca Galofaro has obtained the Diplome cum laude in Architecture in November 1990 at "La Sapienza" University, Rome. In 1992 he takes part in the post degree course of Architectural Theory at the Faculty of Architecture, "La Sapienza" University, Rome. In 1993 he obtains the Master degree of Spatial Science at the International Space University, UHA Huntsville, Alabama. He presents his works of spatial architecture at the conferences Ideea-One (Huston, 1991), Space Environmental Control System (Florence, 1991), Ideea-Canada (Toronto, 1993). He is author of four books published by Bruno Zevi´s collection of Universal Architecture and he contributes to various magazines on architecture. He is curator for the collection "I Quaderni dell'Industria delle Costruzioni" of the Section on contemporary architects and contibutor to the same magazine.
ma0
Salottobuono