Infos
World News Atlas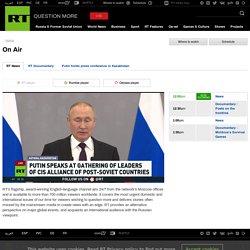 RT is a 24/7 English-language news channel. We are set to show you how any story can be another story altogether. Broadcasting over six continents and 100 countries, our coverage focuses on international headlines, giving an innovative angle set to challenge viewers worldwide.The channel is government-funded but shapes its editorial policy free from political and commercial influence. Our dedicated team of news professionals unites young talent and household names in the world of broadcast journalism.We're here to bring you another story. We would like to inform you that on April 22nd, 2014 from 12:00am (midnight) up to 10:00am (Moscow time), the broadcasting of "Russia Today" television programmes (English, USA, UK, Spanish, Arabic and DOC channels) will be interrupted to conduct scheduled maintenance works.
Medias Japonais: radios, journaux, télévisions...
Les débuts de la radio japonaise datent de 1926 ceux de la télévision datent de 1953. Jusqu'à la fin de la seconde guerre mondiale les programmes été établis par la Régie Japonaise de Diffusion Nippon Hôsô Kyôkai (NHK ). La NHK organisme gouvernemental changea de statut avec un loi de 1950 lui donnant un caractère hybride mi-privé, mi-public.