History Resources
EasyBib: Free Bibliography Maker - MLA, APA, Chicago citation styles. Welcome to The Right Question Institute | The Right Question Institute. Historyteacher.net Index. History Film Reviews Galore! Dr. Booker's Simple Rules of History. Dr.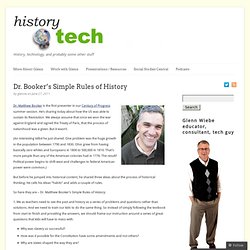 Matthew Booker is the first presenter in our Century of Progress summer session. He's sharing today about how the US was able to sustain its Revolution. We always assume that once we won the war against England and signed the Treaty of Paris, that the process of nationhood was a given. Recollection: Free Tool for Digital Collections. The National Digital Information Infrastructure and Preservation Program (NDIIPP) at the Library of Congress, in partnership with Zepheira LLC, is developing a free software platform called Recollection that allows users to upload their data and easily create interactive maps, charts, timelines, tag clouds and more.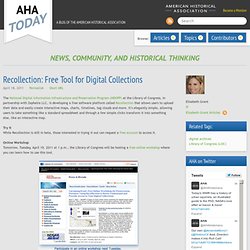 It's elegantly simple, allowing users to take something like a standard spreadsheet and through a few simple clicks transform it into something else, like an interactive map. Try it While Recollection is still in beta, those interested in trying it out can request a free account to access it. Online Workshop Tomorrow, Tuesday, April 19, 2011 at 1 p.m., the Library of Congress will be hosting a free online workshop where you can learn how to use this tool.
---