Music Blogs
Music Blogs. The Mahogany Blog. Electronic Dance Music Blog: Remixes, Mashups, House, Trance, Dubstep | Remix Nation. Pitchfork.
Dubstep Blogs
Discover, save, and share new music. Latest songs from music blogs worldwide / The Hype Machine. In Audio We Trust. WE FUCKING LOVE MUSIC. Tracasseur. DML. DirtyHype. Groove Gorilla. EARMILK.COM. This song is sick. Posted in Bangin, Video by nick | Tags: 2014, Chance the Rapper, Hip-Hop, LIVE, Lollapalooza Chance the Rapper made a legendary return to his home city of Chicago after gaining a monstrous global following as he played a huge set at the trend setting Lollapalooza music festival.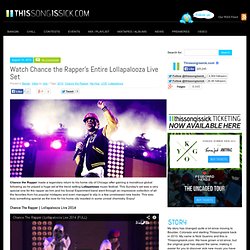 This Sunday's set was a very special one for the rapper as him and his Social Experiment band went through an impressive collection of all the favorites from his popular mixtapes and even managed to slip in a few unreleased new tracks. This was truly something special as the love for his home city resulted in some unreal chemistry. Salacious Sound. Musicophilia. Electronic. Green Velvet Bigger Than Prince (Martinez Brothers Remix) Chris and Steve Martinez or The Martinez Brothers as they're known to the rest of the world, although looked upon by much of mainstream music media stateside as relative new comers to the powerplay pantheon of house DJ's and producers, have been infusing the club scene with some of its most defining tunes and adorning magazine covers since they were barely teenagers.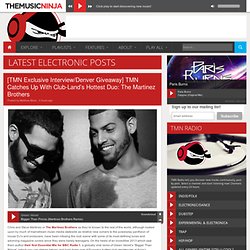 On the heels of an incredible 2013 which saw them author their first Essential Mix for BBC Radio 1, a globally viral remix of Green Velvet's "Bigger Than Prince" (which you can stream below) and hold down one of Europe's hottest club residencies at Ibiza's Circoloco; we had a chance to chat up the hottest duo in club land about their current American tour, future hip-hop productions, their recent monster Coachella performance and working with Seth Troxler. ORGY IN RHYTHM. GoodMusicAllDay. FreshNewTracks. HIPSTER RUNOFF.
---