Sales/Biz Dev
14 Words That LOSE Money. During the recent holiday shopping season I noticed many stores using terms that contradicted their intended purpose (to increase sales).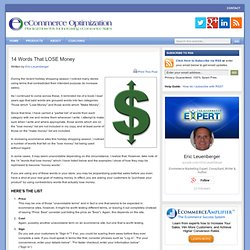 As I continued to come across these, it reminded me of a book I read years ago that said words are grouped words into two categories. Those which "Lose Money" and those words which "Make Money". Since that time, I have carried a "partial list" of words from each category with me and review them whenever I write. I attempt to make sure when I write and where appropriate, those words which are on the "lose money" list are not included in my copy, and at least some of those on the "make money" list are included.
In reviewing ecommerce sites this holiday shopping season, I noticed a number of words that fall on the "lose money" list being used without regard. The Internet Marketing List: 59 Things You Should Be Doing But Probably Aren't | Internet Marketing Strategy: Conversation Marketing. Internet marketing is about lots of little things, not one big one.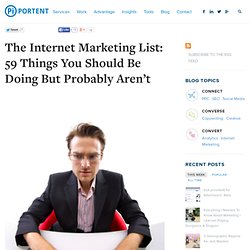 This list is half-list, half-procedure. If you go down these items in order it might give you a decent internet marketing plan for the next few months. [SherpaStore] Landing Page Handbook 2nd Edition. Actionable resources and instruction based on primary research, scientific testing, in-depth case studies and real-world experience The MECLABS family of companies – including MarketingSherpa and MarketingExperiments – provide in-depth research and how-to publications on what is working in marketing.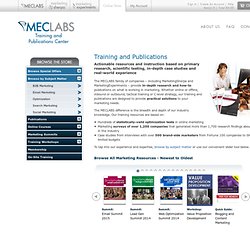 Whether online or offline, inbound or outbound, tactical training or C-level strategy, our training and publications are designed to provide practical solutions to your marketing needs. The MECLABS difference is the breadth and depth of our industry knowledge. Our training resources are based on: Hundreds of statistically-valid optimization tests in online marketing Marketing surveys of over 1,200 companies that generated more than 1,700 research findings about key trends in the industry Case studies from interviews with over 500 brand-side marketers from Fortune 100 companies to SMBs with limited budgets.
1,000 True Fans. [Translations: Chinese, French, German, Hebrew, Italian, Japanese, Portuguese, Romanian, Spanish] The long tail is famously good news for two classes of people; a few lucky aggregators, such as Amazon and Netflix, and 6 billion consumers.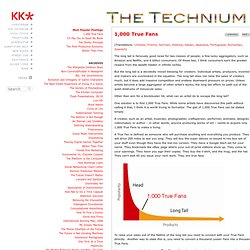 Of those two, I think consumers earn the greater reward from the wealth hidden in infinite niches. But the long tail is a decidedly mixed blessing for creators. Individual artists, producers, inventors and makers are overlooked in the equation. The long tail does not raise the sales of creators much, but it does add massive competition and endless downward pressure on prices. Seth Godin on standing out. The Anatomy of a Perfect Landing Page. Online Marketing Blog Posts, Tips, Tricks and Advice. In less than five years Kickstarter has helped entrepreneurs raise over $1B to fund more than 59,000 creative projects thanks to almost 6 million contributors.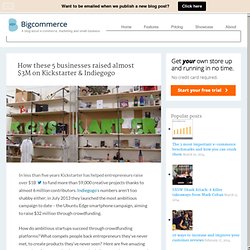 Indiegogo's numbers aren't too shabby either; in July 2013 they launched the most ambitious campaign to date – the Ubuntu Edge smartphone campaign, aiming to raise $32 million through crowdfunding. How do ambitious startups succeed through crowdfunding platforms? Yes! 50 Scientifically Proven Ways to Be Persuasive « alex.moskalyuk. Noah Goldstein's, Steve Martin's (no, not that Steve Martin's) and Robert Cialdini's Yes!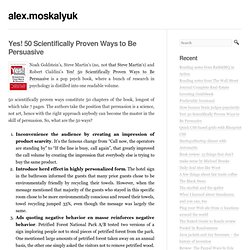 50 Scientifically Proven Ways to Be Persuasive is a pop psych book, where a bunch of research in psychology is distilled into one readable volume. 50 scientifically proven ways constitute 50 chapters of the book, longest of which take 7 pages. The authors take the position that persuasion is a science, not art, hence with the right approach anybody can become the master in the skill of persuasion.
---