Approaches to learning, education, & academia
www.ncbi.nlm.nih.gov/pmc/articles/PMC3016653/pdf/mlab-99-01-94.pdf
If you arrived here as a result of a renewal or other purchase transaction that went wrong, try this: close your browser, launch it or another browser, and try again. If your second attempt doesn't work, send details, including your contact information, to ALA Feedback , so we can investigate and get back to you. If you arrived here as a result of following a bookmark or a link from this or another site, try using site search, as it offers ALA Suggestions , our carefully selected best bets for popular resources.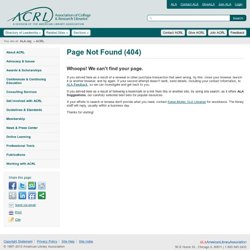 0-www.ala.org.sapl.sat.lib.tx.us/ala/mgrps/divs/acrl/events/national/2011/papers/towards_demonstratin.pdf
The Journal of Academic Librarianship : Linking course web sites to library collections and services
January 7, 2005 By STANLEY WILDER Academic librarians were quick to react to the threat posed by Internet competition. In 1989, half a dozen years before the first official release of Netscape, they recognized the explosion in networked information and proposed "information literacy," a reinvention of the educational function of the academic library. The premise of information literacy is that the supply of information has become overwhelming, and that students need a rigorous program of instruction in research or library-use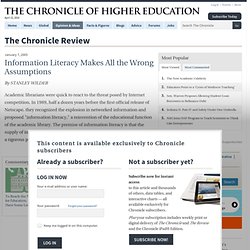 Information Literacy Makes All the Wrong Assumptions - The Chronicle Review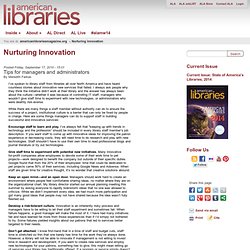 Nurturing Innovation
I've spoken to library staff from libraries all over North America and have heard countless stories about innovative new services that failed. I always ask people why they think the initiative didn't work at their library and the answer has always been about the culture—whether it was because of controlling IT staff, managers who wouldn't give staff time to experiment with new technologies, or administrators who were deathly risk-averse. While there are many things a staff member without authority can do to ensure the success of a project, institutional culture is a barrier that can only be fixed by people in charge.
Heading into the Open Ed Conference and especially the Mozilla Drumbeat Festival, I expected to be one of only a handful of librarians participating. Librarians haven't been terribly involved or engaged with the open education movement, but our values and missions align so well that I expected to be welcomed by the professors and the edupunks as a peer and fellow traveller. Well, I got the first part right – I met only a couple of librarians all week – but the second, not so much.
When librarians are obstacles | Molly Kleinman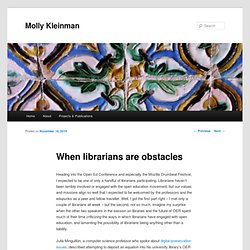 Technology, or Lack Thereof, at the Podium
I do a lot of public speaking. My usual format is to speak off the cuff, without notes or script, and use a Keynote or PowerPoint slide show to guide me. (No, not bullet points — ugh! — but videos, funny visuals or other scenic elements.) I like to have the laptop on the podium with me, for two reasons.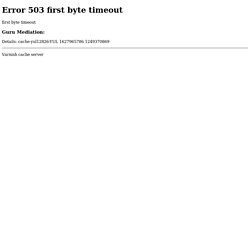 We've witness a torrent of nature- and man-made news in 2011. And if I were a betting man, the range and impact of the events to come will make news even more essential to all of us. But reading all this news started to bother me, not only because of what was happening in the world, but because the experience of consuming news sucks. For the past new months, I've been thinking about this problem (unconnected to Cheezburger). As my friend Dan Sinker said: "We're still delivering the news in the same way since the Civil War."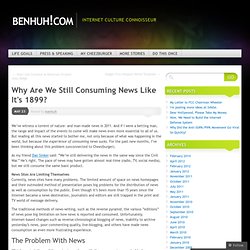 Why Are We Still Consuming News Like It's 1899? | benhuh!com
12 — When it comes to technology, you definitely "act your age".
Let's start with full disclosure: I'm a baby boomer. Ok, I've gotten that out of the way. I do have two millenial children (now young adults), and most of the people I work with are Gen Xers.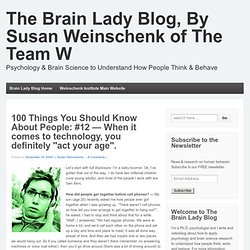 The following is a shortened version of a talk I gave at the "Engaging the Public" symposium held at Washington & Jefferson College on Oct. 1. According to Cathy Davidson's Now You See It, 65 percent of students entering school today will have careers in fields that haven't been invented yet. While #IDontHaveFactsToBackThisUp, I'm willing to make the following prediction about writing: a full 100% of these students, at some point in their lives, will be required to use writing technologies that haven't been invented yet. Consider this: as recently as four years ago, who would have imagined that major companies would have employees whose jobs were to interact with customers on Twitter, or that someone could make a career out of writing for Facebook? Four years before that, not only did those jobs not exist, Twitter and Facebook didn't exist, and the types of writing that they represent were only in their nascent form.
Digital Literacies for Writing in Social Media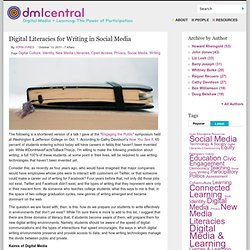 21st-Century Campus Culture - Do Your Job Better
By James M. Lang Almost every academic I know has fond memories of late-night dorm-room bull sessions about the meaning of life.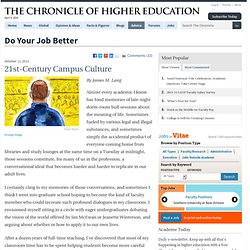 How Social Digital Is Your Company? - David Armano
by David Armano | 2:18 PM October 19, 2011 Recently, the CEO of Edelman wrote a blog post celebrating a company milestone. In it, he referenced our efforts in the non-analog world as "social digital."
RSA Animate - Changing Education Paradigms
There's a jewellery store in Old Town in Zurich, Switzerland. It specializes in finely crafted rings, bracelets, and necklaces adorned with the most precious of stones. The shopfront window is huge--measuring about 15 feet wide and 4 feet deep.
A Store With Only 3 Products And Other Cases For Simplicity
By Francis X. Rocca Rome When Italy's National Commission for Forecasting and Predicting Great Risks held a special meeting in the central Italian city of L'Aquila on March 31, 2009, the earthquake-prone area had been shaking with low-level tremors, as frequently as three or four a day, for the previous six months. Just one day earlier, the country's Department of Civil Protection had censured an amateur scientist in the city, who claimed that he could predict earthquakes by measuring levels of radon gas.
Scientists on Trial for What They Said - Global