Writing Tips & Tools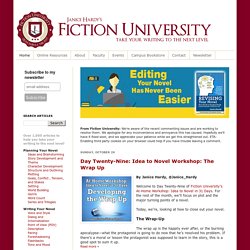 The Other Side of the Story
By Janice Hardy, @Janice_Hardy Suspense is an important element of any novel, though we often associate it with characters in danger. But it's really just the reader's anticipation of something. Waiting for the killer to strike, hoping for that first kiss between beloved characters, wondering when a life-changing bit of information will finally be revealed—these are all things that create suspense. And they keep the reader reading.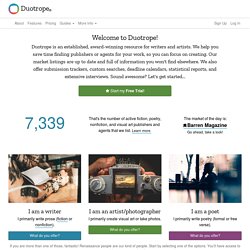 Write. Re-write. Submit. The first two are up to you, but we can help with the third.
Site Updated: Jan 17, 2014. I'm a longtime user of Final Draft Software and recently upgraded to Final Draft 9, but I just came across a new online screenwriting software program that has a lot of the same features. I'll check it out and post what I find out later. The other students in my screenwriting course seem to really love it.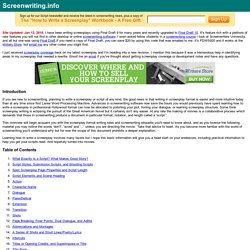 REVISED: February 13, 13 Lulu is a community for creators of remarkable works. We provide the tools for you to publish your work for personal use or for sale and distribution to others, a marketplace for the purchase of goods and services, and a site where you can participate in forums and discussion groups with like-minded creators. The following terms and conditions have been developed to not only protect your work and your privacy, but also to describe our commitment to you as a community member as well as your responsibilities as a content creator. Please do not hesitate to contact our Support Team if you have any questions about the terms of this agreement. A Note About Our Community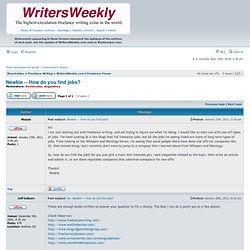 Hi!I am just starting out with freelance writing, and am trying to figure out what I'm doing. I would like to start out with one-off types of jobs. I've been looking at a few blogs that list freelance jobs, but all the jobs I'm seeing listed are more of long-term types of jobs. From looking at the Whispers and Warnings forum, I'm seeing that some people there have done one-offs for companies like S2, then moved along, but I certainly don't want to jump to a company that I learned about from Whispers and Warnings.
View topic - Newbie -- How do you find jobs?
Finishing Your Novel "A writer is someone who finishes." -- Thomas Farber This section is for you if: You've started a novel but are having trouble finishing it, or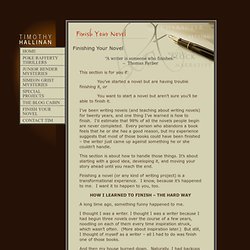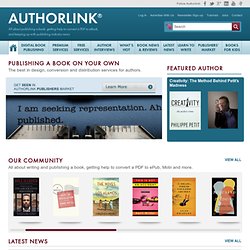 2014 Great Southwest Book Festival has issued a call for entries to to its annual competition honoring the best books of the late winter/spring season. The Great Southwest Book Festival will consider published and unpublished works in fiction, non-fiction, biography/autobiography, how-to, compilations/anthologies, photography/art, children's, cookbooks, poetry, spiritual, young adult, business/technology, unpublished manuscripts, wild card (anything Read more » Simon & Schuster, a global leader in general interest publishing, and OverDrive, the premier eBook distributor for libraries, today announced a pilot launch of the Simon & Schuster eBook catalog for select OverDrive partner public libraries in the United States. Simon & Schuster's full catalog of eBook titles are available for pilot libraries to purchase Read more »
yWriter4 - word processor for authors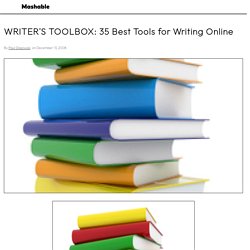 Whether you're new to the world of authorship or a veteran trying to make the most of Web services and applications, there are a number of online tools for writers of all types. From blogging platforms to networking hotbeds, and job boards to real-world gatherings, and more, the supply of utilities is comprehensive, to say the least. But finding them all can be hard-going, so we've taken the liberty to make the discovery process easier by arranging our top finds here for your perusal.