Foreign
Passport photos for free - ePassportPhoto.com. Backpack Europe on Budget--Backpacking and travel info for budget travelers. How to See the World: Art of Travel; European and World Backpacking; On $25 a Day or Less.
Around The World For Free: Travel with Survivor winner Parvati Shallow. SEASON 3: MISSION ACCOMPLISHED!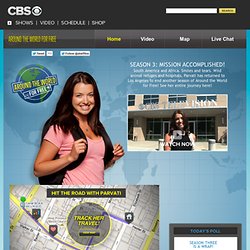 South America and Africa. Smiles and tears. Wild animal refuges and hospitals. Parvati has returned to Los Angeles to end another season of Around the World for Free! BUG Europe - the Backpackers' Ultimate guide to budget travel in Europe. How to Travel and Backpack the World on a Budget. How to Travel Round the World Travel Blog - y Travel Blog. Volunteer Abroad Programs, International Community Service Opportunities. Tipping Etiquette Around the World.
---