Budget World Travel
Best budget destinations for 2013. Hotel rates in Ko Phi Phi, Thailand, have dropped by 27 percent.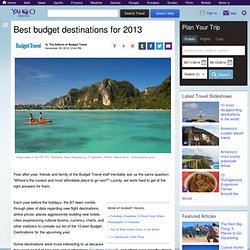 (Photo: Steve Allen / Dreamstime.com) Year after year, friends and family of the Budget Travel staff inevitably ask us the same question: "Where's the coolest and most affordable place to go next? " Luckily, we work hard to get at the right answers for them. Each year before the holidays, the BT team combs through piles of data regarding new flight destinations, airline prices, places aggressively building new hotels, cities experiencing cultural booms, currency charts, and other statistics to compile our list of the 10 best Budget Destinations for the upcoming year. Some destinations were more interesting to us because they were so full of new and unique attractions (Northern Ireland!)
10 Travel Web Sites Worth Bookmarking. People managed to travel quite well before the Internet came along, although how they did it is now shrouded in mystery.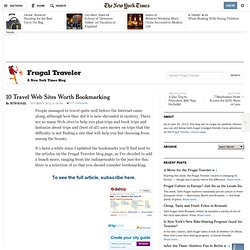 There are so many Web sites to help you plan trips and book trips and fantasize about trips and (best of all) save money on trips that the difficulty is not finding a site that will help you but choosing from among the bounty. It's been a while since I updated the bookmarks you'll find next to the articles on the Frugal Traveler blog page, so I've decided to add a bunch more, ranging from the indispensable to the just-for-fun. Here is a selection of 10 that you should consider bookmarking. 1. Dishtip.com Though if I had to pick just one site to help with restaurant recommendations around the globe, it would be Chowhound, DishTip organizes the world of eating out in the United States a whole new way: By clam chowder.
More than 40 free city audio guides for Europe's main cities in English, French, German and Italian. Yapta: Track flight prices and check for airline refunds. Global Greeter Network: Home. Audio Tour | Audio Guide | iPod Tour – Audissey Guides. WebFlyer :: The Frequent Flyer Authority. Roadside America - Guide to Uniquely Odd Tourist Attractions. BootsnAll Travel Network :: Travel Community, Travel Stories, Cheap Tickets, Youth Hostels and all your travel needs. RoadTrip America - Road Trip Planning for North America. How to Get Cheap Flights  ( 8 pgs. 3 illus.) - Art of Travel - European and World Backpacking.
Chapter 4 Booking Strategies Large Internet Sites Student and Budget Specialists Domestic Bucket Shops Ethnic and Foreign Bucket Shops Courier Flying Round-the-World Tickets Charters Bumping To Gateways Glossary TWO HUNDRED YEARS ago the cost was seven years to a lifetime of servitude for average people making a one-way crossing of the Atlantic.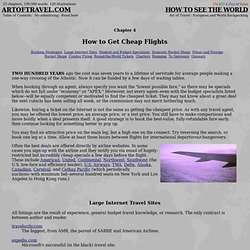 Now it can be funded by a few days of waiting tables. When booking through an agent, always specify you want the "lowest possible fare," as there may be specials which do not fall under "economy" or "APEX. " Moreover, not every agent--even with the budget specialists listed below--will be equally competent or motivated to find the cheapest ticket. The 20 Best Travel Websites on the Internet - Golden Book Traveler. Update: Visit the 2012 version of The 20 Best Travel Websites on the Internet I hope that everyone who attended my SXSW Core Conversation panel on How to Make Money Traveling Around the World enjoyed the presentation.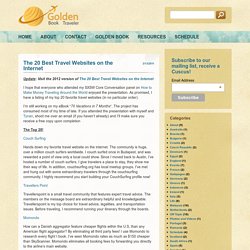 As promised, I have a listing of my top 20 favorite travel websites (in no particular order). Wandering Earl. Budget Travel - Frugal Traveler Blog. Hunting for the Best Carry-On Bag By SETH KUGEL In desperate need of a replacement for his aging, beat-up carry-on, the Frugal Traveler wheels, lifts and zips candidates until he finds a worthy successor.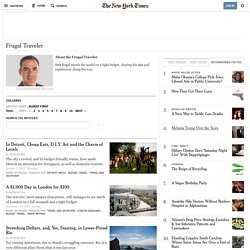 Frommer's Travel Guides: The Best Trips Start Here!
Vagabondish | Dubious tips & essential ephemera for today's curious traveler. The Road Forks. Airfare Deals - Cheap Flights. Lonely Planet Travel Guides and Travel Information. The Man in Seat Sixty-One... Vacation rentals, private rooms, sublets by the night - Accommodations on Airbnb. Cheap Vacations, Cheap Flights - Open Travel. Hostels Worldwide - Online Hostel Bookings, Ratings and Reviews. - Living Bueno. Fluent in 3 months. 6 Ways to Travel Endlessly.
Traveling the way most people do it isn't enough.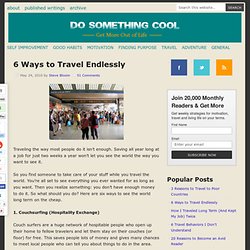 Saving all year long at a job for just two weeks a year won't let you see the world the way you want to see it. So you find someone to take care of your stuff while you travel the world. You're all set to see everything you ever wanted for as long as you want.
---