Ad Networks
Incredible Things That Happen Every 60 Seconds On The Internet In China
Monetize Mobile Apps, Mobile Advertising Platform for Developers | mmDev | Millennial Media
Your account has been de-activated. If you have any questions, please contact support. Your account has been locked due to 3 failed login attempts. You will receive an email shortly to unlock your account.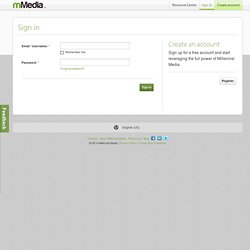 iAd - Apple Developer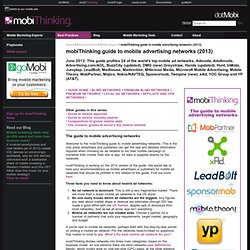 Other guides in this series:• Guide to mobile agencies• Guide to mobile industry awards• Compendium of global mobile stats• The insiders' guides to world's top mobile markets The guide to mobile advertising networks Welcome to the mobiThinking guide to mobile advertising networks. This is the only place advertisers and publishers can get the real and detailed information required when choosing an ad network to run their mobile campaign or monetize their mobile Web site or app. All data is supplied directly by the networks.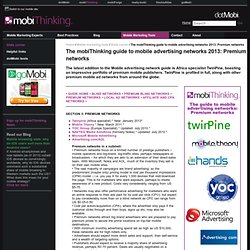 Twinpine (Africa specialist) * New: January 2013*Mobile Theory * New: March 2011 *YOC Group (Europe Specialist) * Updated: July 2010 *NAVTEQ Media Solutions (formerly Nokia) * Updated: July 2010 *Microsoft Mobile AdvertisingAdvertising.com/AOL Premium networks in a nutshell: • Premium networks focus on a limited number of prestige publishers – mobile operators and big-brand, big-traffic sites, perhaps newspapers or broadcasters – for which they are akin to an extension of their direct-sales team. With Microsoft, Nokia and AOL, much of the inventory they sell is on their own mobile sites. • The vast majority of campaigns are brand advertising, so the predominant (maybe only) pricing model is cost per thousand impressions (CPM) model – i.e. you pay X for every 1,000 devices that visit/download the page.
The mobiThinking guide to mobile advertising networks 2011: Premium networks
Medialets | Mobile Rich Media Advertising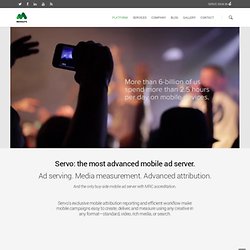 Mobile advertising allows us to connect with people in their most personal moments. But without the right tools, effectively reaching and measuring interactions with them is hard. Very hard. Site served creatives, multiple publisher reports, delayed launch dates, massive discrepancies from your desktop ad server. Sound familiar?