Philosophy/spirituality
Get flash to fully experience Pearltrees
From early schooling, we know the planets in our solar system revolve in orbit around the Sun. In astrology, all of these orbits are considered from our place here on Earth. As individuals, our place here on Earth is our place of birth. Thus, as the Earth revolves around the Sun, our view of the other planets in the solar system can become somewhat skewed and distorted. Because the other planets are moving at different speeds, there will be times when it will appear from Earth that a planet is not moving at all, and at times that a planet is actually moving backwards when viewed against the backdrop of a fixed star.
"Philosophy, in its very diachrony, is the consciousness of the breakup of consciousness." Emmanuel Levinas There is no becoming, no revolution, no struggle, no path.
First published Tue Nov 30, 2004; substantive revision Thu May 19, 2011 It is widely accepted that consciousness or, more generally, mental activity is in some way correlated to the behavior of the material brain. Since quantum theory is the most fundamental theory of matter that is currently available, it is a legitimate question to ask whether quantum theory can help us to understand consciousness. Several programmatic approaches answering this question affirmatively, proposed in recent decades, will be surveyed.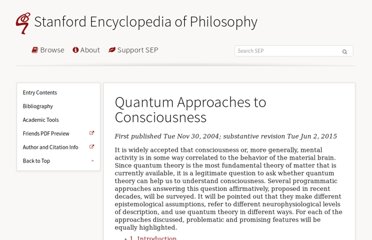 The following article first appeared in Earth Island Journal . How a Campaign of Fear and Intimidation Led to the Gray Wolf's Removal from the Endangered Species List "Nabeki" didn't expect everyone to love her when, in September 2009, she founded the website "Howling for Justice" to celebrate the return of gray wolves to the Northern Rocky Mountains and to protest the then-pending wolf hunts in Montana and Idaho. She didn't expect to fear for her life, either. But after she posted the names of Montana wolf hunters on her site, the threats began. On a single day in February 2010 the anti-wolf movement sent to her 3,000 messages.
Let's face it. Zen is boring. You couldn't find a duller, more tedious practice than Zazen. The philosophy is dry and unexciting. It's amazing to me anyone reads this page at all. Don't you people know you could be playing Tetris, right now?
Divination is the art or practice of foretelling the future using different methods that the diviner may decide. The art of Divination has been practiced by all countries, cultures and religions around the world for thousands of years. It was studies over two thousand years ago in China by the study of cracked eggs for Divination. Some of the most popular forms of divination include tarot cards, runes, astrology and dowsing.