Sitios sugeridos
Sugerencias para mejorar el servicio de chat de las bibliotecas. El servicio de chat es una vía de comunicación explorada e implementada en muchas bibliotecas (especialmente universitarias) desde hace varios años.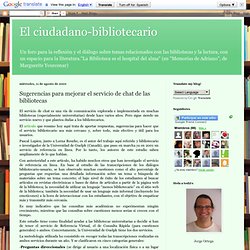 Pero sigue siendo un servicio nuevo y que plantea dudas a los bibliotecarios. El artículo que resumo hoy aquí trata de aportar respuestas, sugerencias para hacer que el servicio bibliotecario sea más cercano y, sobre todo, más efectivo y útil para los usuarios. Pascal Lupien, junto a Lorna Rourke, es el autor del trabajo aquí referido y bibliotecario e investigador de la Universidad de Guelph (Canadá), que puso en marcha ya en 2001 un servicio de referencia en línea. Por lo tanto, los autores de este estudio saben ampliamente de lo que hablan. Veille documentaire.
PUZZLE - Revista de Inteligencia Competitiva. Delphion Research intellectual property network - international and US patent search database. Home. United States Patent and Trademark Office. World Intellectual Property Organization. WIPO is the global forum for intellectual property services, policy, information and cooperation.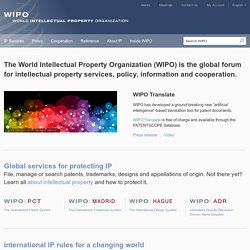 Alternative dispute resolution Settle IP and technology disputes out of court using the fast, flexible and cost-effective services offered by the WIPO Arbitration and Mediation Center. 35 million international and national patent documents 12 million international and national records of trademarks, appellations of origin and emblems International marks recorded under the Madrid System.
---